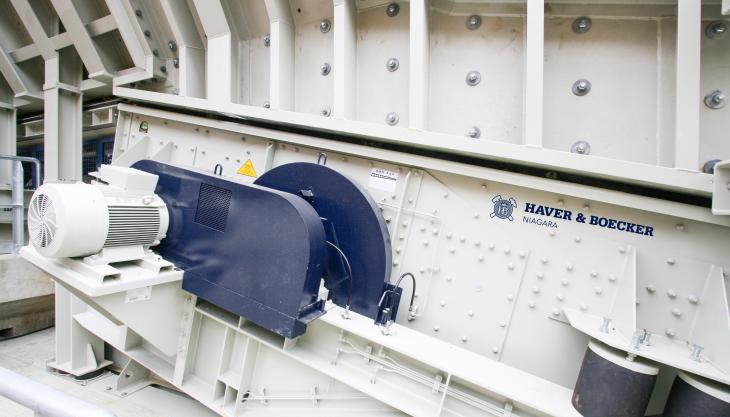 N-Class vibrating screen designed to improve efficiency and reliability in heavy-duty applications
Haver & Boecker Niagara say their rugged N-Class vibrating screen featuring an advanced four-bearing design that minimizes structural vibration and maintains constant g-force, even through fluctuating material feed rates, can optimize crushing plants and screening operations through its ability to screen up to 5,000 tonnes per hour.
'The Niagara N-Class is one of a kind with the ability to productively accomplish screening tasks other vibrating screens have difficulty with,' said Peter Grotjohann, managing director of the company's German facility. 'The machine offers our customers an ideal solution for improving crushing plant efficiency and classifying coarse materials, therefore improving profits.'
Haver & Boecker Niagara's N-Class offers one to three screen decks and features an advanced, single eccentric shaft design that is supported by four high-performance, double-spherical roller bearings. It is dynamically balanced to minimize dynamic loads transferred into the structure and allows multiple screens to be placed side by side in the same building.
The N-Class is said to maximize screening efficiency and virtually eliminate blinding and pegging by providing a consistent g-force in all operational modes regardless of load consistency. A heavy-duty body design handles heavy loads in applications with extreme material sizes up to 2,032mm x 1,016mm x 1,016mm. The screens also offer a self-cleaning action to minimize common problems encountered with traditional grizzly feeders.
According to Haver & Boecker Niagara, the N-Class is ideal for reducing loads and energy demands for a crushing plant by providing more consistently sized material to improve crushing efficiency. The use of the vibrating screen in the process before the crusher increases the crusher capacity and maximizes the quality of the crushed product.
Each N-Class comes equipped with Haver & Boecker's signature Ty-Rail System, which reportedly cut media replacement time by about 50% by simplifying the process.
Built for quick and easy re-balancing, the N-Class includes long-life bearings and a maintenance-friendly, modular machine design. The vibrating screen is equipped with buffers between the screen box and support frame for improved process reliability.
Haver & Boecker Niagara recommend equipping the machine with their patented crossbeam abrasion-protection system, Snap-Guard. Made from polyurethane, this system protects crossbeams from harsh materials, extending maintenance intervals, reducing operating costs and increasing profits.