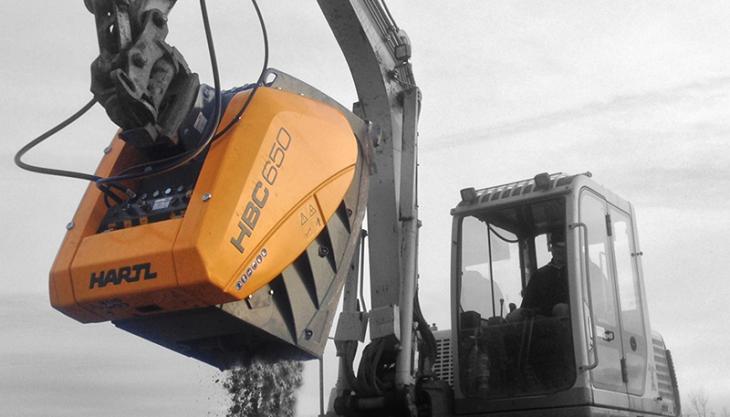 Blue Group appointed to handle UK sales of specialist crushing and screening buckets for excavators
SCREENING, crushing, recycling and materials-handling equipment distributors Blue Group have been appointed as UK distributors for the range of specialist screening and crushing excavator buckets manufactured by Hartl of Austria.
'To us, Hartl specialist buckets seem an obvious extra string to our bow,' said Blue Group's managing director, Pat McGeary. 'The clever design, build quality and performance of their buckets can only enhance our reputation for providing the best possible equipment available.
'We already have a high level of success with large static and mobile processing plants and materials handlers in the industries suited to Hartl products. We see this robust and productive range as a superb additional option for our many customers in quarrying, recycling and demolition, as well as giving us an excellent opportunity to develop other markets where this type of equipment is ideal.'
Alexander Hartl, chief executive officer of Hartl Engineering & Marketing GmbH, added: 'We are delighted to have Blue Group joining as our distributor partner for the UK and are confident that this successful and progressive company will enjoy considerable success with our range of specialist crushing and screening buckets.'
The Hartl range encompasses hydraulically operated crushing and screening buckets with a series of specialist options such as dust suppression, quick coupling and integral magnets for tramp metal extraction during processing.
Central automatic lubrication is standard throughout the range, while another innovative feature is the Hartl Crush Control which utilizes CCTV technology to allow operators to fully monitor the crushing chamber or screening basket during working cycles, all from the comfort and safety of the cab.
'Quattro' technology is particular to the Hartl design in their HBC crusher range. It features a toggle plate that is positioned upwards, not downwards as is the case with conventional crushers. Moreover, the Hartl system generates an aggressive figure-of-eight motion that is said to produce high-average performance rates, minimal wear and a high-quality cubical end product which minimizes oversize material.
The four-model HBC range offers load capacities from 0.60 to 1.53 cubic metres and is suitable for carrier excavators with operating weights from eight tonnes upwards. Applications include C&D material as well as natural stone and aggregates.
The flexible and cost-effective excavator attachments in Hartl's HBS screener range are suitable for screening both natural stone products and recyclable material into useable fractions. The combination of shovel bucket with a trommel drum, which features easily interchangeable meshes, allows operators to separate materials on site and exactly where it is needed.
The four-model HBS range offers load capacities from 0.51 to 5.95 cubic metres and is also suitable for carrier machines weighing from eight tonnes upwards. As well as recycled materials, natural stone and aggregates, applications also encompass soil and woodchips.