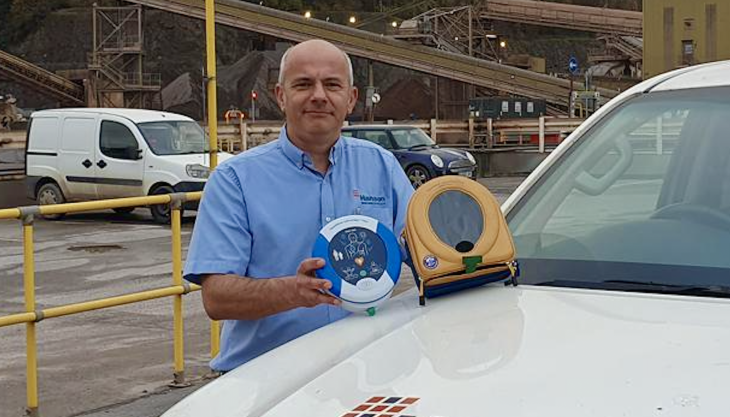 Company registering all publicly accessible defibrillators with The Circuit to help save lives
HANSON are registering all their publicly accessible defibrillators into a new database to help saves lives.
The Circuit, run by The British Heart Foundation, aims to maximize the benefits of public defibrillators by collating them into a database to enable emergency operators to direct callers to retrieve and use the nearest one before an ambulance arrives.
Quick access to a defibrillator can more than double the chances of a person's survival in the event of an out-of-hospital cardiac arrest, which fewer than 1-in-10 people survive.
Area operations manager Justin Collis (pictured), a former ambulance emergency medical technician, has been working with the company's safety, health, and environment team on the registration.
'When I heard about The Circuit, I got in contact to find out if my local aggregates sites could join, and that's now grown into a company-wide project,' said Mr Collis, who is based at Hanson's Whatley Quarry, in Somerset.
'We're establishing how many we have and where, and which ones we could offer for public use so we can upload their locations as a life-saving resource in our communities.
'Early intervention is critical – every minute reduces the chance of survival, and the average ambulance response time is about seven minutes.'