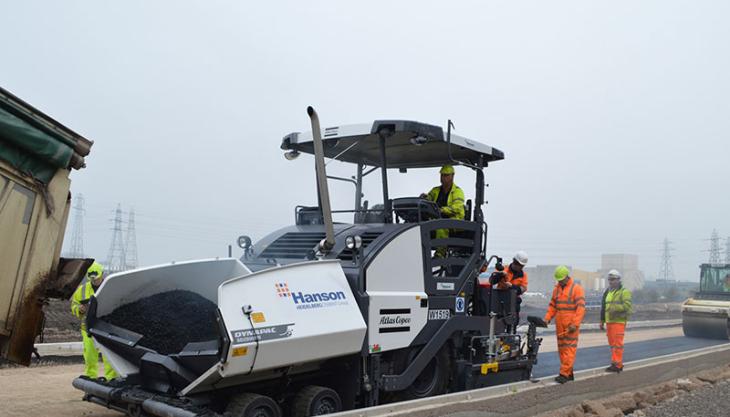 Surfacing contractor takes delivery of five new Dynapac wheeled pavers and a tracked unit
HANSON Contacting have strengthened their Dynapac equipment fleet with the addition of five new flagship SD2500WS+ wheeled pavers and a SD2500CS tracked machine.
The new pavers, which were supplied by Atlas Copco, will be used on Hanson's road construction contracts, including the M1 Junctions 16–19 surfacing works. The SD2500CS tracked paver is well-suited to the laying of cement-bound granular mixtures (CBGM), an application than Hanson Contracting are heavily involved in.
The Dynapac pavers feature a safe impact system, integrated levelling and a sliding cabin deck to improve productivity for the user. The units also feature Dynalink (monitoring software) that allows the user to remotely monitor a range of machine functions, such as location, operational hours, service reminders and security.
Darren Watret, national asset and transport manager for Hanson Contracting, commented: 'We've bought Dynapac F121 and F161 machines in the past and found them to be robust and reliable. The decision to consolidate our paver fleet with only Dynapac products came down to their value, which outweighed the competition.
'The high fuel economy, innovative tracker system and competent nationwide backup contributed to my decision to go with Atlas Copco. We want to give our clients value for money and the new versatile Dynapac machines will achieve this.'
The Dynapac SD2500 wheeled and tracked pavers have been developed to combine superior paving performance with excellent operator comfort and fuel efficiency. They form part of a renewed road construction range from Atlas Copco Dynapac, offering more ergonomic, economical, innovative and robust machines.