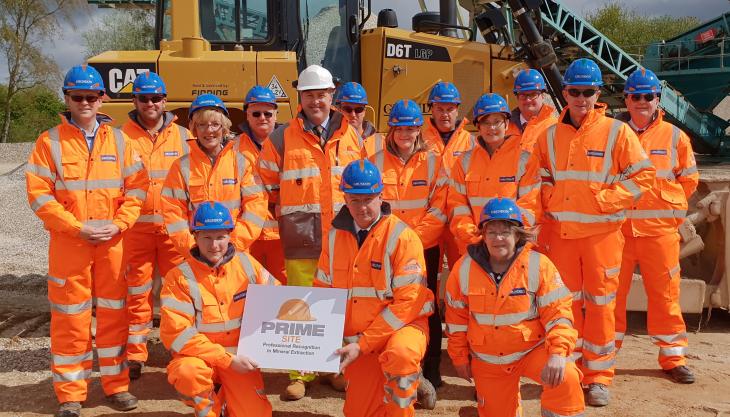 Professional Recognition in Mineral Extraction status for Kennetholme Quarry, Frith End Quarry and Faringdon Quarry
THREE mineral extraction sites operated by Grundon Sand & Gravel, one of the UK's leading suppliers of sands and aggregates, have been recognized as achieving Professional Recognition in Mineral Extraction (PRIME) status by the Institute of Quarrying (IQ).
Kennetholme Quarry in Berkshire, Frith End Quarry in Hampshire and Faringdon Quarry in Oxfordshire all successfully underwent a rigorous audit process, focusing on the professional development of 15 employees at all three quarries.
James Thorne, IQ's chief executive officer, commented: 'Receiving IQ PRIME site status is a real achievement for each of the three Grundon Sand & Gravel sites that have been assessed by our auditors. The staff and management at each site should be very proud of their success.'
Andy Bright, general manager - aggregates at Grundon Sand & Gravel, said: 'We are delighted that the hard work of our employees and our wider team has paid off with our PRIME certification. It demonstrates our commitment to the ongoing professional development of our people and the fact that we take being a leader in industry standards very seriously. Well done to everyone involved.
'The PRIME project runs perfectly alongside our own professional training programme, 'GROW@Grundon'. Both provide the training tools to help employees gain the knowledge and experience required to enhance their future careers within Grundon.'
A number of staff at Grundon have also been provided with access to IQ Academy online learning materials for 12 months. With more than 20 units available, covering a range of topics from operations, technical and health and safety, to maintenance and the environment, these learning materials act as additional support to the company's existing training programme.
All employees also attended a Mineral Products skills geotechnical course, have at least an NVQ level 2 and complete a minimum of 30h of continuing professional development (CPD) a year.
Wayne Dumelow, site supervisor at Kennetholme Quarry, said: 'The inspection by IQ was something that everyone involved on site found extremely positive. When we learned that we had been awarded PRIME site status it was a case of celebrations all round.'
IQ's PRIME initiative promotes CPD at all levels within the mineral extractives sector. Its objective is to achieve a fully competent workforce by identifying and providing continuous career-progression pathways.
Grundon are one of the UK's leading suppliers of sands and aggregates to the building, construction, landscaping, decorative and leisure markets. They have been active in extracting and producing a broad range of minerals since 1929.