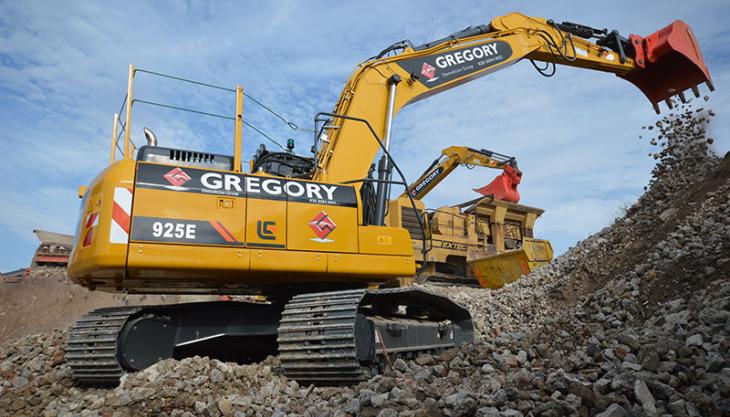 Essex-based demolition firm invests in a new fleet of LiuGong excavators and a CLG856III wheel loader
GREGORY Demolition have made a significant investment in LiuGong machinery with the purchase of 10 excavators and a wheel loader from suppliers Construction Plant & Machinery Sales.
Having previously operated other equipment brands, Gregory underwent an extensive evaluation test involving LiuGong equipment along with two competitor makes. The machines were all assessed for fuel consumption, power and ownership costs, during which time the LiuGong products to be extremely efficient in all departments.
The new order included: 4 LiuGong 922E hydraulic excavators; 4 LiuGong 925E units; 2 LiuGong 930E excavator models; and a CLG856III wheel loader. The excavators are all equipped with Stage IIIB Cummins engines, with power outputs ranging from 117kW to 147kW.
To meet the rigorous demands of the demolition industry, the LiuGong machines feature factory-fitted modifications including: heavy-duty ram guards on the bucket cylinder; full FOPS cabs; side skirt impact protection, 'boxing ring' fall from height protection, flashing beacons; green seat belt light; and rear view camera systems.
Dean Gregory, managing director of Gregory Demolition, said: 'We looked at the LiuGong range of 22-tonne, 25-tonne and 30-tonne excavators and loading shovels earlier in the year. We also checked out two types of similar excavators for fuel, power and budget, finding the performance of the LiuGong's very satisfactory to our requirements. So far we have noticed lots of smiling faces from our operators and we are finding the performance and balance of the machines to be very good.'
A number of the new LiuGong machines have recently been put to work at a Gregory recycling yard in Barking, Essex, adjacent to the river Thames, where the company, in partnership with Thames Recycling, is producing 1,000-1,500 tonnes of recycled aggregates per week. Looking ahead, Gregory have a target of producing up to 5,000 tonnes of aggregates per week for their concrete and aggregates partners in 2015.
The company estimates that the London construction market is in need of a strategy to supply up to 5 million tonnes of recycled materials annually, and with its new fleet of LiuGong machines, Gregory Demolition aim to be at the forefront of that supply chain.