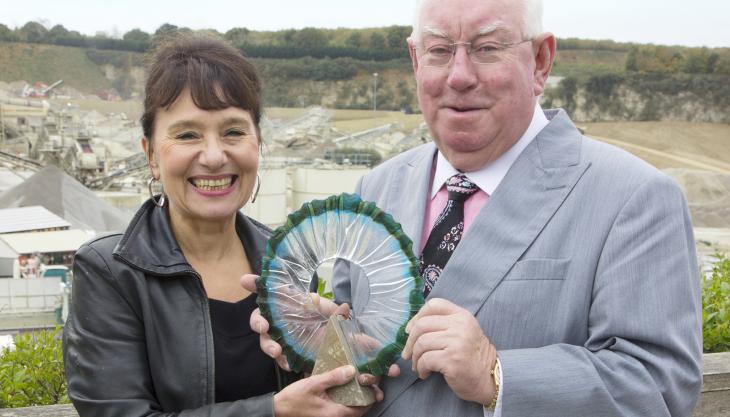 Gallagher Group provide Kentish Ragstone to create trophies for Kent Design & Development Awards 2018

CONTRASTING materials are being brought together to highlight success with a series of stunning trophies to be presented to the winners of the Kent Design & Development Awards 2018.

Kent artist Annie Ross will create the sculptures by sitting a wheel of glass on to a shard of Kentish Ragstone provided by trophy sponsors Gallagher Group.

Ms Ross said: 'Having enjoyed the challenge of creating the trophies for the previous round of awards in 2016, it was an honour to be asked to do so again.
'I like to create designs that work with their subject and I think this combination of glass and Kentish Ragstone works well alongside the theme of architecture and development.'

Working from a studio in Maidstone, Ms Ross has more than 30 years' experience of using this material. Projects have ranged from the domes for mosques in the Middle East to exhibition pieces and smaller private commissions.

Pat Gallagher, chairman of Gallagher Group, added: 'In 2016 we were pleased to win the Infrastructure and Renewables category for our 'cut and cover' tunnel at Hermitage Quarry, and we proudly display our Annie Ross trophy in our offices.
'It gives us great pleasure to be able to once again provide the Kentish Ragstone that forms an important part of the trophies that will be displayed by the best from the county's property industry.'

The Kent Design & Development Awards, which are presented every two years, are jointly organized and sponsored by Kent County Council, planning consultants DHA and public relations and marketing agency Maxim.

More than 30 projects have been shortlisted for six categories: Commercial, Industrial and Retail; Conservation; Environmental Performance; Infrastructure and Renewables; Public Buildings – Education and Community; and Residential – Minor and Major. The overall title of Project of the Year is selected from among the category winners.