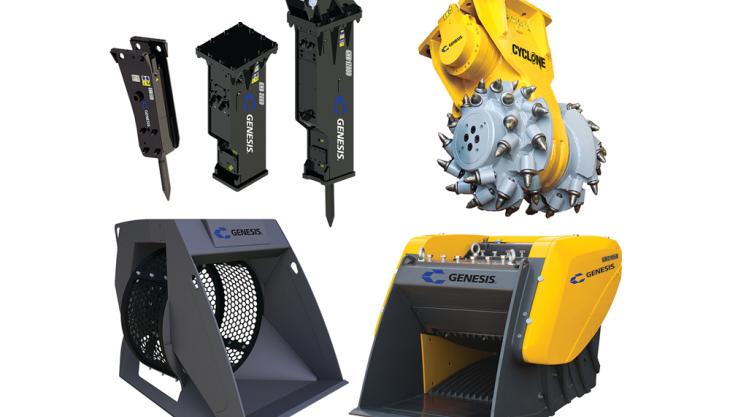 US manufacturer expands product offering with new line of heavy-duty buckets and breakers 
GENESIS Attachments have unveiled the Impact Tools Group, which consists of four lines of products designed specifically for the demolition, construction, excavation and concrete grinding industries.
The Wisconsin-based company's newly launched attachments range includes: the GHB hydraulic breaker; GCG cyclone grinder; GBS bucket screener; and GBC bucket crusher. The screening bucket has been designed with industry-leading features for sizing aggregates and recycled material on site quickly and efficiently, while occupying minimal space. 
The GBS unit features an extra-large drum for higher production, with individual replacement screens available in a range of standard mesh sizes or custom sizes, for pre-screening and final classification. The five-model GBS bucket screener line-up can be used on a variety of machines from 3-tonne skid-steer loaders to 35-tonne excavators. 
Available in a complete range of models from 250- to 12,000 foot-pound impact energy classes, some of the key features of the GHB hydraulic breakers include: an optimized power-to-weight ratio, speed and power that can be adjusted to match the material being broken; dry-fire protection; and a hammer-mounted auto-lube system. 
According to Genesis Attachments, the GBC bucket crusher – unlike conventional crushers – has a 'unique, aggressive figure-eight crushing motion' that produces a high-quality cubical product. Extra-large jaw plates provide optimal performance and longer life, and the crushing bucket has been designed with durability in mind, with a large and robust jaw stock and Hardox frame. 
To reduce maintenance, the GBC bucket is fitted with replaceable cheek plates and a centralized lubrication system.