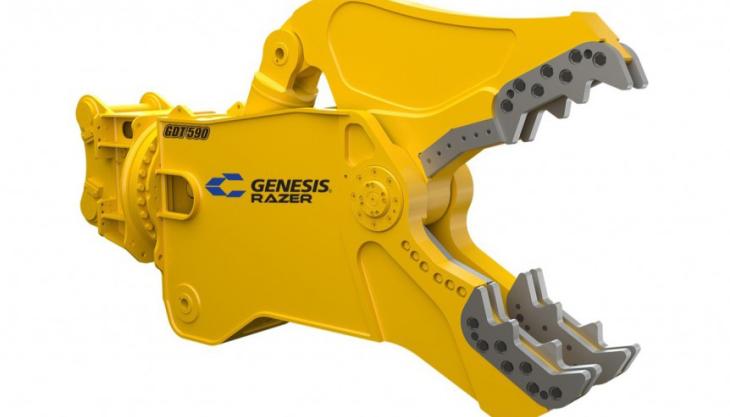 Company announces newest addition to its GDT Razer attachment range   
US-based Genesis Attachments have announced the launch of their largest Razer demolition tool to date – the GDT 590. The Wisconsin-based manufacturer said the latest addition of the GDT 590 attachment brings the total number of GDT Razar models to four.
Featuring a lightweight design, the GDT Razer is optimized to fit on standard and most high-reach excavators, and the new GDT 590 extends the minimum excavator weight to 120,000 pounds, up from the 45,000, 66,000 and 90,000 pounds minimum excavator weights of the GDT 190, 290 and 390, respectively.
Suitable for construction and demolition waste processing and concrete recycling, the GDT's upper jaw passes through its lower jaw which has an open relief area that allows material to easily pass through whilst preventing jamming.
All GDT Razer models feature a short, flattop head with a bolt-on bracket that simplifies installation and attachment changeover from one machine to another excavator. 
Other key benefits of the GDT 590 include: customizable quantities and locations of crushing teeth; and interchangeable and front-to-back reversible bolt-on teeth for longer service life and lower operational costs.