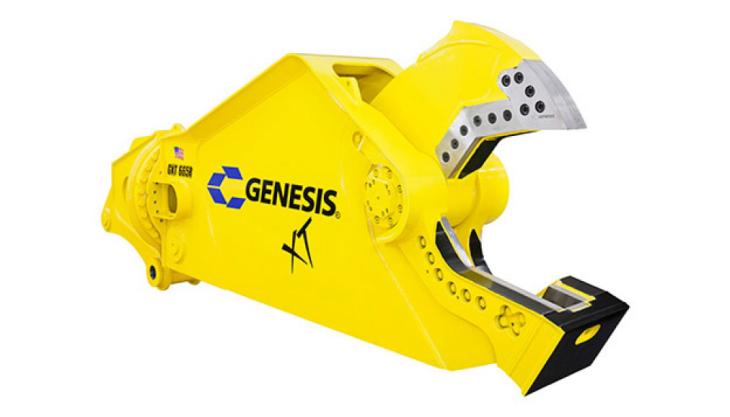 Molson Group supply GXT555R mobile shear to plant decommissioning project in Cheshire 
US-based Genesis Attachments are highly regarded in the UK demolition sector, but the business has never had dealer backing to push its products to the heights it has attained in mainland Europe.
However, this changed last year when the company, part of the Japan-based NPK Group, appointed Molson Group as sole UK dealers for its full range of attachments (alongside NPK products) supplied to the demolition, scrap and recycling sectors.  
With a positive reputation the world over, it was not long before Molson were able to get one of the many attachments out to a long-term Genesis user in the UK. For example, a GXT555R rotating shear was supplied and tasked with aiding in the decommissioning and dismantling of a huge Tata chemicals plant in Northwich, Cheshire.
The facility was one of the largest of its kind in the world, that produced soda ash but spiralling costs from the ageing plant forced its new owners Tata to restructure their manufacturing division in Cheshire and, as a result, shut the huge plant at the end of 2014. 
The massive tract of land on which the plant sat on was eventually sold off for much needed housing with the final part of the building – which contained masses of steel in varying sizes and grades – being demolished from the end of 2020.
Mounted on to a Hitachi ZX1000 bespoke demolition excavator, the only one of its kind in the UK, the Genesis GXT555R attachment has proved to be a winner for the demolition firm contracted to dismantle the chemical plant. 
Despite its 5.6 tonne weight, the body of the shear is considerably smaller than many of its rivals yet still matches the current market leaders in all aspects of its specification. The GXT mobile shear has been specifically designed to process steel and other materials more efficiently in scrap and demolition applications with the equivalent power to other brands all built on a smaller body. 
Downtime is said to be minimal, thanks to a bolt-on piercing tip at the front of upper jaw, minimizing the potential risk of damage. Short primary cutting blades position the apex closer to the rear of the jaws and draw material further into the jaws, where the higher cutting forces makes the shear more efficient. 
The smaller body design and lower build height of the GXT attachment also increases visibility to the jaws for the operator seated over 30m away. With efficient opening and closing times, the GXT555R boasts a jaw opening of 762mm and requires a minimum oil flow of just 340 litres/min.