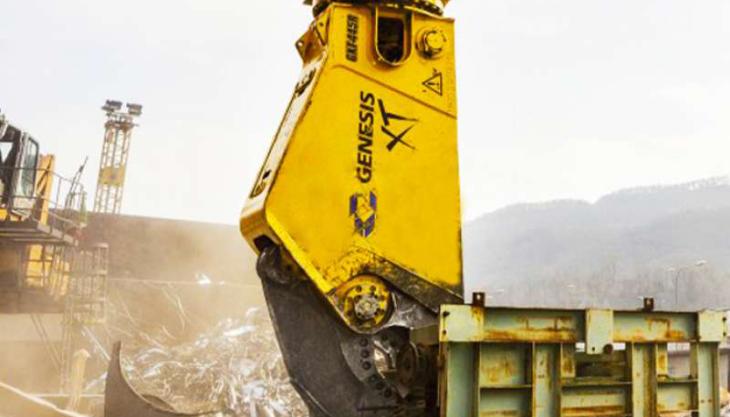 Molson Group expand product portfolio with wider range of attachments for demolition and recycling markets
GERMAN attachment manufacturers Genesis GmbH have appointed Molson Group as sole UK dealer for their full range of attachments supplied to the demolition, scrap and recycling sectors.
Genesis, who offer a comprehensive portfolio of attachments, including shears for excavators and materials handlers, say the appointment of Molson is a natural progression for the business in gaining a foothold in the UK waste-recycling market.  
The company's products have developed a reputation for superior cutting force and durable build quality. Attachments include: the 620kg GVP 07 shear; and the range-topping 25-tonne GXT 2555R, which has a cutting force of more than 30,400kN.
Genesis shears are manufactured from high-strength steel and feature a hydraulic system that is said to boost cycle times by up to 30%. Other key benefits include: a bolt-on piercing tip designed for easy and quick replacement; and a dual-glide blade system that accommodates heat expansion when cutting for prolonged periods.
As well as the Genesis range of shears and multi-processors, Molson Group also distribute rotating grabs, hydraulic hammers, concrete pulverisers, compactors and more products from NPK, the parent company of Genesis.
In addition to the supply of Genesis attachments, Molson Group will provide full aftermarket care, spare parts and servicing. Genesis products will be available from Molson Equipment in England and Wales, while Molson Young Plant Sales will represent the brand in Scotland.
Jonathan Wilson, joint managing director of Molson Group, commented: 'Genesis attachments are renowned for their strength and durability. The broad range of attachments offered by the manufacturer for end-users requiring robust and hard-wearing scrap shears, naturally, complements the equipment already on offer from Molson. Furthermore, this solidifies our position as a single-source supplier to the UK demolition and recycling sectors.'
Martin Wirth, sales director for Genesis, added: 'Molson has generated impressive growth across the UK in the recycling and demolition sectors and this, along with the outstanding levels of customer service that they deliver, made it a natural choice to appoint them as a distributor for Genesis. We see the UK as a key market and look forward to working with such a progressive and proven dealer moving forward.'