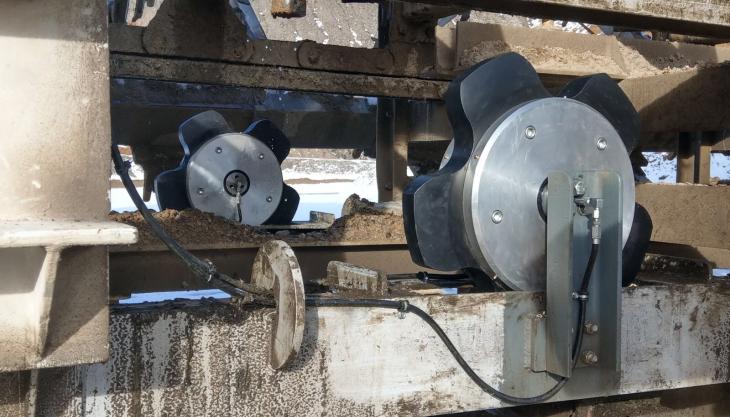 Automated conveyor chain lubrication system for lower TCO and environmental impact
BRITISH chain manufacturers and suppliers FB Chain see ineffective lubrication as one of the main reasons for conveyors not performing at their best and say it is a problem the company's engineers come across far too often on client site visits.
To offer a simple and effective solution, FB Chain have introduced RotaLube – an automated lubrication system that uses pumps and specially designed sprockets to reliably deliver exactly the right amount of lubricant to the right part of the chain at the right time.
'RotaLube takes the hassle out of manual roller and conveyor chain lubrication and ensures chains are correctly lubricated at all times,' said RotaLube inventor and FB Chain director David Chippendale.
Well-lubricated chains run smoothly, reducing noise as well as the energy required to drive them. The reduced friction also decreases wear to the chain and surrounding components for greater uptime and a longer service life.
In addition, automated lubrication lowers demand on service technicians and eliminates wasteful over-oiling. These benefits all combine to save quarry operators time and money, while reducing resource use.
Since RotaLube was installed on 12in pitch chain in a circular reclaimer several years ago, the system has reduced oil consumption by up to 7,000 litres a year, which equates to an annual saving of almost £10,000 in lubricant costs alone.
The carefully controlled lubrication has also extended the service life of the reclaimer chain, which by the end of 2020 had generated a cost saving of £60,000. The entire system paid for itself in just two-and-a-half months.
RotaLube replaced a centralized lubrication system fitted in 1999, which dripped oil over the scraper chain every 20 mins as it passed under four open-ended pipes. Large quantities of oil were wasted as it was poured around the area, rather than concentrated on the pins where it was needed. In addition, the over-lubrication was causing dust to stick to the scraper chain, leading to abrasion and product contamination.
Instead, a bespoke steel sprocket with lubrication points engineered into it was fitted on to the return of the scraper chain. As the chain turns the cog, a shot of oil is now released directly into the pivot points on the chain links.
The customer went from having to replace a 208-litre barrel of oil every eight days to replacing it every 21 days. As well as reducing vehicle movements on site, it also saved approximately 72 hours per year for barrel changing and eight hours unloading deliveries, leaving the fitter and field operative more time for other duties.
'We are bringing RotaLube to the market at a time when there is increasing interest among cement and concrete plant operators to automate more of their processes – and we are excited to see it contribute to greater uptime, lower costs and reduced environmental impact at more sites across the UK and beyond,' said Mr Chippendale.