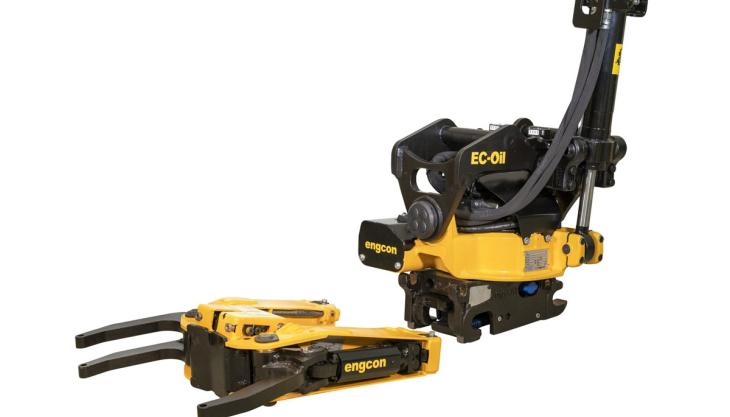 Specialist manufacturer develops new quick-hitch system for its EC206 tiltrotator  
ENGCON, suppliers of tiltrotators, quick hitches and advanced accessories for excavators, will launch their EC-Oil quick-hitch system during spring 2022 on the EC206 tiltrotator for excavators in the 4- to 6-ton weight class. This means that hydraulics, electronics, and central lubrication are connected automatically whilst the driver remains in the cab, increasing both efficiency and safety. 
The Sweden-based company has been manufacturing tiltrotators – a flexible wrist for excavators that has been designed to dig in several different directions and make simple tool changes – over the last 30 years. And in recent years, Engcon have further developed the EC-Oil quick-hitch system, connecting hydraulic tools automatically, without the driver having to step out of the cab to make a manual connection of the hydraulic couplings.  
In 2020, Engcon introduced the EC-Oil automatic oil and electrical coupling as standard on the machine hitch S40 and on the upper part of the EC206 tiltrotator for machines up to 6 tons. Now, Engcon are taking a step further and introducing an EC-Oil automatic quick-hitch system on the lower quick coupler. 
'It is both convenient and saves valuable work time for operators by not having to step out of the cab to connect with manual, pressurized and dirty hydraulic couplings, contributing to improved efficiency and safety for our end-users,' said Martin Engström, product manager at Engcon. 
The lower quick coupler of the S40 also gets several extra hydraulic outlets, as well as a smart function with the possibility to connect a detachable gripping cassette. In addition, Engcon will equip the EC206 with a completely new swivel with increased capacity and more outputs for extra hydraulics on the quick coupler S40 under the EC206.