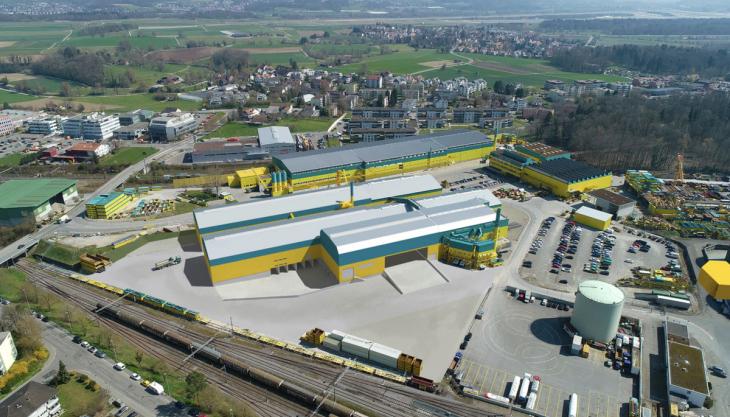 Swiss waste specialists to open new AI technological-driven recycling centre
FINLAND-based ZenRobotics have signed a partnership agreement to supply advanced AI technologies and smart robotic waste sorting systems to help Eberhard Group develop an AI-driven recycling plant to capture high-purity fractions from construction and demolition (C&D) waste.
Scheduled for completion by autumn 2021, the new EbiMIK recycling plant in Oberglatt, Switzerland, will handle and process waste materials at a rate of 200 tons/h and includes an advanced robotic sorting system featuring two parallel lines, with multiple high-capacity, heavy-duty robots in each line. 
The job of the sorting robots is to capture high-value and high-purity materials from mixed C&D waste. These recycled materials recovered will then be reprocessed into raw materials of equal quality as construction products. In addition to the state-of-the-art EbiMIK recycling centre, a raw material storage area and component production facility are being built on site. 
Eberhard's new recycling centre is said to be a hallmark example of the circular economy in practice and demonstrates how waste can be turned into new value. In the European Union, C&D waste makes up approximately one-third of the total waste materials generated. 
The EU's target is to recover, recycle or reuse at least 70% of this waste by the end of 2020. 
At present, many of the material streams from C&D waste are not suitable for reuse or high-grade recycling. 
Many recycling contractors and waste-management firms in the UK and across Europe have, therefore, called for more 'circular driven' practices as a key solution to greater sustainability whilst treating waste materials as a resource is an essential element of the circular economy. 
The high-capacity recycling plant by Eberhard Group, with the help of partners ZenRobotics, will support this circular approach to improving the performance of waste treatment and ensuring recycling is more efficient, accurate and profitable.
'The ZenRobotics robots with AI are a very important part of our revolutionary recycling plant,' said Patrick van der Haegen, division head development at Eberhard. 'EbiMIK converts mixed demolition waste into fully circular secondary raw materials. And this waste no longer needs to be downcycled into low grade materials or even landfilled.'