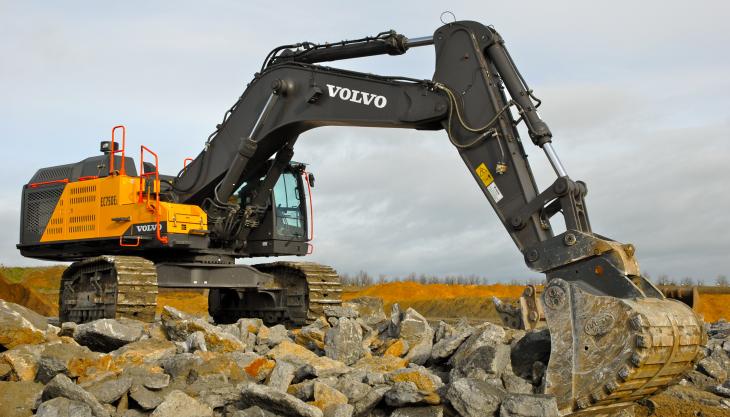 New 75-tonne EC750E excavator and 25-tonne L150H loading shovel for Wiltshire-based operator
EARTHLINE Ltd of Ogbourne St George, near Marlborough, Wiltshire, have taken delivery of a 75-tonne Volvo EC750E excavator together with their first-ever Volvo loading shovel – a 25-tonne L150H. These latest machines join the company's ever-increasing fleet of Volvo-branded excavators, ranging from 22 tonnes up to 75 tonnes, and Volvo articulated haulers.
Whilst Earthline's managing director, Philip Coplestone, takes an objective view of the market place when the time comes to replace or add equipment, he says the main reasons for choosing Volvo products are reliability, performance and robustness, coupled with first-class aftermarket support.
'This time around we needed to replace our EC700C with a new large prime mover and considered the EC750E to be the right machine for our application, but we also decided to opt for a new Volvo loading shovel for the first time, based on the good experience we've had to date with our other Volvo machines and following a successful demonstration,' he commented.
'But that's only part of the equation. In our line of business it's crucial we get the best backup and after-sales service wherever our equipment is working, and SMT GB have not been found wanting in this regard.'
The new EC750E has been supplied in mass-excavation configuration, which includes a 6.6m boom and 2.9m dipper arm, along with a Tefra mix-and-match quick-attachment bracket. With this configuration the machine offers a maximum reach of 11.4m, a dig depth of 7.2m, a maximum breakout force of 383kN and a lifting capacity of 13.6 tonnes at maximum reach.
The machine will be deployed at Earthline Ltd's Hatford Quarry, near Wantage, ripping limestone from situ using a heavy-duty ripper tooth and bespoke 4 cubic metre heavy-duty rock bucket supplied by MST.
At the heart of the EC750E is a 16-litre Stage IV V-ACT engine that develops 533hp and operates in conjunction with an advanced mode control system to ensure the maximum possible hydraulic horsepower available is delivered at a constant engine speed under varying load conditions.
A maximum torque of 2,570Nm is achieved at just 1,350 rev/min, which, in conjunction with the machine's advanced hydraulic system, ensures maximum fuel efficiency is achieved through every work cycle.
Just one mile away at Shellingford Quarry, the new 25-tonne L150H loading shovel has been specified with a 4.5 cubic metre rehandling bucket along with an optional rehandling counterweight, Bridgestone VSDL tyres and an RDS Alpha 100 Loadmaster on-board weighing device.
In this configuration the L150H offers a dump clearance height of 2.97m and a full-turn tipping load of 17.8 tonnes. The machine, which was selected after a successful demonstration at the busy Shellingford site, will be used for a multitude of activities, ranging from load and carry work to material blending and lorry loading.
'In general, we are looking to increase the size of our equipment to keep in step with demand, and, with its large-capacity rehandling bucket, our new L150H is a step up from the machine it replaces,' commented Mr Coplestone.
'The machine has been an immediate hit with our operators too, who certainly appreciate the cab layout, smoothness of control and ride and responsiveness.'
The L150H benefits from Volvo-designed and manufactured driveline components and a 13-litre, 300hp, Volvo stage IV engine. One of the machine's key features is that maximum torque of 1,317Nm is achieved at just 1,450 rev/min, with the resultant fuel savings further enhanced by the Volvo Eco pedal, which encourages the operator to run the machine at its optimum rev/min in the engine's torque curve.
The new machines join a mixed fleet of excavators, dozers, loading shovels and articulated haulers, but it is Earthline's haulage and road transport business that is at the heart of the 23-year-old family-run firm.
As the largest haulage company covering an area from Banbury in Oxfordshire to Farnham in Surrey, Earthline Ltd currently operate 80 tippers of their own with another 20 on permanent hire, together with articulated rigs, sweepers and other miscellaneous transport vehicles.
'In essence, the plant equipment, quarries, and recycling sites are there to feed our haulage fleet, delivering virgin and recycled products across the region,' said Mr Coplestone.