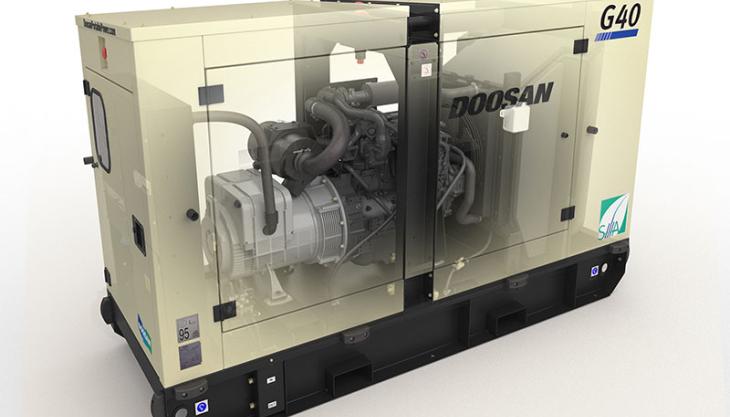 New G40-IIIA and G60-IIIA generator models offer high levels of performance, durability and efficiency
DOOSAN Portable Power have launched their new G40-IIIA (40kVA prime power) and G60-IIIA (60kVA prime power) generators. Sharing the same design characteristics as the existing G150-G200-IIIA and G80-G100-IIIA units, the latest Stage IIIA-compliant generators are said to offer robustness, high performance and a wide range of features to meet the needs of temporary power applications.
Of particular interest to the rental market, the G40-IIIA and G60-IIIA generators will be available with two different frame-fuel tank configurations. The standard configuration will ensure autonomy of at least 10h at 75% of the load, while a 24h fuel tank configuration will be available as an option. According to Doosan, both frame-fuel tank configurations offer a containment base integrated as standard to ensure retention of 110% of all powertrain fluids.
The output performance stability of the generators is delivered by an efficient powertrain, featuring a combination of Yanmar and John Deere Stage IIIA engines, both available with electronic speed regulation and Leroy Somer alternators. The alternators utilize an AREP excitation system, providing superior motor-starting performance. The AREP unit is suitable for powering pumps, cranes and other applications with high start-up demands.
As fuel quality and storage are major concerns for plant hire companies, routine fuel tank maintenance has been simplified on the Doosan generators with special attention given to fuel tank cleaning and port draining processes. A three-way fuel supply valve is available as a modular option which, when linked to an external fuel connection module, provides maximum autonomy. A manual engine oil sump pump option is also available.
Safe and easy access to operation and maintenance areas has been a priority throughout the design of the new generators, with improved accessibility to key areas including the centrally positioned lifting eye, engine radiator compartment and maintenance points. Air flow has been optimized throughout the generator unit to meet cooling requirements for locations with high ambient temperatures without derating the electrical output performance.
A user-friendly feature is the electrical control and power compartment which has been designed to meet the highest safety, reliability and flexibility requirements. All control functions are grouped together on a common, simple-to-use operator control panel with easy-to-read analogue gauges displaying critical operating parameters at a glance.
A new switchable dual-frequency 50/60Hz function with digital controller for both models is available as an option. The G40-IIIA and G60-IIIA generator units are EU Stage IIIA emission compliant at both 50Hz and 60Hz frequencies.