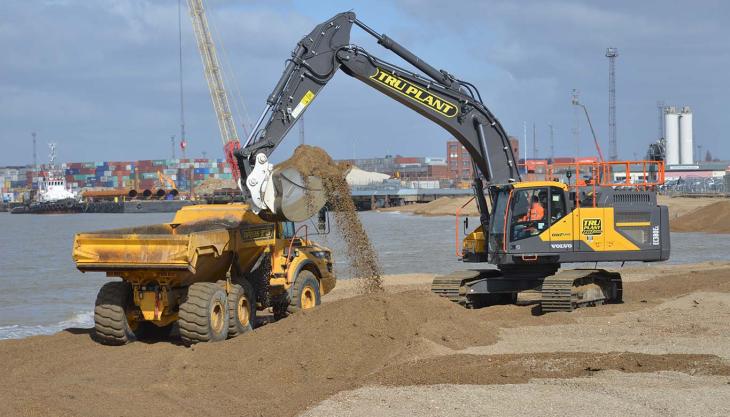 Specialist plant hire business orders bespoke colour-coded buckets and couplers for its heavy excavators
TWO years after selling his telehandler business, Guy Nicholls is back in the plant hire market with the TRU 7 Group. Employing a 100-strong workforce with skills in value engineering, operations management, highways and contracting, TRU 7 Group have a fast-growing portfolio that now includes plant hire, demolition and aggregates, as well as vehicle hire and sales.
The Group has recently strengthening its construction offering with the launch of TRU Plant, providing a complete range of quality plant equipment, from excavators and dumpers to telehandlers and ancillary equipment, for hire nationally on a self-drive or operated basis.
In support of TRU Plant's rapid expansion, Northumberland-based attachment specialists Miller have joined forces with the company.
Earlier this year TRU Plant invested in more than 200 new Volvo machines ranging from three tonnes to 48 tonnes, and their desire to use the best products in the industry led to a recent order for all the heavy excavators to be equipped with bespoke, colour-coded, British-made buckets and PowerLatch couplers from Miller.
The colour-coding helps operators match the correct size of bucket/coupler to the weight of the carrier, thereby offering greater safety and convenience whilst saving time on site.
Commenting on the launch of TRU Plant and their partnership with Miller, TRU 7's operations manager, Jake Nicholls, said: 'We decided to re-enter the plant hire world as we saw a massive opportunity for the TRU 7 Group.
'We have the resources, knowledge, attitude and, most importantly, the equipment to put TRU Plant on the map as a major player in the hire industry, and Miller have been outstanding in helping us kit out the machines quickly and efficiently.
'We specified bespoke part numbers with colour-coded couplers and bucket heads and the quality and service has been outstanding. We are happy, as are our customers, with the Miller couplers, which complement the high quality of our brand-new Volvo machines, and we look forward to continuing working with Miller on future projects.'
Nick Kealy, Miller UK's business development manager for south-east England, added: 'It's been an absolute pleasure to work with Jake and his team, and Miller are delighted to be a preferred supplier to TRU Plant.
'It's an exciting time to be working closely with such a fast moving-group and we look forward to helping them meet their significant growth objectives.'