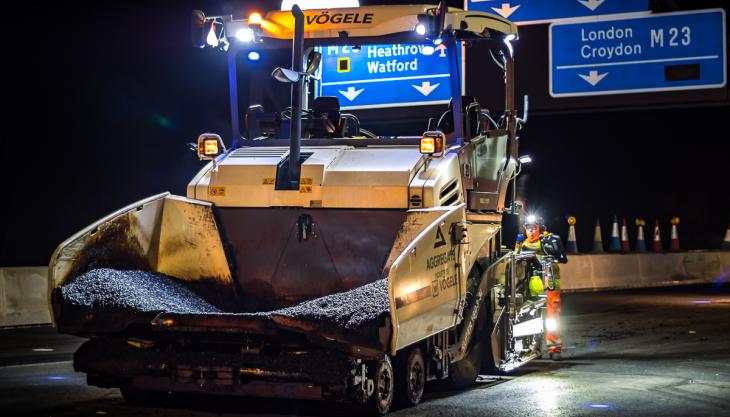 Aggregate Industries lay record-breaking 52,000 tonnes of asphalt on motorway in one month
THROUGH a number of evening and weekend closures and successful collaborative arrangements, Aggregate Industries completed surfacing works ahead of schedule on the M23 smart motorway project, laying 52,000 tonnes of asphalt in one month.
The works included widening of the carriageway to achieve the all-lane-running requirement, full-depth reconstruction of the hard shoulder, central reserve works and collaborative completion of junctions 9 and 10 and lane-four surfacing to allow the road to open for traffic.
With Aggregate Industries' Contracting division acting as the lead surfacing partner, materials for the project were supplied by the company's Asphalt and Aggregates divisions and delivered by its logistics team.
The company also took responsibility for recycling 100% of the old waste material from the pre-existing road, utilizing a local recycling facility to crush and screen it for use in the new asphalt. Thanks to the close proximity of the recycling facility, less haulage was required, thereby helping to reduce the project's carbon emissions.
Faced with an immense tonnage of asphalt to lay to an extremely tight deadline, Tarmac were enlisted to act as a second surfacing partner, drawing upon a long-standing relationship with Aggregate Industries through the Highways England Category Management Pavement Framework.
The collaboration between all parties, similarities in systems of working and the ability to share resources, drove efficiencies that resulted in the laying of 52,000 tonnes of asphalt in one month, thereby completing the pavement works by the end of March 2020, six months ahead of the initial forecasted completion date.
In addition to the project's logistical, technical and time-frame requirements, the team also had to adapt to a new working environment due to the COVID-19 pandemic, with all parties involved ensuring that the project was finished in accordance with social distancing guidelines.
Paddy Murphy, Aggregate Industries' managing director of Contracting, said: 'Not only is this project a great example of collaboration, flexibility and ingenuity within Aggregate Industries, but it is also further testament to the fact that, even in uncertain times, businesses like ours, and all the parties we work in close partnership with, are essential to keeping the country moving.'
The success of the project garnered significant praise from both Highways England and principal contractors Kier, whose chief executive officer thanked the team for its extraordinary achievement, saying: 'When the challenge to accelerate this project was set back in October, the collaboration, enthusiasm and commitment shown across the entire project team, including our supply chain partners, was magnificent.'