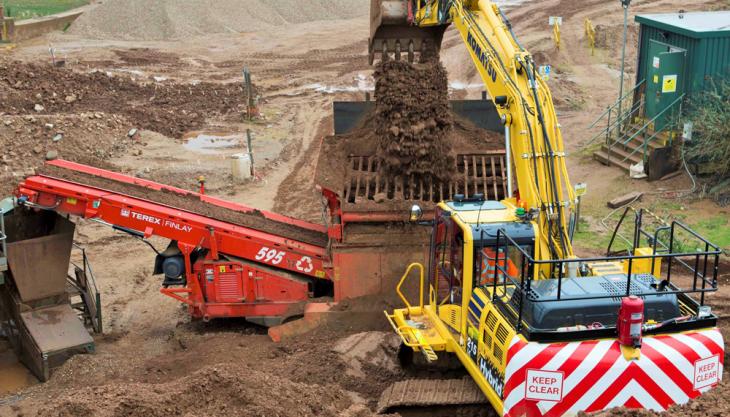 Mobile scalper electricity conversion helps quarry operator meet sustainability goals at East Leake Quarry
A TEREX Finlay 595 mobile scalping unit has been converted for dual-power use to support high-performance operations and sustainability at CEMEX's East Leake Quarry, near Loughborough. Supplied by Finlay Central, the machine has been adapted to run off electricity as well as diesel.
The Terex Finlay 595 heavy-duty scalper was originally hired by CEMEX for use at East Leake Quarry, where it proved its worth by tackling high volumes of materials. The mobile plant has since been purchased, replacing a static conveyor and grid with hopper.
'We had the 595 on a three-month trial and it was a big success for us,' said William Newton, assistant quarry manager at East Leake. 'It improved processing rates and avoided the spillages and blockages we'd encountered in the past.
'The machine has increased throughput substantially and we now see, depending on the material, volumes of between 130 and 170 tonnes/h being processed. When we decided to purchase the 595 we wanted to convert it to electric, as this would allow it to be sequenced to operate in line with the entire plant.'
Material from the 595 scalping unit passes through to a static washing plant before being screened and crushed to produce two sands and single-sized aggregates. For CEMEX, having the machine operating electrically means that it joins up with the rest of the plant, helping the site run smoothly and effectively.
Mr Newton added: 'The electric power option fits in with our sustainability objectives. We load the machine using a Hybrid Komatsu HB215 and the two work well together to save energy. The 595 unit is also tracked for ease of movement so we can disconnect the electric source and power the plant on diesel when we need to move elsewhere on the site. We certainly did not have that option with the static plant.'
Designed and constructed to the highest specification, the mobile machine's robust build and quality engineering allows it to withstand the toughest of applications, including waste-reclamation projects, demolition environments and quarries. Key features of the 595 include a heavy-duty twin-deck vibrating grid and radio remote-control movement.
Neil Bailey of Finlay Central said: 'The deposit at East Leake can be very difficult to process and we had to tailor the machine to suit the site's exact requirements. The plant has had a considerable impact and is powering through to create high-quality products, while its exceptional capacity also balances environmental performance. The electric conversion has worked out very well and this combination of economy, power and sustainability has made it an important addition to the site.'