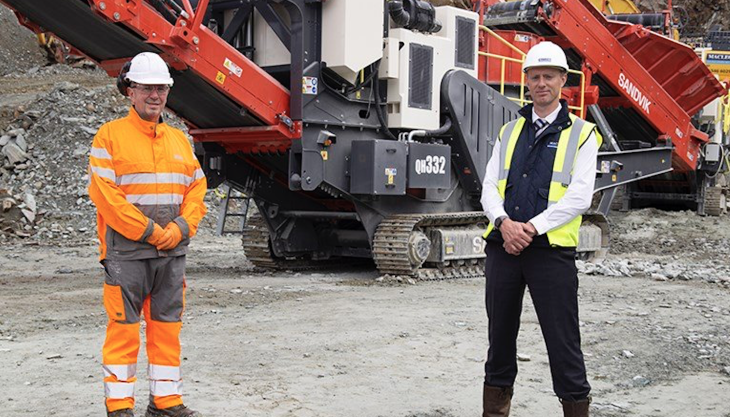 Lochgilphead-based MacLeod Construction and Sandvik mark relationship spanning more than 20 years
MACLEOD Construction Ltd may have been founded on traditional house-building values, but they have successfully embedded modern construction and quarrying practices into their operations.
Based in Lochgilphead, Scotland, the multi-faceted company is one of the largest private employers in the Argyll and Bute area and remains an innovator when it comes to materials, production and management. For more than 20 years, mobile crushers and screens from Sandvik have helped the company to achieve its visionary growth.
Built on similar core values, it is perhaps no surprise that MacLeod Construction and Sandvik have maintained and developed a strong relationship for two decades. The secret of MacLeod's success is a skilled workforce and a highly personal touch when dealing with customers – two key ingredients which Sandvik say are also vital to the way they conduct their operations.
Whilst staying true to their traditional values, MacLeod Construction have evolved and grown since twin brothers Murdo and Kenny MacLeod founded the business in 1975. Back then they were simply a house-building firm.
Fast forward to 2020 and MacLeod employ more than 200 people locally. They have diversified the business to include a factory in Lochgilphead that produces kits for residential and commercial properties and have also expanded into UPVC double-glazing and conservatories. In addition, they have a successful portfolio of rental properties and own and operate two quarries in the area.
The need to provide stone and aggregate of the highest quality, at the right time and in the right quantities has proved to be crucial in the further successful development of the construction side of the business.
Initially, MacLeod's Sandvik crushing machines were incorporated to assist in the delivery of their own construction projects, however as time and the industry moved on, so did their business. Using their fleet of Sandvik machines, MacLeod now stockpile product which is used for a variety of applications and sold to local councils and other contractors in the area.
Thinking ahead led to the vision of Murdo and Kenny MacLeod becoming a reality, and the next generation of the MacLeod family are continuing their legacy. Second-generation family member Greig MacLeod, business development manager, noted that the business has always trusted Sandvik for the dependability and versatility of their machines.
'We originally chose Sandvik based on track record and word of mouth. The reliability and service we have been provided with has remained constant over the past two decades,' he said.
Since their quarry operations began, McLeod have been a loyal customer of Sandvik and are now on their third set of crushing machines. Recently, the company purchased a new QJ341 mobile jaw crusher and a QH332 Hydrocone mobile crusher. This complements an existing QA331 tracked screener which was purchased a few years ago.
Combined, these machines provide optimum versatility and flexibility in terms of aggregate sizes, depending on customer requirements. 'The use of Sandvik equipment allows us to produce the materials we need and to the quality levels our customers need. We predominately crush to 20mm, 40mm and dust, which we mix together to get Type 1, the main material we produce,' commented Greig MacLeod.
The three Sandvik machines are capable of working together as a crushing and screening train, or separately as independent units. The QJ341 mobile jaw crusher reduces the quarried rock down to a manageable size with the QH332 producing accurately sized and shaped aggregate for use on building projects. If the material requires further sizing or cleaning, the QA331 finishes the process producing three accurate gradings.
The highly productive and efficient QH332 unit is fitted with a CH430 cone crusher. It is equipped with a hydroset system that provides CSS adjustment at the touch of a button. The automatic setting regulation system not only optimizes production, but also keeps track of liner wear, making it easy to plan liner changes and minimize downtime.
The CH430 cone has choice of six concaves and three eccentric bushes, providing a range of throws from 16mm to 36mm and maximum flexibility with regard to CSS ranges, production and material gradation.
MacLeod's say they have derived great benefits from using this machine, beyond the reliable output levels. With the Sandvik My Fleet remote monitoring system fitted as standard to their latest equipment, the collection and accurate monitoring of a wide array of parameters facilitates accurate production forecasting, ensuring that the most efficient use of the equipment is achieved.
'MyFleet has been great to date and we look forward to seeing where it takes us in the future; it is beneficial for our mechanics to use as well,' said Greig MacLeod.
Building a partnership over two decades not only demonstrates the quality and reliability of Sandvik machines, but is also testament to how customer service has been delivered. 'They have local representatives who come out if there's ever a problem and it's dealt with very quickly,' said Mr MacLeod. 'Sandvik's after-sales service has been fantastic, and that's why we use them time and time again.'