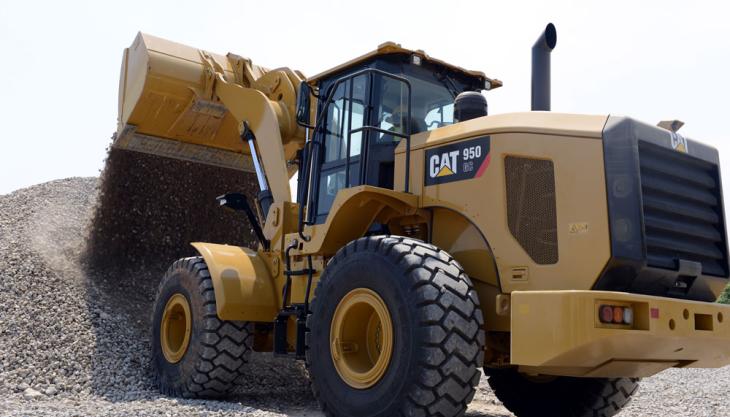 With a total of 40 machines on display, many models will be making their public and/or show debuts
CATERPILLAR will be presenting their extensive line of machines, technology and customer support capabilities at next month's show. With 40 machines on display in two different exhibit areas totalling 60,000 square ft, the company's presence will be among the largest at the show. But it is not all about size; Cat Connect technology for machine control and monitoring will share the spotlight with the iron it enhances – ranging from a skid-steer loader to a 96-ton excavator. 
Eight Cat machines will make their public debut at Conexpo and a further half-dozen recently introduced machines will be on display for the first time at an equipment show. The newest Cat machines to be displayed include excavators, wheel loaders, a dozer, an articulated truck, a telehandler and cold planers. Caterpillar will also introduce new remote-control technologies and connectivity technologies at the show.
New machines on display will include the 390F and 336F XE crawler excavators, both of which have been updated to deliver improved productivity and lower costs. The 390F can be equipped with the industry's only integrated payload system for accurate truck loading, while the 336F XE is fitted with the system as standard.
New Cat wheel loaders will also be in the spotlight. The new 986K will replace the H Series model, delivering lower cost per ton in earthmoving and aggregates operations. The 950 GC will make its North American debut and will be displayed alongside the full-featured 950M. The 972M XE and 982M will also be on display to highlight updates including new Cat Connect Technologies, additional operator comfort and safety features, and features that help reduce operating costs.
The new 745 articulated truck will also be on display. It features an all-new, class-leading cab with enhanced visibility. Innovative machine control features further improve operator efficiency and safety. For example, the new stability assist system reduces the risk of rollovers, while the new Economy Mode reduces fuel consumption.
The updated D6T dozer that will be on display at Conexpo will feature a new transmission and new Auto Shift system that allows the machine to achieve fuel savings of around 20%, compared with the previous model. Additionally, the updated D6T now is equipped with GRADE with Slope Assist as standard equipment.
Meanwhile, a D8T dozer in Peoria, Illinois, will be remotely controlled from the operator station at the Conexpo exhibit in Nevada. The new Cat Command remote control system for the D8T offers a choice of two operator interfaces – a portable operator console designed for line-of-sight use and an ergonomically designed operator station that can be located remotely when the dozer is equipped with the Command Vision System. Wireless connectivity allows the operator to work from a safe location, whether nearby or far away.
The full line of Cat paving products will be represented at the show, with the emphasis on three new cold planers – the PM825, PM622 and PM312. The new PM800 Series complements the previously released PM600 Series and features increased weight and engine power for demanding applications. The highly versatile PM300 Series is capable of urban and patchwork applications, small-to-medium road milling or situations where compact dimensions, optimum manoeuvrability and high production capabilities are required.
In addition to the big machines, Cat compact and building construction machines will be on display, including the new TH514D telehandler with its three-section boom and Tier 4 Final engine.