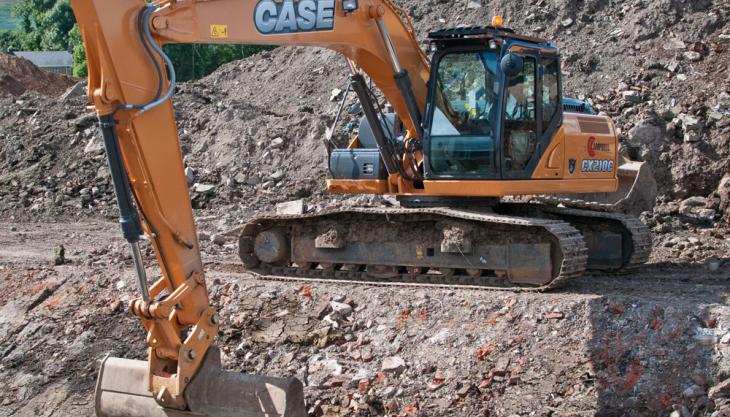 Excavators working on A8 Belfast to Larne road upgrade scheme equipped with Hill quick-hitches 
COUNTY Fermanagh-based Campbell Contracts are one of the main sub-contractors on the £100 million Larne A8 road upgrade scheme – a new 14.4km dual carriageway linking Belfast and Larne, on the east coast of Co. Antrim in Northern Ireland.
The company currently has a total of 16 machines deployed on the project, and all of the excavators working on site are fitted with Hill Engineering quick-hitches.
Rory Kelly, Campbell Contracts' health and safety manager, said: 'We first started using Hill Engineering for their road brushes and dump trailers back in the early 1990s and found them to be very reliable and well made.
'Our first Hill quick-hitch came on a Samsung 210 tracked excavator in 1996, and it again proved to be dependable and easy to use, so we have continued to use Hill accessories for this reason.'
Donal Cunningham, regional sales manager at Hill Engineering, said: 'Rory contacted us about two years ago as the company wanted to upgrade all their semi-automatic quick-hitches to the latest-generation Hill fully automatics.
'We supplied Campbell at the time with our previous quick-hitch model, the AL3. Since then they have specified Hill hitches on all their new machines bought from Case dealer Sleator Plant, who also specify, whenever possible, the Hill Tefra quick-hitch.'
Campbell Contracts currently have 18 Hill quick-hitches on their machines and half of these are the latest Tefra model.
'Our plant operators like Hill quick-hitches; they are easy to operate, easy to maintain and rarely give any bother,' said Mr Kelly. 'When you do the work we do it's very important to have a safe and reliable quick-hitch.'
He added: 'The majority of our hitches are a custom specification and Hill are happy to make them to suit our requirements. They offer a warranty on their work…and there is never a problem getting parts or servicing on our range of quick-hitches.'