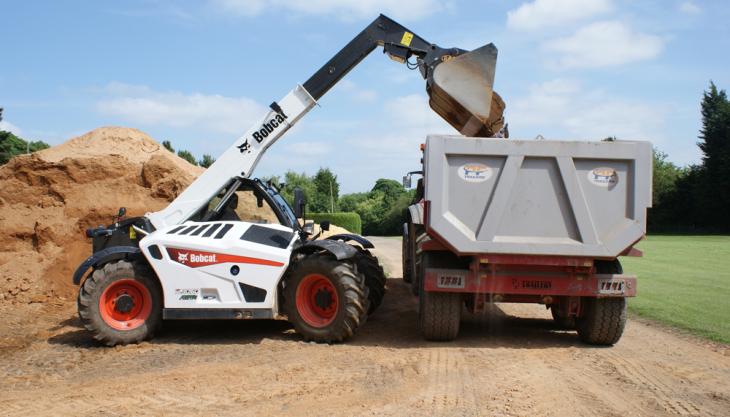 Construction firm purchases new Bobcat TL30.60 machine for on-site recycling duties 
LEEDS-based C & AJ Marshall Builders have taken delivery of a new compact Bobcat TL30.60 telehandler for lifting and loading recycled construction, demolition and excavation materials on building projects.   
'We are very impressed with the new Bobcat telehandler,' said Ben Marshall, owner of C & AJ Marshall Builders. 'It complements the larger telehandlers that we also run on our sites, which are designed more for lifting rather than loading. The new Bobcat TL30.60 is now a core component of the turnkey contracts we offer to clients – covering everything from demolishing existing buildings and recycling as much as possible for use on site to building the new properties and handing them the keys at the end.'
The TL30.60 unit is being used to feed the demolished material into on-site compact crushers and screens. The telehandler combines this duty with other work, such as unloading, moving and lifting pallets of bricks and other construction products. 
Powered by a Bobcat D34 Stage IV engine (100hp), the machine has a top speed of 25 miles/h and benefits from electronic fuel injection, high-pressure common rail technology and cooled exhaust gas circulation for lower emissions. Another standard feature is Eco mode, which maintains optimum hydraulic performance without using the engine's full power. 
Described by Bobcat as a 'compact productivity model', the TL30.60 can lift three tons up to 24in high. 'The telehandler provides good lifting capacity and lifting heights,' said Mr Marshall. 'It also meets our requirement for having a relatively small footprint and being able to work and move within the confined spaces on our sites.'
The TL30.60 offers comfortability (eg high air suspension seat) and a number of smart operating features, including speed management system which allows the travel speed to be adjusted independently.