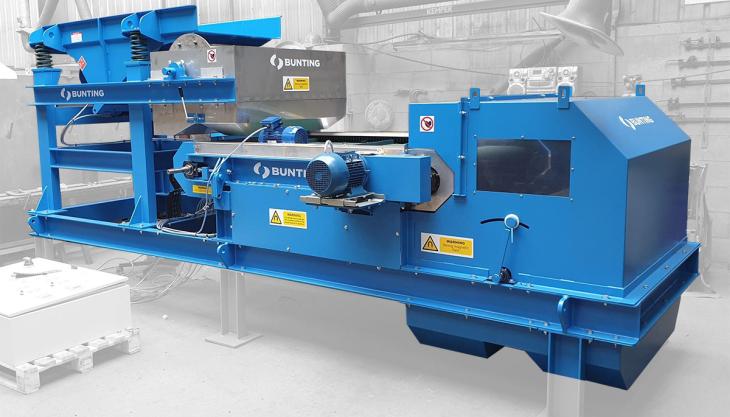 UK magnetic technology specialists to deliver eddy current separator and ElectroMax overband magnets 
BUNTING, manufacturers of industrial magnetic equipment, have won a deal for their eddy current separator and three ElectroMax overband magnets from a UK-based recycling specialist for installation in a major overseas construction and demolition waste-management project.
The plant constructor had initially contacted Bunting to discuss permanent overband magnets for the project abroad. During a review of the application and metal separation targets, Bunting's team of applications engineers recommended a combination of an eddy current separator and a trio of ElectroMax overband magnets.
In the plant design, the metal separation equipment follows immediately after screening, recovering both ferrous and non-ferrous metals. The throughout at this point is approximately 15 tonnes/h of 50–150mm construction and demolition (C&D) waste materials.
For recovery of the non-ferrous metal in the project, a HIC ECS150 eddy current separator to be used measures approximately 3.7m long and 2.5m wide, with a feed conveyor width of 1.5m. 
A concentrically located high-strength neodymium rare earth magnetic rotor creates strong repulsive forces to eject non-ferrous metal from non-metallic waste. Furthermore, an easily adjustable splitter mounted inside the hood allows the segregation of recovered non-ferrous metals and non-metallic waste.
For ferrous metal separation in the recycling plant, the EMAX150 ElectroMax overband magnets will be suspended at 450mm above 1,500mm wide conveyors. Each EMAX150 weighs approximately 2.8 tonnes, with the electromagnetic coil drawing 7kW.  
Since their launch in early 2020, Bunting say their air-cooled ElectroMax overband magnet has proven very popular, due to its compact design and excellent ratio of size to magnetic power. 
'Like every project we work on, our applications team reviewed the application with the customer after they initially contacted us about permanent overband magnets,' commented Simon Ayling, Bunting's European managing director.
'With our extensive range of metal separation equipment, we were able to assess and recommend a better performing design of overband magnet – the stronger ElectroMax. The conversation then turned to non-ferrous metal separation with the eddy current separator. We are thrilled to be selected to supply all the metal separation equipment for the plant.'
The delivery of the Bunting magnetic equipment is expected to take place in May 2021.