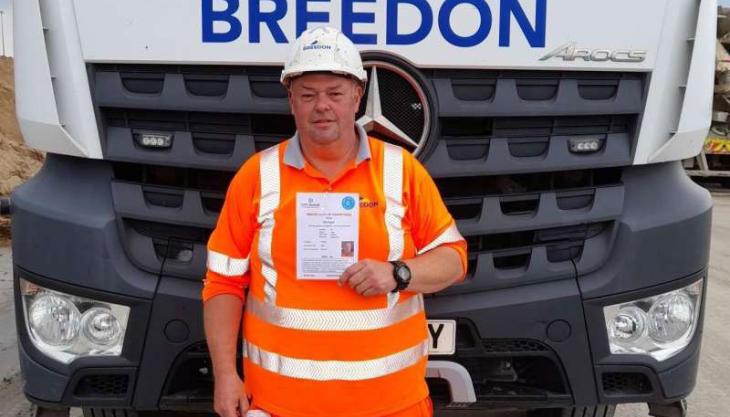 U.K. Truckmixer Training create bespoke truckmixer-specific training programme for new Breedon drivers
BREEDON have recently successfully completed a new driver training programme at their Blyth concrete plant in Northumberland, in conjunction with U.K. Truckmixer Training Ltd.
With the current driver shortage across the industry, Breedon wanted to create a programme that would give new drivers the best start possible when driving and operating a concrete truckmixer.
Tom Colley, Breedon's area logistics manager for northern England, said: 'A couple of months ago, we decided to try something different the next time we had an opportunity to recruit. It was clear we needed a bespoke, tailored and truckmixer-specific training plan to do this.
'Our new driver, Tony, worked on palletized freight and general haulage work for several years. It was apparent he was keen and willing to learn; the only thing was, he had never driven a truckmixer before.
'We were able to call on the services of U.K. Truckmixer Training and their MixerSURE training programme to fulfil this requirement, and Mark [Cowan] drew up a plan for Tony, which took him from understanding how the mechanics of the truck operate to different applications of concrete in the marketplace to driving behaviour and everything in between.
'Over the next month, Mark spent time with Tony both on the road and using e-learning modules to build his knowledge and skills, with the end result that Tony passed his TMCA (Tipper/Mixer Competence Assessment) first time, something which he is very proud of.
'Mark has provided ongoing support to Tony since the programme finished, and Tony is now part of the furniture at our Blyth plant.'
Mark Cowan, owner of U.K. Truckmixer Training, said: 'After meeting both Tom Colley and Stuart Rose (Breedon's regional transport manager - Central & North), it was clear that they were fully committed to trialling a programme by 'breaking the mould' and investing in their drivers.
'The remit was to create a bespoke, first-class professional training programme that would ensure continuous improvement in all aspects of delivering their products safely and professionally. Not only did we have to offer the specialist training, but we also needed to ensure that we could confirm competence.
Using our award-winning MixerSURE training, which is fully assured and accredited by EMPI Awards, we were able to devise a programme that was not only suited to inexperienced drivers but would also offer a credible and certificated route into the industry – which is another industry first.
'We also incorporated our ground-breaking Tipper/Mixer Competence Assessment (TMCA), which has dual accreditation from both EMPI Awards and CLOCS (Construction Logistics and Community Safety), giving the most in-depth programme the industry has seen.
'It was an absolute pleasure to work with Tony, who had a great mindset and was able to adapt confidently to the different and changing characteristics of the mixer and was eager to gain as much knowledge as possible throughout the whole process.'
Mr Cowan continued: 'Having recently finished trialling our TMCA with various companies and writing the National Occupational Standard for Driving and Operating Mixers, it's good to see that Breedon have gone one step further with the programme, and the feedback has been excellent.
'Having a specialized driver training programme is hugely important for the industry, and it's never been more critical with companies looking to use inexperienced drivers due to the current and well-documented driver shortages.'
Tom Colley added: 'I will be using U.K. Truckmixer Training's MixerSURE and TMCA programme again following the success of the pilot programme at Blyth, especially where experienced drivers are a rarity and scarce in the transport sector.
'As for Tony, he's a breath of fresh air and a pleasant and positive face for the company when dealing with our wide range of concrete customers. It's still early days, but he's happy to be here.'