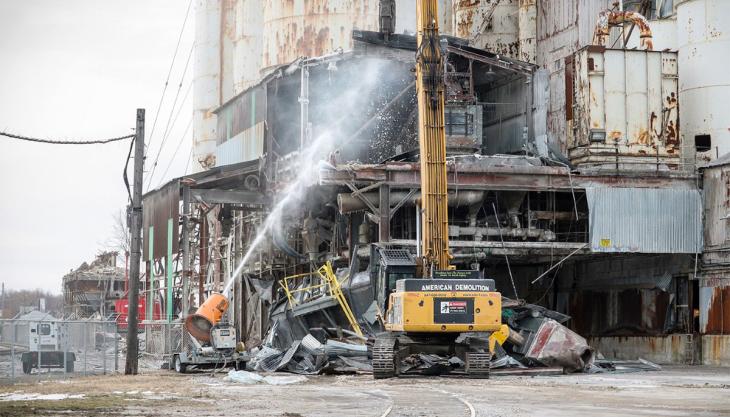 Latest atomized mist cannon manages dust in unfavourable weather conditions
BOSSTEK have launched the all-new DustBoss DB-60 Surge – the company's newest dust-control cannon with more water delivery options designed to suppress dust with maximum efficiency.
Developed in response to the needs of customers working on sites with variable winds, the DB-60 Surge features water propelled at high velocity from a centre nozzle, combined with an industry-proven fan and misting ring system.
With three remote-controlled stages and precision oscillation for optimum command over water volume and coverage area, the cannon uses high-powered jets that surge through the wind for over 250ft (76.2m) to suppress both surface and airborne dust. The result is effective and versatile dust mitigation in challenging weather for outdoor operations ranging from demolition to bulk material processing and storage.
'Our customers operate in very different circumstances; some with high-reach excavators, some in open areas without natural barriers, while others are in narrow corridors where wind velocity is amplified,' explained Mike Lewis, BossTek dust control specialist.  
'What these customers have in common is the difficulty in controlling fine atomized mist during blustery conditions. So, we worked with our industry partners, listened to their feedback, and engineered our most versatile and innovative machine to date.'
Mr Lewis recalled that one of the initial drivers behind the new design was a need in the demolition industry. 'Several customers described their challenges in suppressing dust during demolition of high-rise structures,' he continued. 'Some of them use attachments that can be mounted on a high-lift boom, but that can bring its own complications.
'When we started working on a solution, we realized that this technology would also deliver benefits to a wide range of applications in which variable wind conditions can be a problem, such as port facilities, material processing operations and large outdoor storage facilities.'
The DB-60 Surge combines the power of an industrial fan, misting ring and heavy-duty barrel with the reach and force of a central high-pressure spray nozzle. The pressurized spray resists wind shear and even uses the force of the wind to further fragment and carry the droplets, enhancing its dust suppression capabilities.
According to BossTek, this is achieved without the need for high-water output associated with a hydrant-dependent hose or industrial sprinkler system. Mounted on a heavy-duty roadworthy trailer for towing at road speeds with a standard ball hitch, it can be placed by a pickup truck, skid-steer or lift truck wherever dust suppression is needed.
As supplied, the DB-60 Surge can run potable or non-potable water, as it is equipped with two in-line 30 mesh, 595μm to avoid clogging. One filter is located at the water entry point to the booster pump, another prior to the pipe feeding the central nozzle.
The remote-control feature of the dust-control cannon provides a 1,000ft (305m) range, so operators using heavy machinery (eg high-reach excavators) can command the machine without leaving the cab. A number of optional features such as a tower mount and the company's Fusion generator can be added to DB-60 Surge unit, which alleviates the need for a nearby power source.
'DustBoss is known for its rugged quality and long equipment life, often described as one of the most reliable and low-maintenance pieces of equipment on any job site,' said Mr Lewis. 'Our three-year or 3,000-hour warranty is evidence of our confidence in the products. The DB-60 Surge is designed with that same philosophy and is built to last.'