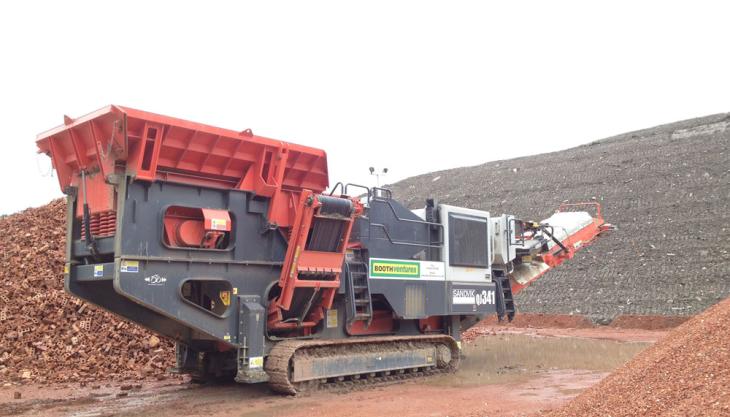 Waste-management firm uses Sandvik equipment to help deliver 'total solutions package' for customers
AS a reputable company, with an emphasis on best practice and being fully compliant with government and regulatory agency standards, Bolton-based Booth Ventures are fast developing a reputation as one of the north-west region's premier waste- management companies.
This reputation was recognised in 2012 when the company won an award at the British Ceramic Confederation's annual awards, and now through its four operating divisions, and a reliance on Sandvik mobile screening and crushing equipment, the company is aiming to deliver a 'total solutions package' for their growing customer base.
Booth Ventures operate four separate divisions: Waste Disposal, Site Regeneration, Aggregate Sales, and Consultancy. Each unit plays an important part to the business and when combined offers a synergy of operation that provides enhanced benefits to customers, locality and the environment.
An increasingly important part of the business for Booth Ventures is the supply of a range of both virgin and recycled aggregates to customers. Products include: top shale stone (0-50mm); 6F1 stone; 6F2 stone; and brick shale.
Recycled aggregates cover a broad spectrum ranging from 0-10mm to 0-40mm recycled and 6F2 recycled. Other aggregates include: a 0-4mm clean brick product; bulk fill material; rough walling stone; fine screened ash; and top soil.
All of these products are supplied from either the company's Harwood Quarry (in Bolton) or Mouselow Quarry (in Glossop), many of which have proved particularly suitable for engineering and site remediation purposes.
 
In order to process, size and supply the materials, a crushing and screening solution was required. After an intensive search and evaluation, Booth Ventures decided on a S5 screener (now a QA340) and QJ341 jaw crusher supplied by Sandvik Construction.
'Equipment flexibility is essential for our business, so the crushing and screening ability to function effectively at a recycling centre or quarry is vitally important to us,' said Matthew Booth, managing director of Booth Ventures.
'What stood out on the QJ341 is not only is the crusher highly productive, but it is also flexible that one minute we can use it to crush virgin rock, and the next demolition rubble which is full of rebar, bricks and reusable concrete.'
The QJ341 is used in conjunction with the S5, a three-way split screener which uses Sandvik's patented double screen box technology to deliver highly accurately sized materials at excellent rates of throughput. Furthermore, and continuing the relationship with Sandvik Construction, Booth Ventures have recently acquired two QE341 mobile scalping screens.
The QE341 model represents a major development of the QE340 screen, offering users a much more robust and refined unit with increased throughput.
Furthermore, the QE341 unit has been developed with a easier set up, operation and maintenance in mind, as well as featuring a robust crusher-style chassis that has been designed to be compatible for two-way or three-way split configurations, along with reversible side conveyors, to offer all-round flexibility.
One of the major upgrades to the QE341 is the new electrical control system, which incorporates a number of features to improve both the operational effectiveness and safety of the machine. The simple easy-to-use system has colour-coded numerical push buttons and a visual display unit, allowing the operator to fully monitor the process.
Prestart warnings on all plant functions and an auto-start/stop facility are included, together with a three-mode selector function: set-up; operation; and tracking facility, to ensure operator safety and ease of operation.
According to Sandvik, these new features – which proved to be attractive to Booth Ventures – ensure the QE341 is now as user and environmentally focused as it is productive, efficient and versatile.
Thanks to industry leading equipment, Booth Ventures are able to provide customers with a total solutions package catering for virtually any requirement. The Sandvik crushing and screening plant are playing their part in dealing with whatever challenges come their way and vitally turning what has traditionally been seen as throw-away materials into valuable products for reuse and resale, thus fitting the operating ethos of Booth Ventures.