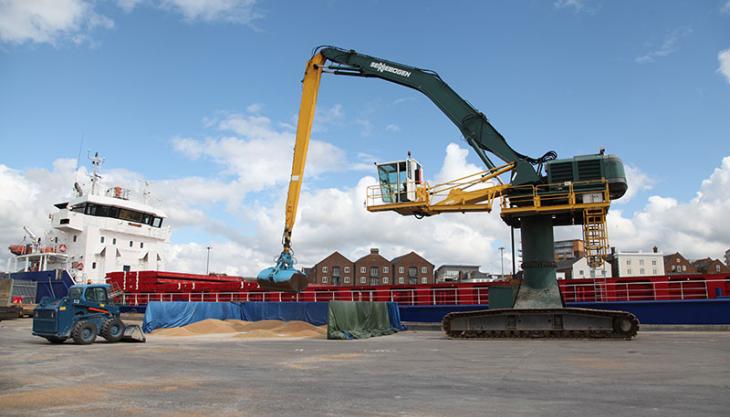 Poole Harbour Commissioners purchase new-generation loader to help with ship-loading duties
POOLE Harbour Commissioners (PHC) have purchased a new Bobcat S630 skid-steer loader from Kellands (Plant Sales) Ltd for use at the Port of Poole, in Dorset.
Paul Gillingham, engineering manager at PHC, said: 'We have been using Bobcat skid-steer loaders for many years and we have always found them to be very suitable for the work in the port, offering unmatched reliability throughout their years of service. This is exemplified by our existing Bobcat 863 loader, which we've been running trouble-free since its purchase in 1999.'
Among a variety of applications around the port, the new Bobcat loader is used primarily to help in stockpiling materials such as sand and clay delivered by truck to the quayside, so that they can be loaded into ships' holds by the port's grab cranes.
As more and more material is removed from the stockpiles, that which remains becomes too dispersed for the grabs to be effective and it is at this point that the Bobcat loader takes over. The new Bobcat S630 skid-steer loader is used to form new mounds of material which can then be lifted off the quay by the grab cranes.
Similarly, the Port of Poole uses its existing Bobcat 863 loader for ship-trimming applications in ship holds, where it again works in conjunction with crane-mounted grabs on the quayside to unload ships carrying bulk cargoes.
The grab begins the process of unloading the ships but as more and more cargo is removed, that which remains again becomes too dispersed for the grab to be effective and at this point the Bobcat 863 loader is lowered into the hold to do a similar job to that performed by the S630 loader.
With an operating weight of 3,496kg, a rated operating capacity of 989kg and a tipping load of 1,978kg, the new Bobcat S630 radial-lift-path skid-steer loader is designed and built to offer the highest levels of performance, efficiency and operator comfort.
Powered by a 55.4kW Kubota V3307-DI-TE3 Stage IIIA diesel engine, the S630 is part of the new-generation loader range from Bobcat, providing a significant increase in power, hydraulic performance and productivity.
According to Bobcat, the standard hydraulic flow on the S630 has been increased by more than 30% to 87.1 litres/min, providing significantly better attachment performance, while the high-flow version of the loader, the S630H, offers a hydraulic flow of 115.5 litres/min.
Improved operator comfort is another key feature of the S630. The most prominent aspect is the forward-positioned Premium Cab, the largest on the market, which offers a 30% increase in all-round visibility, while forward visibility is further enhanced by a 40% larger door.