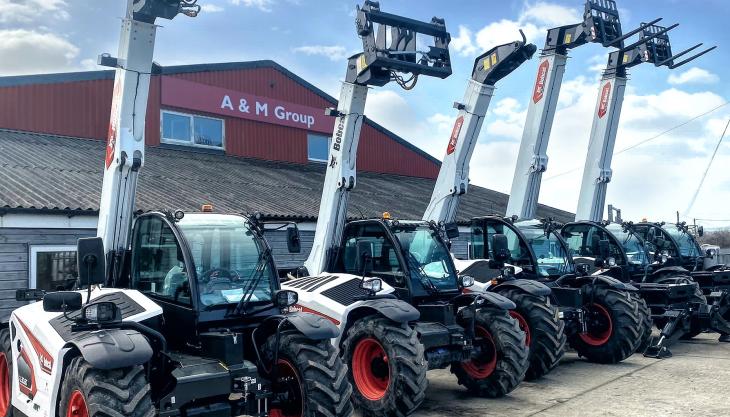 Bridgend-based A&M Group to handle sales and service in South, West and Mid Wales
BOBCAT have appointed A&M Group as their new authorized full-line dealer for South, West and Mid Wales. Bridgend-based A&M Group are now responsible for sales and service in this region for the entire Bobcat range of loaders, mini-excavators, telehandlers, light compaction equipment, and attachments.
Newport-based Border Bobcat, the previous dealer for the area, are now specializing in the Bobcat skid-steer, compact track, compact wheel, and small articulated loader ranges for the counties of Powys and Gwent.
Andrew Wolton, new district manager for Bobcat for the UK South area, commented: 'We are delighted to confirm A&M Group as the new full-line Bobcat authorized dealer for South, West and Mid Wales. I look forward to working closely with them and we are confident that they will be as successful as a full-liner for the entire Bobcat range as they have been selling the Bobcat agricultural telehandler range in Wales over the last few years.'
As part of developments in taking on the Bobcat dealership, A&M Group have purchased two plots on the Brackla Industrial Estate in Bridgend, one of which will form the location of the company's new headquarters. The new facilities will complement the company's existing operations in St Clears, in Carmarthenshire, from where A&M Group serve the west of Wales.
James Atherton, business manager at A&M Group, said: 'We are very pleased to be appointed as the full dealer for Bobcat in South, West and Mid Wales. We intend to build on the substantial success we have had with the Bobcat agricultural telehandler range in our area. In 2021 alone, we sold more than 60 new Bobcat telehandlers to farmers across the region, converting many of them to the Bobcat brand for the first time.
'Our extensive experience in the construction market will be key in meeting our goals. To support the new dealership, we are making substantial investments in our premises in Bridgend, including the construction of our new headquarters building. To meet demand from the growing construction market and other industries in this part of Wales, we have initially ordered more than 210 new Bobcat machines.
'The number of employees at A&M Group has grown year on year and we continue to look to build our team and improve our services. We have demonstrated time and again that we can convert our large customer base to the brands we represent. We are aiming to achieve the same for the Bobcat brand to match our success with the agricultural telehandlers.'
As well as the entire Bobcat range of machines and attachments, A&M Group also offer a full selection of genuine Bobcat accessories and parts to support both new and existing customers in their area. This is backed up by a stock of both brand-new and second-hand Bobcat machines for sale, as well as A&M Group's on-site service network, covering everything from emergency repairs to routine maintenance.