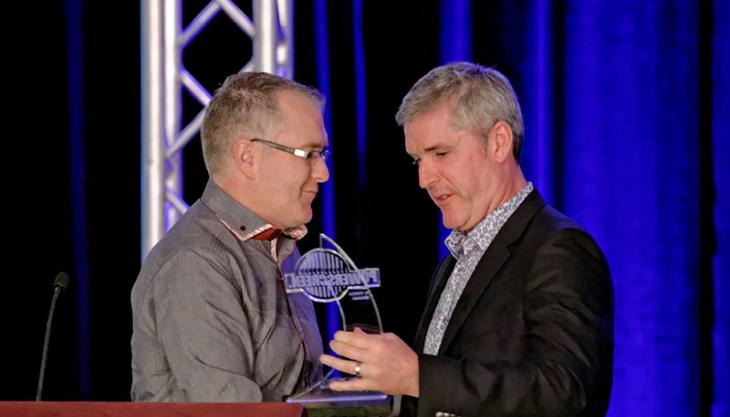 Blue Machinery Scotland receive highest accolade at Powerscreen dealer conference
Blue Machinery (Scotland) Ltd have received the highest accolade of 'World Dealer of the Year' at this year's Powerscreen world dealer conference which was held at Fort Lauderdale, Florida.
The three-day event, which took place from 17-19 March, was a major gathering of dealers and their customers from around the world and a key opportunity for Powerscreen to demonstrate their latest developments in plant and equipment. Powerscreen also use this major international corporate event to present highly coveted awards to their most successful distributors over the past 12 months.
As well as Blue Machinery Scotland's outstanding achievement, other Blue Group companies, Blue Machinery Central and Blue Machinery Southern, both gained recognition as being Highly Commended in the European Region.
Managing director of Blue Machinery Scotland, Austin Carey (right in picture), said: 'This is a huge achievement for Blue Group and reflects the hard work and dedication of every single member of our team. The highly prestigious 'World Dealer of the Year' award for us at Blue Machinery Scotland not only recognizes our outstanding record year in terms of sales but also our continued commitment to our infrastructure and significant investment in after-sales support, personnel and facilities.'