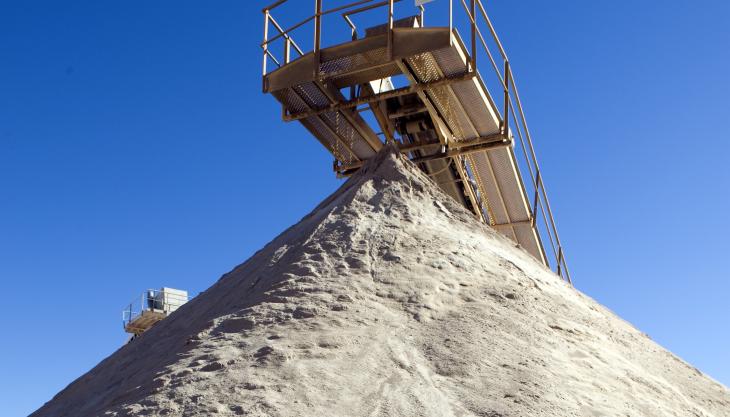 Joint international project aims to support sustainable development of sand and aggregate resources
THE British Geological Survey (BGS) is participating in a joint UK-Kenyan international project that aims to blend data and information with local stakeholder input to explore the sustainable supply of sand and aggregates in Kenya.
The project, called Earth Observation for Sustainable Aggregate Supply (EO4SAS), is one of 10 recently announced projects being grant-funded through the UK Space Agency's International Partnership Programme (IPP), part of the Department for Business, Energy and Industrial Strategy's (BEIS) Global Challenges Research Fund (GCRF).
Sand used as aggregate forms an essential and finite resource. Growing demand for construction – buildings and infrastructure, creating land through reclamation, and coastal protection from climate change – has resulted in supply pressures on traditional sources, with unmanaged extraction emerging as a locally significant problem around the world.
The issue has been highlighted by the United Nations and has the potential to cause wide-ranging social, economic and environmental impacts, including pollution, land erosion, changing water flows, reduction of biodiversity, damage to infrastructure, degradation of habits and impacts on vulnerable communities.
Pixalytics Ltd, a UK-based Earth observation company, are leading the project and will be working with the Government of Kenya alongside Kenyan partners Nairobi Design Institute and NIRAS Africa, and UK partners Satellite Applications Catapult, Chatham House and the University of Plymouth, to deliver the work. In addition, the project is being supported by the minerals team from the British Geological Survey.
The team will be working with local stakeholders alongside satellite data, machine-learning technology and in-country knowledge to bring together a better understanding of the current extraction sites, scale, transportation routes and environmental impacts for sand, helping the Government of Kenya identify better strategies for the sustainable management of this resource.
The short-term discovery project, running until March 2021, will look at how such a system could be implemented. It is hoped the proposed solution will go on to receive further funding and so improve the monitoring and regulation of aggregate mining, supporting sustainability in the aggregate supply chain and progress towards the UN Sustainable Development Goals.
BGS mineral geologist Tom Bide said: 'Sand is a vital raw material for construction, essential for houses and infrastructure in rapidly developing counties like Kenya. However, high demand can lead to shortages, lack of effective environmental controls and even illegal mining.
'Through this project, we are excited to be involved in developing more effective resource management systems using innovative technologies to mitigate some of the harmful effects of sand extraction.'
Dr Samantha Lavender, managing director of Pixalytics, said: 'With an increasing global demand for sand, we are excited to be working with Government of Kenya, local stakeholders and communities to see how we can all work together to develop a more sustainable system for the management of this vital resource.'
Liz Cox, IPP's head of international relations at the UK Space Agency, added: 'The compelling results of previous IPP projects cement the case for investment in space for sustainable development. IPP is not only demonstrating the value of satellite solutions and improving the lives of people on the ground in developing countries, but also facilitating effective alliances between the UK and international organizations. It's a 'win-win' and an exciting moment in the programme.'