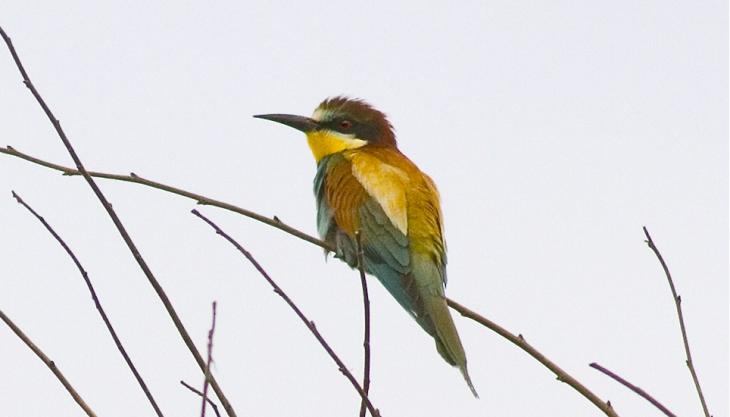 How mineral sites, both operational and restored, offer great potential for safeguarding species
THIS summer's surprise visit by seven bee-eaters to quarry in the East Midlands showcases the way in which appropriately managed working quarries can also provide a vital home for nature as climate change sees species moving further north.
For the second time in two years, quiet corners of working quarries have provided an ideal habitat for visiting rare and exotic-looking bee-eaters. In the summer of 2015 a Hanson site in Cumbria proved attractive, and this year seven individuals made their home at CEMEX's East Leake Quarry, in Nottinghamshire.
Normally found much further south in southern Europe or Africa, increasing visits from this colourful species suggest that climate change is playing its part in these new habits, as Mark Thomas, senior investigations officer at the RSPB, explained: 'With increasing sightings of bee-eaters in more recent years, it is highly likely that fluctuating temperatures are pushing this and other species further north as they start to adapt to changing conditions. It is fair to say that, if trends continue, bee-eaters may become more established visitors to the UK in the future.'
In terms of habitat, similar to sand martins, bee-eaters often like to burrow into sand banks where they can lay up to eight eggs.
RSPB business conservation adviser Jenny Oldroyd, who works with CEMEX under their corporate partnership with the RSPB, offering advice on nature conservation land management best-practice, commented: 'Some of these birds' burrows can be as much as 3m in length and sand banks at quarries can represent ideal conditions for these birds, and sand martins, as they look for homes further north.
'On this particular occasion, a non-operational part of the quarry at this CEMEX site proved attractive to this group of birds. Hats off to CEMEX and their staff for appropriate management of the area to help give these birds the best chance of breeding success.'
Nevertheless, despite sterling work all round from staff at CEMEX, the RSPB, Nottinghamshire Wildlife Trust, local landowners and a host of enthusiastic volunteers to guard and observe the area during the visitors' stay, on this occasion the birds did not breed successfully.
However, as Nature After Minerals (NAM) programme manager Helen Barnard pointed out, the interest these rare birds have sparked, with some 15,000 keen viewers visiting the site, shows how much people value nature and want to see it catered for.
'The birds' stay also underlines the importance of having the right habitats in the right places to meet the needs of species across the board, especially if predictions suggest further northern migration of more exotic species such as these bee-eaters,' she added.
'Mineral sites dotted across the landscape represent great potential for safeguarding species, both during the operational phase of their life and post extraction, as this case exemplifies. We look forward to learning of more cases of both operational and restored mineral sites catering for more species – whether of the more exotic kind or not.'