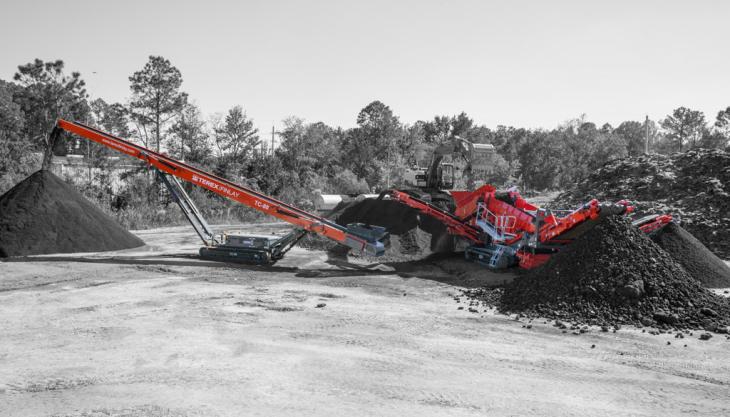 Brand new 883+ triple-shaft screener and TF-75L low-level feeder to be shown alongside latest OMNI system 
AT bauma 2019, Terex Finlay will be displaying four machines from their crushing, screening and conveying ranges, including the new 883+ triple-shaft heavy-duty screener and the TF-75L low-level feeder. 
The Terex Finlay 883+ screener is equipped with a triple-shaft designed screenbox that is suitable for working in dry and sticky applications including quarry, mining and recycling applications. The triple-shaft screenbox delivers an oval motion stroke to generate an aggressive screening action, reducing plugging and blinding over the screen decks to provide a quality product with high tonnage output.
The Terex Finlay TF-75L low-level feeder has been designed to maximize productivity, enhance efficiency and reduce on-site operational costs in a range of applications and feed material types. It allows the operator to directly discharge from wheel loaders and excavators at a significantly lower feed in height compared to standard hopper feeders. 
Tracked mobility and the ability to feed material from all three sides enable the TF-75L to be easily incorporated into open and closed-circuit static or mobile crushing and screening circuits. 
The other exhibits on show will include the second-generation Terex Finlay J-1160 mobile jaw crusher which has been designed and built with the operator in mind, with increased under jaw clearance and all-round preventative maintenance and serviceability access. 
At the heart of the model is a 40in x 24in jaw crusher that has proven itself in recycling, demolition and aggregate production applications. Designed to maximize fuel efficiency and deliver one of the lowest cost-per-tonne in the marketplace, the machine is ideal for small- to medium-sized operators.  
Terex Finlay will also be showing their self-powered 80ft tracked stockpiler, which has a maximum discharge height of 10.5m and tonnage capacities of up to 500 tonnes/h. Hydraulic angle adjustment and belt speed adjustment on the unit ensures optimum performance is delivered for the end-user. The mobile conveyor can also be folded to fit inside a 40ft container for cost-effective transportation. 
In addition to the machine exhibits, Terex Finlay will be showcasing their advanced telematics capabilities with demonstrations of their T-Link telematics system and latest OMNI technology, which, the company says, interacts with mobile crushing and screening equipment and will ultimately be a 'game-changer' in the industry.