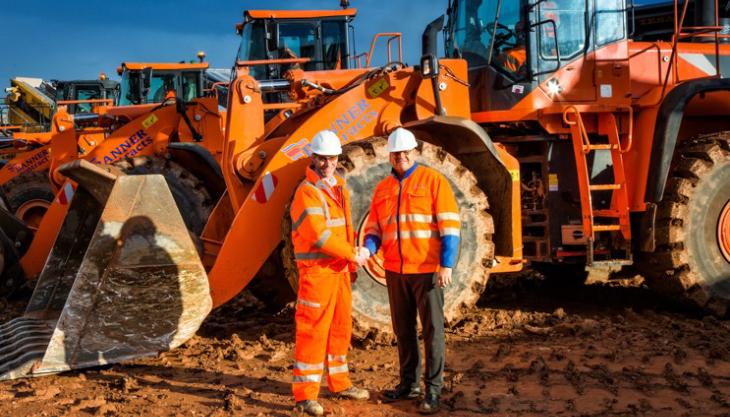 Company awarded extraction contract at Saint-Gobain Formula's high-purity gypsum mine near Newark
SAINT-Gobain's Formula arm in the UK has awarded a five-year contract to Darlington-based Banner Contracts to extract high-purity gypsum from their opencast mine near Newark, in Nottinghamshire.
Banner Contracts were chosen following a tender process involving eight potential suppliers, with Formula (a Saint-Gobain sister brand of British Gypsum) focused on securing a safe, competent and professional partner for what is a key strategic operation in the East Midlands.
The opencast mine, known as Bantycock, produces around 230,000 tonnes of gypsum every year. The high-purity material is used in a range of everyday products from plasterboard (manufactured within British Gypsum sites) to plaster used in dentistry, ceiling mouldings and beer making.
Saint-Gobain Formula plant manager Mark Yates (right of photo) said: 'Banner's professionalism and expertise is second to none. Their experience in mineral processing was a key factor in their selection, as they will help us to continue to improve our yield of useable gypsum versus the amount of rock we extract, whilst operating in a safe and sustainable manner.
'This improved yield will help maximize the reserve life, and we look forward to a mutually beneficial relationship over the duration of the contract.'
Banner Contracts director Jo Banner commented: 'This is an exciting opportunity for our company. Our mineral processing experience in quarries has proven to be directly transferable to the manufacturing of the grades of gypsum that Saint-Gobain Formula require.
'The contract is a sizeable undertaking for our company and we have invested heavily in new plant and equipment to ensure that the anticipated increased demand for gypsum can be met in an efficient and timely manner. We are also eager to invest in the continued professional development of the team who will be working at this site.'
Working with the Saint-Gobain Formula team, Banner are currently improving the infrastructure in the gypsum processing area, ready for the delivery and installation of a new processing plant later this month, while Hall Construction were chosen to carry out the earthworks in the mine.
Mr Banner (left of photo) continued: 'New concrete bases have been poured in preparation for the installation of a new Hercules trommel that we have commissioned especially for this application.
'We have also invested in a number of Tesab machines, including their new 800i jaw crusher, a TS1860 20ft x 6ft scalping screen and a TS2430 screen, as well as a Trackstack radial conveyor and an MMD sizer.'
Following extensive consultation, Nottinghamshire County Council has recently agreed a revised restoration scheme for the mine. Benefits arising from this scheme are already being seen, with the backfilling of 25 acres with overburden completed and covered with topsoil during 2016.