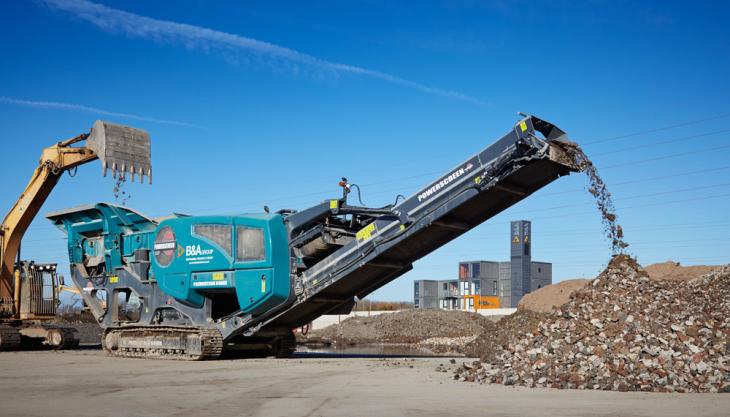 Bristol and Avon Group invest in new Premiertrak R400X to meet increased demand of recycled products 
THE Bristol and Avon Group (B&A Group) are among the first major waste-management firms to take delivery of the new Powerscreen Premiertrak R400X jaw crusher, which was launched last year. 
Supplied by Blue Machinery (Southern), the machine has been hard at work at B&A Group's aggregate facility in Hallen, near Bristol, where the company has invested more than £7 million, as part of expansions plans, in developing what will be the largest soil and stone treatment facility in the South West.  
Construction and demolition waste materials are delivered to the aggregate processing centre via an extensive fleet of B&A Group haulers. The Premiertrak R400X plant is processing this incoming feed of C&D materials, which consist mainly of concrete, brick rubble and tarmac. 
Recycled materials are produced in line with market demands and the current blue-chip company contracts that B&A Group must fulfil, which ultimately sees them supply a wide variety of products, including Type 1 MOT and single-sized materials for use in fill, sub-base, road base and pipe bedding. 
Replacing a three-year old Powerscreen R400 jaw crusher, the new Premiertrak R400X builds on the legacy of its predecessor; improving ease of use, maintenance, serviceability and on-site safety. The R400X is capable of producing up to 400 tonnes/h and incorporates a hydraulic release jaw and jaw flipper plate, magnet and side fines conveyor. 
The crushing plant can also be controlled remotely and features the Powerscreen Pulse telematics system, which provides key machine data, including GPS location, start-and-stop times, fuel consumption, maintenance status and wear ratings. A user-friendly interface displays information clearly for 'at a glance' metrics and diagnostics.
Martyn Yarde, sales manager for Blue Machinery, commented: 'B&A Group have experienced a great return from their old Premiertrak R400 and saw the new Premiertrak R400X as a great investment with the new upgraded specification. 
'Depending on feedstock and jaw settings the Premiertrak R400X can easily achieve 300 to 400 tonnes per hour and produce up to 4,000 tons in an average day. It will ensure continued performance, production and availability, and provide maximum fuel efficiency to give B&A Group and their customers the best all-round value.'