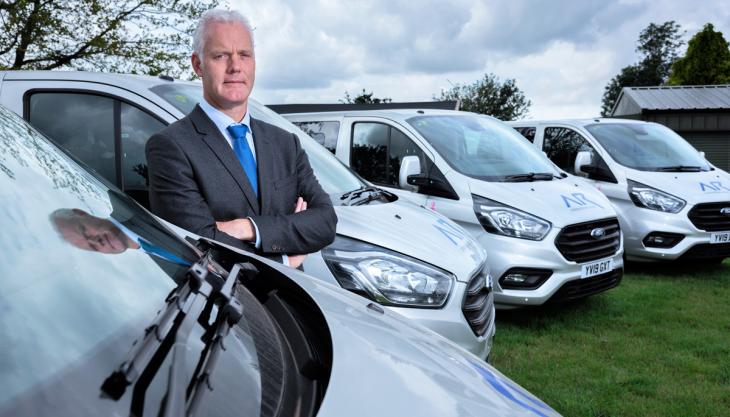 Company purchases 35 new vehicles for key staff as part of its ongoing investment plans 
SPECIALIST contractors AR Demolition have completed the purchase of a new fleet of service vehicles as part of their investment programme to secure the company's future in the sector. The Nuneaton-based firm has taken delivery of 35 vehicles for use by its operators, as well as supervisors and managers. 
The latest round of investment in AR Demolition's equipment fleet follows significant spend on new plant and machinery in the past few years, including three cutting-edge high-reach Kiesel machines worth £1.5 million. 
AR Demolition were founded by Andrew Thompson and current managing director Richard Dolman in 2007 and, following a period of restructuring and stabilization in 2017, the company reported a record start to 2018.
Mr Dolman commented: 'I am determined to make AR Demolition a beacon of industry best practice and an example to all construction contractors in terms of standards and innovation. Having a new fleet of vehicles will play its part in portraying the image we want to promote, not only to our clients but also within our workforce, to let them know we are a company which takes its reputation extremely seriously.
'Having our new vehicles will certainly play its part in ensuring that our staff across the board adhere to, and promote, the quality and standards I expect us to achieve.'
In April, AR Demolition picked up two titles at the 2019 Construction News Specialists Awards finals, for 'Health, Safety & Wellbeing Excellence' as well as 'Demolition Specialist of the Year'. The company was also nominated for the 'Outstanding Contribution to Construction' category at the main Construction News Awards, which took place in July.
AR Demolition are unique among SME demolition contractors in having their own quarry site and aggregates recycling facility, near Leicester.
Mr Dolman said: 'As a company, we are looking to offer our clients a spectrum of services where quality and innovation stand alongside sustainability and efficiency. AR Demolition is gradually turning into the company we have all visualized – it's an exciting time for all of us and great to see our continued development, setting an example for what a small demolition contractor of the 21st century can be.'