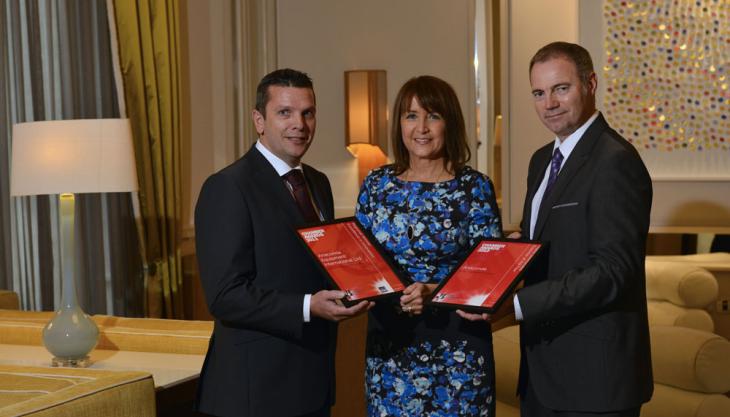 Anaconda Equipment International manufacturers and exporters of machinery for use in the mining, quarrying and waste recycling industries, have once again received recognition for their innovative range of products.
The Northern Ireland Chamber of Commerce (NICC) has bestowed the 'innovation award' upon Anaconda as well as presenting a 'highly commended award' upon the company for outstanding export achievement. 
The British Chambers of Commerce (BCC) Awards 2013 is committed to finding the best businesses through a series of regional heats followed by a national final, which is due to be held in November. This is the 10th year of the Chamber Awards which recognize business success across the UK.  Five companies from across Northern Ireland have been crowned winners of the Northern Ireland Chamber of Commerce's 'Chamber Awards 2013'.   Anaconda are delighted to have picked up the Regional 'Excellence in Innovation' award from the Northern Ireland Chamber (NICC) as well as being highly commended for 'Exporter of the Year' for 2013.
According to Con Gallagher, sales and marketing director: 'The company's key to export success is providing innovative equipment at the right price with excellent quality and a responsive after-sales service to support our dealer network. This is great news for everyone at Anaconda as its further recognition and reward for their continued hard work and success. These awards raise your profile, prove your excellence, acknowledge your team efforts and help motivate everyone to be the best within our sector. Anaconda looks forward to the UK finals with a great sense of pride in what has been achieved to date.'
September has proved to be one of the most successful months for Anaconda Equipment with a large volume of orders, wining the two awards from NICC, being short-listed for the UTV Business Eye awards and the launch of their largest mobile screen to date – the SR514 triple-deck screen. 
The SR514 is the latest product offering to be added to the Anaconda product range which extends to more than 20 products. The SR514 is a conventional screener used mainly in the segregation of aggregates and offers the option of three or four screened products.