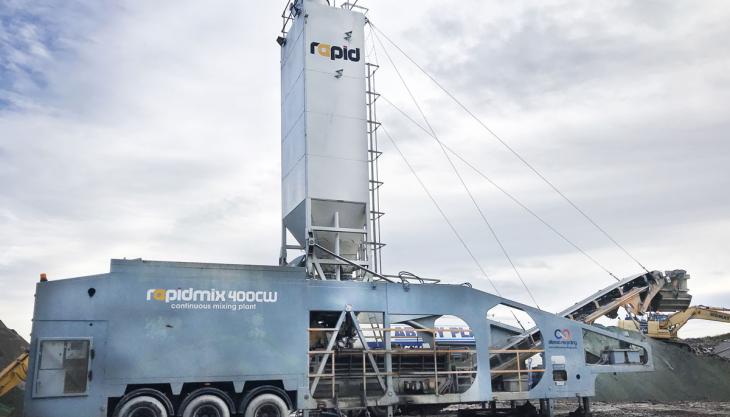 Mobile continuous mixing plant playing key role in production of bentonite-enriched soils 
ALLASSO Recycling have credited a Rapidmix 400CW high-volume mobile continuous mixing plant as the 'ideal solution' for bentonite-enriched soils (BES). Manufactured by Co. Armagh Rapid International, the recycling firm praised the Rapidmix plant's ease of mobility, high capacity and improved throughput.
Allasso have become one of the leading names in the construction products and waste-recycling markets, providing end-to-end recycling solutions to local authorities, service providers, utility firms and building contractors. 
The company's specialist services include: site remediation; soil stabilization; highways recycling; roller compacted concrete (RCC); cold recycled asphalts; and recycling of asphalt waste containing coal tar.
BES is a geotechnical application where bentonite and water are mixed with the host soil to form an impervious layer, suitable for landfill lining. The layer is a minimum 500mm thick, with the material laid in approximately 150mm lifts. 
The Rapidmix 400CW mixing plant is employed in the production of Allasso's bentonite-enriched soils, including a BES project in Scotland, covering14,000 sq m. 
As part of the construction phase, the mixing portion of the project is expected to take up to two months. As a result of the quantity of host material required, two sources have been employed, each requiring a bespoke mix design. The primary host material will contain 4.5% bentonite, whilst the other material will have 7.5%.
Leo Plant, director of Allasso, commented: 'Rapidmix is the ideal mixing solution due to the self-contained nature of the plant, quick set-up time, its high productivity and advanced mix monitoring systems. In addition, having the ability to run the pugmill clean-out belt during mixing, helps mixing performance when mixing sticky cohesive materials such as BES.
'The high capacity and versatility of Rapidmix enables us to produce or treat a variety of materials in large volumes, all with precision control. This, together with great support from the Rapid team, makes Rapidmix our solution of choice.'
According to Rapid International, the Rapidmix 400CW plant has proven to produce high-quality controlled mixtures for utilization in a range of civil engineering applications, from airport runways and contaminated land treatment to dam construction and soil stabilization. 
Offering outputs of up to 600 tonnes/h, the mixing plant incorporates full weighing options for aggregates, cement and water to ensure fully automated, precise and detailed record-keeping at all times.
In addition, the mobile nature of the plant combined with its technically advanced design mean the Rapidmix 400CW provides a cost-effective solution for deployment on projects where high-specification compliance coupled with a high-volume, fast throughput are critical.
Fully self-contained, the Rapidmix 400CW has its own on-board compressor and generator for power and is fitted with a hydraulic self-erecting system that allows the plant to switch from travel mode to fully operational mode within a few hours.