Aggregate Industries open new materials testing lab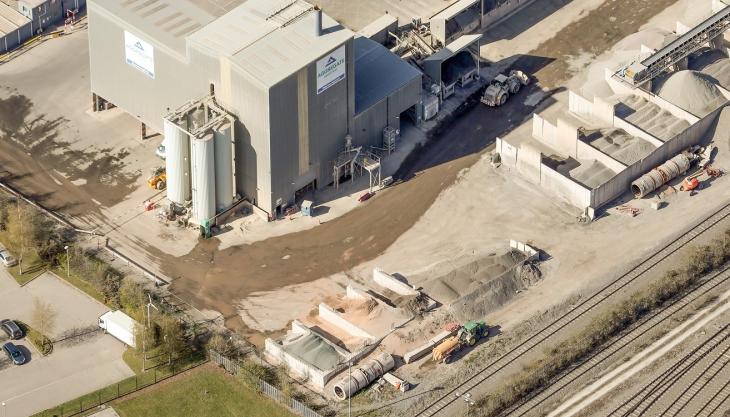 Contracting division expands site testing capabilities with new UKAS-accredited laboratory
AS part of their pledge to become a leading sustainable business, including the improvement of resource efficiency through reuse, recovery and recycling, Aggregate Industries' contracting division has opened a pioneering new laboratory for materials testing.
Enhancing the division's existing surfacing, cementitious and recycling offering located in Tinsley, Sheffield, alongside Aggregate Industries' existing asphalt facility, the new Centre for Recycling & Research has been independently certified by the United Kingdom Accreditation Service (UKAS), one of the UK's leading accreditation bodies.
The new lab, which is mobile and can be moved to other areas of the country should major projects demand it, includes new state-of-the-art laboratory equipment, a fully certified laboratory manager and a technician.
Also, as an official Kickstart Scheme employer, Aggregate Industries have recently hired a kickstart employee who is working at the lab on a six-month placement. This supports the Government's pledge to provide skills and training for young people – with a view to making the role permanent after the initial period.
The new lab will also be an integral part of Aggregate Industries' work on recycled product testing. Testament to its immediate success, the Tinsley Centre for Recycling & Research has already recycled around 80,000 tonnes of reclaimed asphalt planings (RAP) back into the local road network as asphalt mixtures and alternative Foamix base and binder layers.
Commenting on the new lab, pavement expert Neil Leake, national technical manager at Aggregate Industries' contracting division, said: 'Responding to the dearth of testing facilities available in the market, we've invested in this new UKAS-accredited lab, which means customers can now enjoy an end-to-end quality service for full site compliance.
'The introduction of our in-house laboratory is a great milestone. It will not only help our customers achieve greater cost efficiencies and reporting times, but will also allow us to push the boundaries of utilizing recycled materials as part of our ongoing mission to make construction more sustainable. Therefore, we urge all our customers – both new and existing – to make the most of this new facility.'
Aggregate Industries say the investment highlights their commitment to sustainability and first-class customer service, as the launch of the new lab comes at a time when, despite being busier than ever, the contracting sector faces a shortage of testing facilities.
The new facility means that Aggregate Industries' project partners and clients can now benefit from an end-to-end quality-assured process; from manufacture and installation to performance testing, driving a robust quality approach across all contracts.
Customers will be able to take advantage of the efficiencies the lab will provide, from much speedier reporting processes to more accurate testing. Projects partners will also benefit from the peace of mind of knowing Aggregate Industries' experienced technicians are on hand to assist throughout site works.