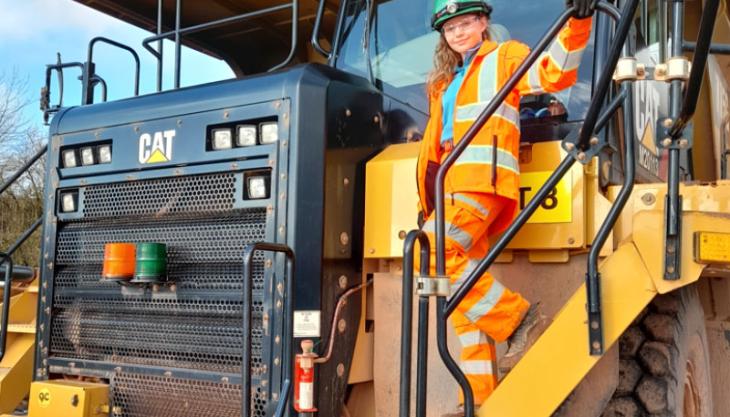 Seventy-six new apprenticeship opportunities on offer this year for careers in the construction sector
AGGREGATE Industries have launched its 2023 apprenticeship scheme as part of National Apprenticeship Week (6–12 February). The company is seeking to recruit 76 apprentices this year, building towards a total of 200 active roles across the business.
Two types of qualification are being offered by the company: Higher Apprenticeships, which require A-levels or the equivalent of 80 UCAS points; and Advanced Apprenticeships which require five GCSEs.
Higher Trainee Manager Apprenticeships in Mineral Products Technology with the University of Derby and Higher Commercial Apprenticeships with partner Mercuri are on offer, along with Laboratory and Materials Technician Advanced Apprenticeships with provider Tiro and Engineering Advanced Apprenticeships with Make UK.
Andy Swinnerton, managing director of the Aggregates division and company lead for apprenticeships, said: 'We are a progressive business and want to attract the next generation of our workforce to come and be part of a great company. It is well documented that across the construction industry we have an ageing workforce and there remains huge demand to fill roles.
'Apprenticeships offer a great opportunity for people in the early part of their career to learn new skills through getting hands-on experience, while backing that up with a qualification. Younger workers can bring in fresh ideas and digital skills.
'A key driver for our business is sustainability. We have a clear mission to decarbonize the construction industry, make our own operations greener, building new from old and better with less, as well as promoting green growth – we know this is something that really resonates with the younger generation and is important to them when making career decisions.'
Sarah Howarth (pictured), who recently completed her mineral products technician Higher Apprenticeship with the University of Derby, is now a trainee assistant quarry manager at Aggregate Industries' Westleigh Quarry, in Tiverton, Devon.
She said: 'I thoroughly enjoyed my apprenticeship. It was a fantastic opportunity to get into the industry and to explore different aspects of quarrying as well as the wider mineral products sector. There are some great benefits to completing an apprenticeship, such as earning while you learn, kick-starting your career and working and learning alongside industry experts.
'I chose to follow the mineral extraction pathway, however there are plenty of other pathways, such as concrete, cement, and asphalt. I love to be out on site in a hands-on environment, so the Higher Apprenticeship allowed me to do this while carrying on my education.
'My advice for anyone considering doing an apprenticeship of any level or any pathway is to take every opportunity you can and choose something you enjoy.'
Jedd Castledine is a first-year electrical engineering apprentice who is conducting learning blocks with partner Make UK in Birmingham and returning to site at Hulland Ward to learn about the business. He said: 'Apprenticeships give you the opportunity to train up for what you want to be. I've found it much better than going to college to do a general qualification.
'What I like about it is you get experience of working on site and you get an opportunity to have a job afterwards. It's less about being stuck just in a classroom and more about getting out and doing some hands-on work. You get the chance to get more involved and also you earn.'
Zac Baker is a first-year mechanical engineering apprentice based at Cauldon. He said: 'I've found it a much better alternative to university because you don't have to deal with the debt. You get just as good a qualification at the end, and you're being paid at the same time.'