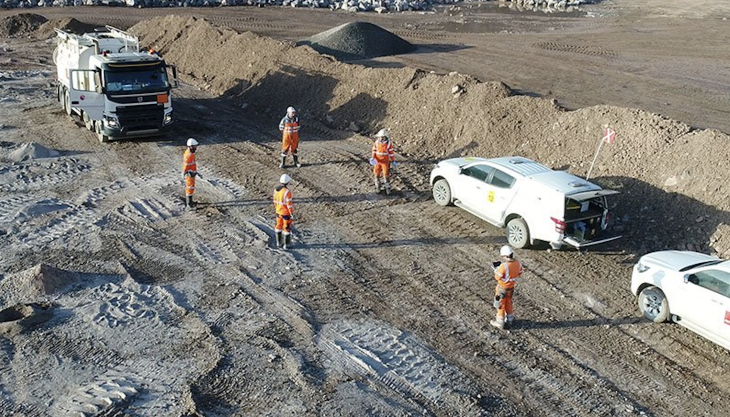 EPC-UK deliver results throughout COVID-19 with safety and communication-led best practice

AS the COVID-19 pandemic continues to shape corporate learning curves nationwide, commercial explosives and blasting specialists EPC-UK have detailed the measures they have been taking to deliver successful results for customers in these extraordinary times.

EPC-UK say they have always considered safety to be their fundamental operating principle and, due to monitoring international activity via the EPC Groupe business, were quick to respond to the Government's social distancing guidelines announced in March 2020.
Ensuring that the well-being of its employees, customers and associates always comes first, the company has continued its specialist processes and services throughout the pandemic by implementing a range of safety measures – both recommended and self-realized – across its sites and business functions.

'The very nature of our operation means EPC-UK team members always use a 'safety first' approach,' said Ben Williams, EPC-UK's managing director. 'So, adopting the new social distancing methodology has readily become familiar practice for us all.

'From applying safety initiatives such as 'virtual sign in and out' processes within quarry environments to minimize human contact, to conducting 'on bench briefings' to plan jobs and discuss risks prior to charging a hole, our operating teams have made social distancing measures second-nature functions.'

Mr Williams went on to describe further new systems that have become EPC-UK's new operating standards, such as the introduction of in-cab Perspex screens to keep both driver and passenger safely separated, the regular sanitation of all vehicle touch points, thorough risk assessments company-wide, and shared HSE guidance to ensure all employees are constantly updated regarding the latest advice and instructions.

This approach to implementing and following new best-practice measures has met with enthusiastic appraisals from companies EPC-UK have worked with since social distancing measures were put in place.

Ed Buscombe, mobile plant manager at the UK division of Imerys, has been impressed with EPC-UK's commitment to working safely to maintain service and results. 'The EPC team's competence throughout these challenging times has been exemplary,' he commented, 'as it's continued to provide Imerys with uninterrupted, full rock-on-ground solutions for drilling and blasting services.
'Following the implementation of safeguarding measures introduced by EPC-UK and Imerys, we were – and continue to be – able to meet current demands. We're delighted to report that due to the practicing of the measures that were quickly put in place, the overall result has been that nothing has changed during the pandemic.'

Similarly, Mark Gibbons, national operations director – aggregates at Hanson, has also had a positive experience of dealing with EPC-UK in recent months, particularly in terms of the company's commitment to effective communications.

'Historically, we've brought EPC-UK on board to supply Hanson with explosives, shotfirers, and explosive supervisors,' Mr Gibbons explained. 'To date, the team has successfully helped to optimize blasting techniques, with the aid of drones, profiling and detailed drill patterns, with exacting levels of specialist work completed prior to the pandemic that ensured operations were safe and services were maintained.

'Once the severity of the COVID-19 situation became apparent, EPC-UK prioritized regular communications and were completely transparent, giving us reassurance that our resources were aligned and put to best use during a challenging time.

'The same class of professionalism and commitment was applied to our production levels, with Hanson keeping EPC-UK fully informed as to which sites were open and when, so safe operations could continue to be performed. Communications between both companies has increased rather than decreased during this unparalleled episode, which in turn has served to develop our relationship even further.'

'I'm gratified to learn from these positive customer testimonials that the unified approach teams across EPC-UK have taken to not just comply with regulations during the pandemic, but to seek out solutions designed to improve services and relationships, has been successful,' said Ben Williams. 'We have applied and embraced new business practices in light of the COVID-19 pandemic, a number of which are likely to become new operational norms.

'We've learnt how to safely and effectively perform for our customers in the current climate and have adopted additional methods which, as the 'new normal' continues to evolve, will serve us well; increasing both our business and safety resilience and strengthening our highly specialist industry offering.'