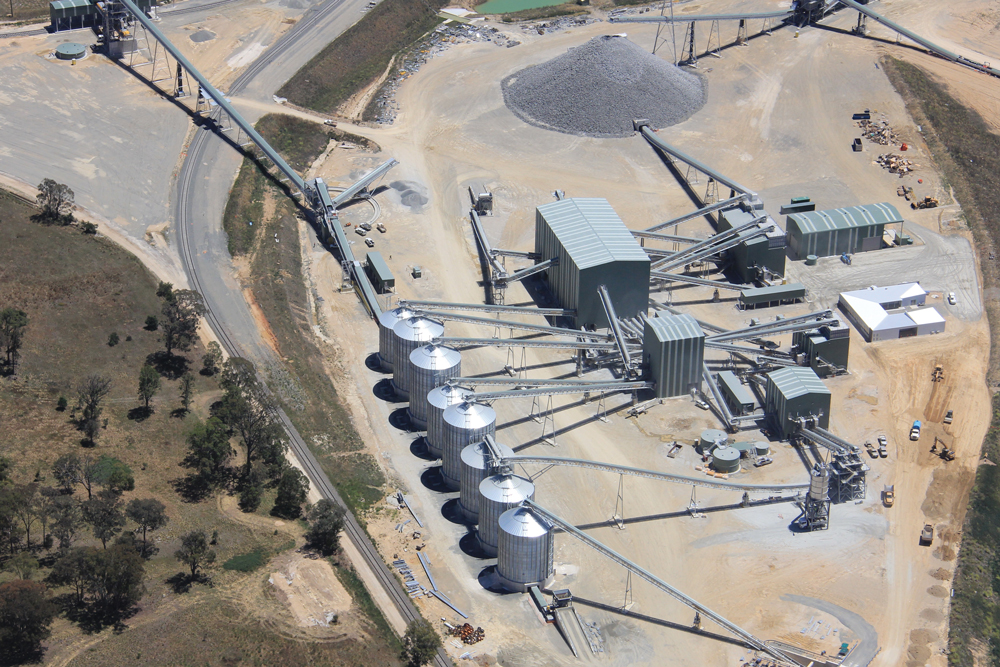 First published in the September 2016 issue of Quarry Management as Generational Investment at Peppertree. Also view article on the Key elements of Peppertree Quarry Processing Plant.
In 2014, Boral commissioned an advanced processing plant at their greenfield Peppertree Quarry, south of Sydney, Australia. Supplied by Sandvik Mining and Rock Technology, the facility has set a new benchmark in environmental management, safety, production and product quality
As you approach Boral's Peppertree Quarry, a 2h drive from Sydney, it is immediately obvious this is no ordinary quarry operation. There are no stockpiles of different products, no loaders and dumptrucks moving material around, no lines of tipper trucks collecting material for delivery to construction sites back in Sydney – and very little noise.
Instead, eight gleaming stainless steel towers soar into the sky – storage silos for the base materials that combine to make up the numerous different product mixes which the site can produce. These silos are fed by a complex 3D maze of conveyors from the multiple crushing and screening plants housed in an array of structures – which in turn are fed from a single massive stockpile bringing in the raw crushed material from the quarry pit itself.
The quarry's entire output leaves the site by train – four trainloads a day, every day – with multiple product mixes in every trainload. Not a single kilogram of product leaves the site by road.
And yet this entire processing operation can be controlled by a single person. Operating 24h a day, seven days a week, the whole site has just 30 people running it; compare this with equivalent-output conventional quarry operations, which typically require many more personnel, along with multiple items of mobile equipment.
Generational investment
So what was behind Boral's decision to go far beyond anything that had been done in Australia previously, and build a world's best-practice operation?
A unique combination of history, geography, geology and environment – along with some equally unique challenges – has resulted in the company's new Peppertree processing plant.
David Bolton, Boral Construction Materials' general manager of quarries for New South Wales and the Australian Capital Territory, said that for many years the company had known it would need to replace its Penrith Lakes Scheme quarry, on the western outskirts of Sydney.
Having supplied Sydney with construction materials from more than 100 years, Penrith Lakes was all but exhausted by 2015 and quarrying at the site officially ceased in July this year.
Boral needed a replacement quarry close enough to Sydney to allow it to economically transport product to the metropolitan region, and to meet the demanding standards of their customers – from homeowners, small tradespeople and builders, to large multinational civil and building contractors and their clients.
'We identified a large deposit of granodiorite (a very hard, durable rock, ideal for concrete and asphalt applications) adjacent to our existing limestone quarry near Marulan, south of Sydney,' said Mr Bolton.
'Our Peppertree Quarry is a generational investment and will secure Boral and the Sydney construction materials market for many years to come. We were granted consent to extract and process 3.5 million tonnes a year. This consent is for an initial period of 30 years, but the resource at Peppertree will last significantly longer than that.'
One issue Boral were faced with in the move from Penrith Lakes to Peppertree was the fact that the new site had no sand resources. Accordingly, the company decided to develop its own manufactured sand products, combining granodiorite from the new Peppertree Quarry with product from its adjacent limestone quarry.
Now, 40% of the output from Peppertree is manufactured sand – and it has proven to be a product of such outstanding characteristics that demand for it is growing.
Transport by rail
Another major challenge for Boral was in getting Peppertree's products to Australia's largest city, some 200km away. The quarry's target output would have meant a steady stream of trucks travelling up and down the Hume Highway and into an already very congested city road network.
The need to ensure that all aggregates were transported from the site by train rather than truck presented a number of challenges to Boral and to Sandvik in developing the systems and infrastructure to be able to accommodate such large volumes of diverse products by rail.
'The rail-loading infrastructure that was developed by Boral and Sandvik for this project is, I believe, one of a kind in this industry,' said Mr Bolton. 'It has the ability to be able to load multiple products, doing this at high capacity, similar to large-scale mining operations. However, in large-scale mining operations you are dealing with just a single product that's going on to a train, whereas the system we have developed in conjunction with Sandvik allows us to deal with multiple products at very high rates, thus maximizing our rail utilization.'
To maximize the plant's efficiency and productivity, minimize ongoing operating costs, and ensure a high degree of flexibility in order to meet changing market demands well into the future, Boral adapted the principles of 'lean manufacturing' to their Peppertree operations.
'The entire design of Peppertree incorporates a number of lean manufacturing initiatives to reduce material transport requirements and material movements, as well as excess stocks of materials on site,' explained Mr Bolton. 'Products from Peppertree and the way that these products were delivered to our markets drove us to design a plant based on what our customers truly valued. From these customer requirements the original project specification was developed, and Sandvik and Boral then designed and built the plant and equipment to meet those needs.'
Fully integrated plant
From the earliest specification and design stage, Boral worked closely with Sandvik Mining and Rock Technology to develop a fully integrated processing plant that met the highest standards of production reliability, product quality and safety.
Once the raw quarried material leaves the pit, Sandvik-supplied conveyors, crushers, screens, air classifiers and surge bins, along with sophisticated control and quality monitoring systems manage every aspect of production until the final product is loaded on to the train. A key element of this process has been to ensure that the products out of Peppertree meet specifications and achieve market acceptance.
According to Peppertree quarry manager Angus Shedden, the quality of Peppertree products has exceeded all expectations. 'The feedback from our customers has been exceptional, far better than we expected,' he said. 'Our secondary crushers, the Sandvik cone crushers, really are delivering fantastic shape.'
Mr Shedden said that this shape straight off the cone crushers was of such high quality that the operation had been able to reduce the feed going through its quaternary vertical-shaft impactor (VSI) crushers.
'We are also getting excellent consistency of our aggregate,' he said. 'We are able to produce the same product consistently, first time, all the time. The biggest success here, from my point of view, has been the quality of the aggregates, which has just been exceptional.
'Since production out of Peppertree started, we have supplied a number of high-profile infrastructure projects in Sydney and customers are very happy with the high-quality aggregates that we are producing.'
Mr Shedden is proud of the high degree of automation at Peppertree, and the benefits that this has in terms of safety and efficiency. 'Because of the automation in the plant, not only can we operate the plant with one person, but it also means that we don't have lots of vehicles, and we don't have huge numbers of people on site,' he said. 'Our standard operating team per production shift is four people – and I defy anywhere else to produce the output we are achieving with that sorts of number. 
'For us, from an occupational health and safety (OHS) point of view, this has huge implications. A lot fewer people and a lot fewer vehicles takes away a huge amount of risk. And, from an operational cost, we don't have all that maintenance to carry out on mobile plant and equipment.
'In addition, not having a lot of vehicles moving around the site really helps with our environmental controls,' said Mr Shedden.
EHS solutions
Boral have taken the opportunity in developing a greenfield operation to introduce highly innovative environmental and OHS solutions, as Sharon Makin, stakeholder and environmental manager at Peppertree, explained: 'I had the privilege of actually starting here back when work on the site began in July 2011 and have stayed on to do health, safety and environment through operations,' she said.
An important element of the Peppertree site from the start was the 'safety and design' concept.
'What that has meant in terms of operation is an OHS management system which ties in with all the physical, mechanical safeguards that we have put in place here. Some examples of what came out of this safety and design process is that everything is guarded – and all guarding is bright yellow in colour, so you can spot when something might be missing.
'Also, there are no underground conveyors or underground tunnels; everything is above ground. Access is down the side of each conveyor, and confined spaces, as far as possible, have been removed. Ladders have been almost eliminated from the operation and, wherever possible, access is by stairs.'
From an environmental point of view, Ms Makin described the plant as 'a dry process'. 'The site doesn't have a water supply – apart from what falls out of the sky – so Boral and Sandvik also looked at what we needed to do in regard to environmental performance,' said Ms Makin. 'For example, all conveyors are covered, all operations are within buildings, and we have minimal water usage to control dust.'
Because of the very restricted water supply at Peppertree, Boral and Sandvik worked very closely from the earliest stages of the design process to eliminate all haul trucks from the operation.
'Material comes out of the pit by conveyor and it goes through all the processing operations via conveyor,' she said. 'We are also the first quarry in Australia to put our product into silos, so we don't have on-ground stockpiles that need to be watered and, again, we don't need the trucks to haul them off site.
'And as Peppertree has 100% of its dispatch by rail, the silos feed the conveyor direct into the wagons, so we minimize the need for water through that process as well,' she said.
Extensive benchmarking
One of the key people in helping Boral develop their vision of a highly automated, extremely safe site with the highest environmental standards has been Kai Kane, project manager for Boral's Sydney Aggregates Project, which covers Peppertree Quarry, its adjacent limestone manufactured sand plant, rail infrastructure, and the Maldon rail terminal that services the site.
'The criterion that we used in developing our concepts for Peppertree was extensive benchmarking of leading international sites,' said Mr Kane. 'We spent several months benchmarking various sites by Sandvik, in particular Perrier TP's Mions Quarry in France, which became the reference point for this particular project.
'These reference plans were then used to consolidate our designs and for benchmarking to get world's best practice in our design process, and then develop our safety and design requirements, as well as 'Australianising' all those European designs.
'The safety and design process between the Boral and Sandvik teams was very iterative and collaborative. Our processes included extensive risk assessments, going through each of the existing designs and then through our new design to make sure that we captured the learnings from the ones that we benchmarked.
'The plant we now have is world standard in terms of safety and quality, and has produced an exceptionally ergonomic and maintainable operation.'
Mr Kane highlighted Peppertree's train-loading system and its 'reject stockpile' concept as particularly innovative solutions to significant challenges. 'Our train loader, which was a collaboration between Boral and Sandvik, has resulted in a world-class rail-loading system, which operates at 2,000 tonnes/h,' he said. 'It is the most efficient loading system that Boral currently operate.
'It is unique in that it is capable of loading multiple products – in our case, multiple different products and recipes – something that is unique in the quarrying industry.'
The site's reject stockpile system is what Mr Kane describes as an 'elegant solution' to the challenge of dealing with any out-of-spec products coming from the silos to the train loader.
Product comes out of the silos at 2,000 tonnes/h, and before going to the train loader goes through a sampling station where a high-speed camera monitor ensures that the product passing through the station meets specifications.
'Any out-of-spec materials are picked up within five seconds as they go past the camera detection systems, then the chute changes direction and diverts the material to a radial stacker and our reject stockpile,' explained Mr Kane. 'These materials are then recirculated, by a front-end loader, back into our screening and crushing plants for recovery.
'Comparing it with the plants we benchmarked when designing and specifying Peppertree, this is now in a superior state to all of those, particularly from an automation perspective,' he said.
According to David Bolton, customer acceptance of Boral's product out of Peppertree, in both concrete and asphalt operations, has been even better than the company had hoped. He described the development of Peppertree as 'a generational investment' for Boral.
'It's been a once-in-a-lifetime opportunity to be involved in something of this scale,' he said. 
'It's also been a pleasure to work with a great team at Boral Peppertree and a great team at Sandvik.
'What these two teams have been able to achieve working together has really opened our eyes to opportunities for improving our existing operations, as well as learnings we can apply to future greenfield and brownfield developments.'
ACKNOWLEDGEMENT
This article originally appeared in the July 2016 edition of Quarry magazine, the official journal of the Institute of Quarrying Australia, and appears here by kind permission. Thanks are also due to Mark Cherrington of Construction Communications Pty Ltd for his assistance in reproducing the article.