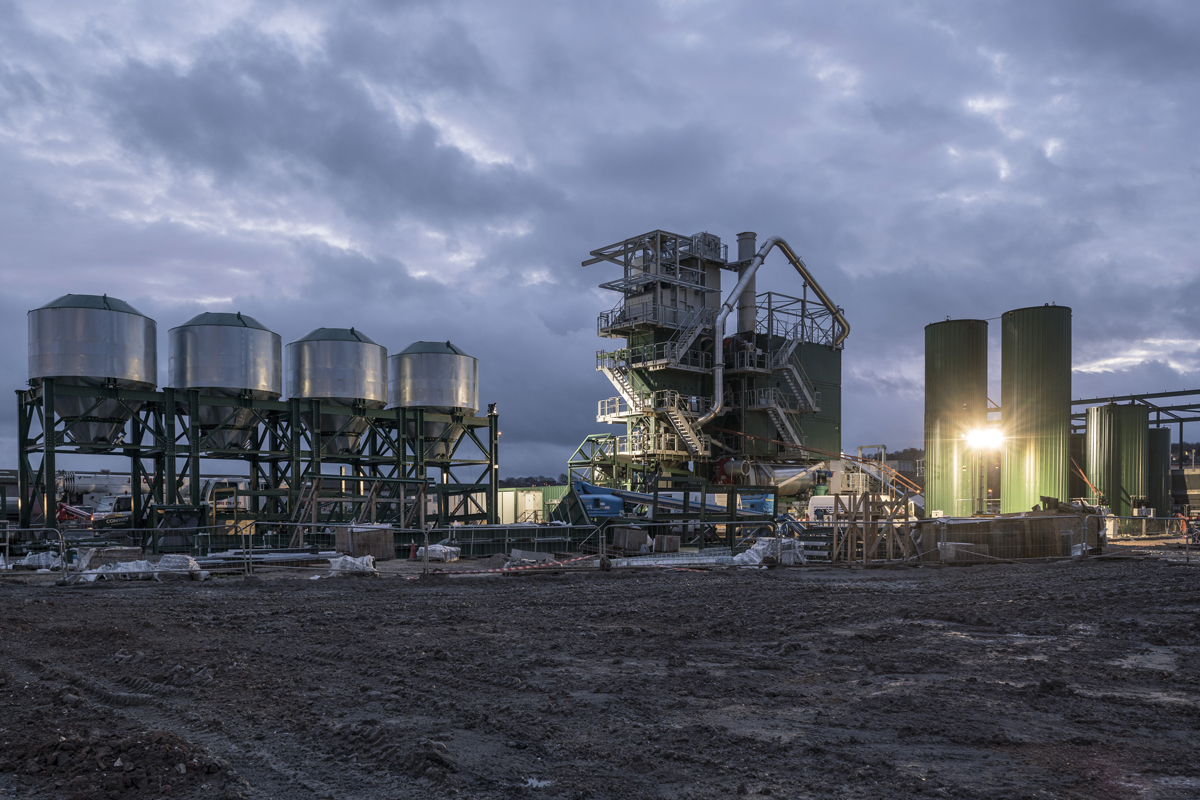 First published in the January 2020 issue of Quarry Management as Two Towers
FM Conway expand their asphalt manufacturing capabilities in the South East with two brand new Marini Toptower plants in Aldershot and Newhaven 
Kent-based infrastructure services company FM Conway have seen a significant expansion in their asphalt manufacturing capabilities over the last 12 months, beginning with the official reopening of the company's Aldershot asphalt plant, in Hampshire, at the end of January 2019 after a £3 million upgrade programme. This was followed last month (December) by the opening of a brand-new £5 million asphalt plant on a brownfield site in Newhaven, in East Sussex. This latest addition to the company's portfolio brings the total number of FM Conway asphalt manufacturing facilities across south-east England to seven, the other locations being in Erith, Croydon, Heathrow, Theale and Reading.
The Aldershot asphalt plant, which will specifically serve the collect trade, was included in FM Conway's acquisition of Berkshire Macadam in December 2016, and in late 2017, following an unsuccessful trial to boost the site's capabilities with hotboxes, the business elected to replace the existing 20 tonnes/h Parker plant with a modern Marini Toptower 2000 capable of 160 tonnes/h. The new batch production plant, which was manufactured in Alfonsine, Italy, was chosen owing to its conservative footprint and innovative design – a necessity given the space constraints of its 0.8-acre site on Aldershot's Stubbs Industrial Estate.  
Demonstrating strong cross-departmental collaboration, FM Conway's consultancy, civil engineering, aggregates and asphalt (A&A) and surfacing divisions were all involved in the nine-month redevelopment of the Aldershot site. With the old Parker plant shut down in December 2017 and demolished in early 2018, self-delivery of groundworks commenced immediately and the new plant started to arrive from Italy at Easter. The compact nature of the plant with its optimum use of space, plus the fact that the main components are delivered to site in a pre-assembled modular format, helped minimize the assembly time and allowed Glasgow-based Cormac Engineering, Marini's UK engineering partner, to complete the installation work in September. Following a period of commissioning and production trials, the new plant became fully operational on 26 January 2019.   
Marini Toptower 2000
The site at Aldershot includes eight covered aggregate storage bays which hold stocks of Norwegian granite (dust, 6mm, 10mm, 14mm and 20mm) supplied by Stema UK via their terminal at Northfleet, along with locally sourced soft sand and self-delivered reclaimed asphalt pavement (RAP) materials. Meanwhile, FM Conway's bitumen terminal at Imperial Wharf, in Gravesend, provides the 40/60 and 100/150 Pen binders required to produce the plant's various end products, which include a range of hot-rolled asphalts, dense bituminous macadams and stone-mastic asphalts.
The Marini Toptower 2000 is fed via six 11m3 capacity covered cold-feed units plus a separate RAP feed arrangement. The aggregate feed is dried and heated in an 8.5m long by 1.8m diameter E180 dryer drum equipped with an energy-efficient 9MW burner, before being delivered to the top of the screening and mixing tower by bucket elevator. The plant is equipped with a four-deck screen and four hot-material storage bins, plus a bypass. Consistent with the plant's small footprint and to aid effective moisture reduction, the 47,150Nm3/h capacity dust-filtration bag-house module sits immediately above a 24m3 capacity reclaimed filler storage silo, with both positioned directly on top of the dryer drum. Reclaimed filler and up to 30% RAP content are fed directly into the plant's 2-tonne mixer unit, whilst an extended platform at the mixer level allows for the addition of bagged additives directly into the mix. The plant's RBA-compliant bitumen system consists of two Cormac 55m3 vertical energy-efficient bitumen tanks complete with all valves, pumps and pipework, whilst mixed-material storage is catered for by a part-offset arrangement comprising four bins (2 x 30 tonnes and 2 x 37 tonnes) mounted on load-cells.
Located in an adjacent weighbridge office/control room overlooking the entire site, the Toptower 2000's intuitive, state-of-the-art Cybertronic 500 control system allows the plant operator to visualize all plant parts on a monitor together with the main work/control parameters (calibration values, formulas, temperature, motor absorption etc). The software advises on correct operational functions and alerts the operator to any problems through an alarm system and short messages. Recipes and production capacities are easily set and saved within the system for retrieval at a later date.
Open from 6am to 2pm Monday to Friday and from 6am to midday on Saturday, the new Aldershot plant is the latest addition to the 'Conway Collect' ™ජ family, which is focused on meeting the needs of the local collect trade and offers target turnaround times of under 10 minutes. To fit in with the site's small footprint, Weightron Bilianciai provided a specially designed twin-weighbridge solution with overall deck lengths limited to 9m. Aldershot also features a small shop where a number of trade-related items can be purchased, whilst lavatory facilities plus complimentary tea, coffee and Wi-Fi are available to customers while they wait. With a strong market location, the busy site receives customers from across Surrey and Hampshire, including from as far away as the south coast.
Commenting on the performance of Marini Toptower 2000 plant over the last 12 months, Tim Metcalf, FM Conway's development director, said: 'Aldershot has exceeded our expectations in its first year. Its collect turnaround times are industry leading and we've had good positive feedback from customers. It really does do what it says on the tin and is also able to step up when called upon.'
County council contract
Meanwhile, some 70 miles away in Newhaven on the south coast, FM Conway have just commissioned their latest asphalt plant – a 250 tonnes/h Marini Toptower 3000S model. Here, in stark contrast to the confines of the Aldershot site, the company has taken a 25-year lease on a spacious 6.2-acre brownfield site on the east bank of the river Ouse. The riverside location offers ample space for covered aggregate storage and optimum one-way traffic flow around the new asphalt plant, with plenty of land to spare for the development of additional complementary facilities, should FM Conway so desire.
The primary reason for the creation of the Newhaven site is the need to effectively service FM Conway's £56 million contract to deliver highways surfacing work for East Sussex County Council. This seven-year agreement, which is worth around £8 million per annum, commenced in May 2016 with FM Conway working as sub-contractors to the 50:50 joint-venture main contractors Costain/CH2M. Significantly, this is the first county council contract FM Conway have worked on, the majority of their existing surfacing contracts being with the London boroughs. The contract requires the company to deliver resurfacing, maintenance and machine patching work on the county's highways, working closely with Costain/CH2M, although the capacity of the new asphalt plant is such that FM Conway will also be able to service additional strategic road network contracts in the region on behalf of Highways England, as well as large- and small-scale collection and delivery work in the local market.
Surfacing director, Paul Padfield, describes the East Sussex contract as a 'milestone success' for the company, progressing FM Conway's expansion into new regions with new clients, outside their core London market. 'It continues a period of remarkable growth, which has seen us significantly increase both profit and turnover year on year over the past decade,' he commented. 'We have always held the belief that our self-delivery model has the potential to bring huge benefits to local authorities outside London as well as in the capital – the fact that this was one of the decisive factors in securing this flagship county council contract has proved us correct. This will be the first of many exciting opportunities for FM Conway across the South East and beyond.'
Nevertheless, gaining planning permission for the new plant proved to be a challenging process, with Lewes District Council, underpinned by support from East Sussex County Council, giving the green light in July 2018, with various conditions attached. These include noise-mitigation measures such as the use of extra-thick acoustic cladding on the aggregate storage bays and a sound-attenuation package on the dryer drum's burner unit. The plant was ordered in January 2019 and once again all preparatory groundworks were self-delivered by FM Conway ahead of its arrival on site. The component parts arrived from Italy during the first two weeks of August and Cormac started the build the following week. Commissioning of the newly erected plant started in late November and live production operations commenced in early December. Once again, delivery of the new facility involved considerable cross-departmental collaboration, with FM Conway's consultancy, civil engineering, water and drainage management, A&A, and surfacing divisions all playing a part.
Toptower 3000S
The abundance of space at Newhaven allows plentiful stocks of aggregates to be held on site, with high-PSV aggregates supplied by Belfast-based Conexpo NI shipped in direct to Newhaven, soft sand delivered from Brett Aggregates' nearby quarry, and FM Conway self-supplying RAP materials and pen-grade bitumen ranging between 40/60 and 160/220 as well as polymer-modified bitumens (PMBs) from Imperial Wharf. The cold-feed arrangement for the Marini Toptower 3000S comprises eight 18m3 capacity covered feed hoppers for the aggregates and sand plus three separate RAP feed hoppers. The aggregate feed is discharged into a 9.0m long by 2.2m diameter E220 dryer drum equipped with an 16MW eco-oil burner, before being delivered into a five-deck screen with bypass. Meanwhile, RAP can be fed into the dryer drum ring or directly into the plant's 3-tonne mixer, with a combination of the two allowing for the incorporation of high recycled contents of 45–50%.
As at Aldershot, the dust-filter bag-house module (41,805Nm3/h capacity) sits immediately above a reclaimed filler storage silo (70m3 capacity), both of which are mounted directly above the dryer drum, although Newhaven also features an additional 53m3 imported filler silo and a fibre-dosing system with a 29m3 silo. The plant's Cormac bitumen system comprises two 88m3 vertical tanks for blended bitumen and four 55m3 vertical tanks with stirrers for PMBs, whilst fuel storage and handling is catered for by two Cormac-supplied 50m3 bunded fuel tanks and associated pipework. The fully offset mixed-material storage arrangement at Newhaven comprises four large 126-tonne bins, each split into two 63-tonne compartments, providing a total hot storage capacity of 504 tonnes. As at Aldershot, the plant is controlled and monitored by a Cybertronic 500 system located in a containerized control room facility, which in this case sits in a commanding position on top of the weighbridge office and alongside two full-size Weighton Bilanciai weighbridges.
As with delivery of the Aldershot plant some 12 months earlier, the installation at Newhaven was conducted in line with CDM regulations, with all guarding and access points designed in accordance with UK specifications and all wiring carried out in line with the BS 7671 IEE wiring regulations. Should it prove necessary, the modular nature of the plant provides the opportunity to add new modules to cater for different working requirements over time. Each of the current modules is easily accessible by ladder, with walkways and deck levels provided for ease of maintenance. Emergency push buttons and safety keys are located in all areas of the plant, allowing systems to be easily shut down in the event of an emergency.
Commenting on the new Newhaven plant, development director Tim Metcalf said: 'Marini were the preferred supplier once again as their Toptower plants come with a maintenance system built in to help drive reliability and efficiency. These criteria are key, especially when servicing major contracts such as East Sussex County Council and Highways England. Yet again, the project with both Cormac and Marini went very well and was conducted safely, thanks to good communications and collaboration across the board. Now that Newhaven is up and running, I'm really excited and buoyed by the prospect of future commercial sales, both internal and external.'
Acknowledgement
Grateful thanks are due to FM Conway for permission to visit the Aldershot and Newhaven sites. Particular thanks are also due to Tim Metcalf, development director with FM Conway, and Steve Corbett, managing director of Cormac Engineering, for their help in preparing this report.