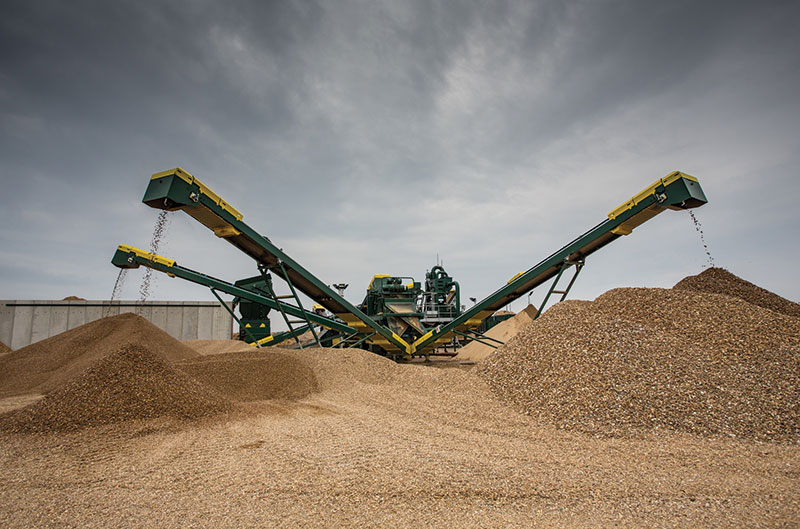 First published in the July 2015 issue of Quarry Management
Hope Construction Materials choose CDE wash plant for Black Cat Quarry – the company's first greenfield sand and gravel operation
In October 2014 Hope Construction Materials, the UK's leading independent suppliers of aggregates and concrete, opened their first new quarry as part of a major UK development plan. Located next to the A1 Black Cat roundabout near Roxton, in Bedfordshire, Black Cat Quarry will supply more than 100,000 tonnes/year of sand and gravel to local construction and concrete markets across the northern Home Counties.
Demonstrating the company's commitment to sustainability and continuous improvement, the new quarry represents a £1.5 million investment by Hope and includes a state-of-the-art modular sand and gravel processing plant supplied by materials washing specialists CDE Global. This landmark development by Hope will help ensure a steady and efficient supply of aggregates to the company's numerous ready-mixed concrete plants in the counties of Bedfordshire, Buckinghamshire, Cambridgeshire and Hertfordshire, as well as bolstering the supply of sand and gravel into the regional markets of the South East.
From the outset Hope were clear about the material gradings they required and chose CDE as plant supplier based on their proven ability to successfully configure wash plants according to specific needs. Five different material outputs are were required by Hope: 0–1mm building sand; 0–5mm concrete sand; 10mm gravel; 20mm gravel; and 40mm gravel. Additionally, the plant needed to be able to handle/reject any +40mm oversize, removing the need for Hope staff to access the plant to manually remove material of this kind.
Moreover, as well as single-size gravels, Hope also required a 20/5mm gravel product without the need to bucket blend, and without the need for screen mat changes or other labour-intensive processes. A radial stockpile conveyor was also necessary in order to allow sufficient stockpile space for up to 3,000 tonnes of concrete sand.
To meet these requirements, in March last year Hope invested in a 225 tonnes/h sand and gravel plant incorporating an M2500 E4X integrated mobile washing plant, which offers feeding, screening, sand washing and stockpiling on a single compact and portable chassis, thereby ensuring minimal footprint and rapid deployment. In addition, a P3-42 ProGrade aggregate sizing screen, three M1508 integrated stockpile conveyors and one R2008 radial stockpile conveyor were also supplied.
Co-creation approach to plant delivery
From the preliminary stages of the project, CDE worked closely with Hope in order to co-create a solution which would meet, and even exceed, the company's needs and requirements. Explaining the various strands to this process, Matt Bunting, general manager of CDE Global in the UK, said: 'From the very beginning of the tender process, Hope Construction Materials were very definitive in what they wanted to reap from the plant, right down to the types of output material, the rate of feed, the overall capacity and even the colour of the plant itself.
'As with all projects that we deliver, we made every effort to make sure we had a full understanding of what was required to ensure Hope were happy with the solutions that we were designing based on their specifications. This was achieved through their close involvement at various stages throughout the process. Our plants are designed and configured for each individual client and input from the customer is crucial to enable us to deliver the best possible performance.'
Andrew Rollo, engineering manager with Hope Construction Materials, said: 'Throughout the  consultation process, we were heavily involved in the project. Representatives from Hope, including myself, our quarry manager and our health and safety manager, visited a similar CDE installation at Smiths Bletchington, and we also paid a visit to CDE's headquarters in Northern Ireland for a design workshop. The opportunity to meet the project manager to gain an understanding of the project delivery gave us a lot of confidence and confirmed that CDE were the correct choice.'
The processing system
Feed material enters the M2500 E4X plant via a tipping grid directly on to the main feed conveyor, which is equipped with an integrated belt weigher to ensure optimum feed rates are maintained. From the feed conveyor the material is transferred to the first phase of screening and dewatering, a ProGrade P2-75 double-deck rinsing screen equipped with individually controlled spray bars, which is designed to cope with the harshest of conditions.
The top-deck apertures on the polyurethane screen mats allow for the screening and stockpiling of +40mm oversize, while the bottom-deck apertures screen out the –40mm material on to a side conveyor for transfer to the triple-deck sizing screen. Here, the top deck creates a 20–40mm aggregate, the middle deck creates a 10–20mm aggregate and the bottom deck produces a 5–10mm aggregate, which are stockpiled by the three integrated M1508 conveyors.
Meanwhile, the loose sand fraction from the bottom of the double-deck rinsing screen is pumped to the first cyclone on the M2500 before being sent to one side of a split-deck rinsing screen for further dewatering. From here, the concrete sand product is discharged to one of the M2500's integrated stockpile conveyors before being transferred to the radial stockpile conveyor. The sand washing element is configured to allow a proportion of 0–1mm material to pass through the screen apertures; this is pumped to the second cyclone on the M2500 before being discharged to the dewatering screen where a 0–1mm building sand is produced.
'The feed material on this project contains a large proportion of material in the 0–1mm range, so there was an opportunity to produce the additional building sand, which also guarantees that the concrete sand is produced to the required specification,' explained CDE project manager John Gallery.
Andrew Rollo added: 'As well as their washing expertise, we chose CDE because of their ability to offer shorter lead times in terms of project delivery, and this was essential given the tight timeframe we were working within. Furthermore, the performance guarantees which were offered gave us an extra level of confidence in the plant's ability to perform consistently and to the optimum level for maximum productivity.'
Post-commissioning support
Following installation and commissioning of the plant, the focus switched from the project management team to CDE's CustomCare team, to make sure the plant continues to operate to its maximum capacity. As well as offering a range of preventative maintenance programmes, the remote team of CustomCare engineers made sure that all the training requirements of Hope's on-site team were met to ensure safe and productive plant operation.
Martin Jackson, CDE's global CustomCare manager, commented: 'Hope Construction Materials can avail themselves of a suite of after-sales services including training programmes, preventative maintenance inspections, a range of warranties and a full range of plant parts as and when required. This service is exclusive to all CDE customers to make sure their plant continues to generate operational efficiencies and a solid return on investment.'
As Black Cat Quarry is progressively worked, Hope Construction Materials will complete a phased restoration of the site to enhance local biodiversity in keeping with the Bedfordshire and Luton Biodiversity Action Plan and the West Anglian Plain Natural Area. The company has also made an ongoing commitment to restoration work to improve flood relief around the river Great Ouse.
Clive Rillstone, Hope's regional director for the South, said: 'Black Cat Quarry marks the company's first new quarry development. Securing our aggregates supply in the vital Home Counties market for the next few years, it will help us to remain competitive in the supply of local concrete and represents a significant step forward for the business. As with any project we work on, Hope have a strong commitment to the restoration of all areas once operations are completed. We have worked closely with local authorities and organizations and taken steps to ensure we are a good neighbour.'