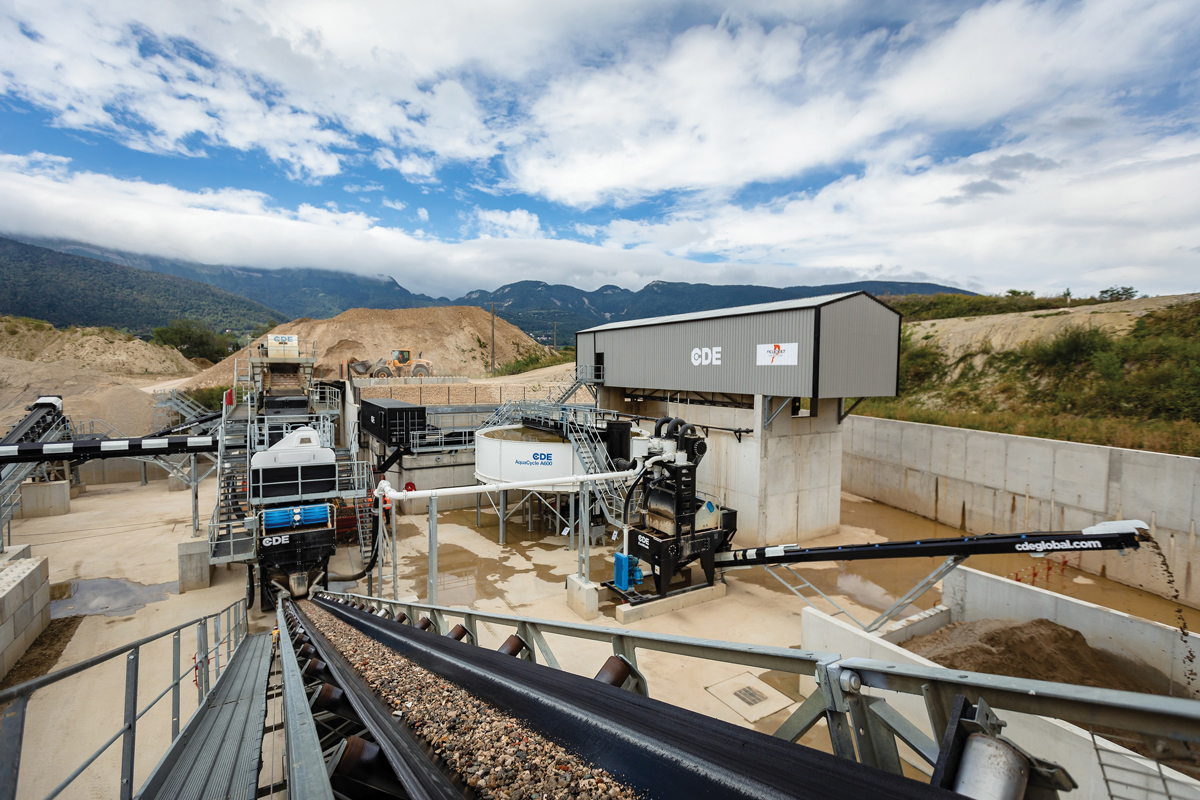 First published in the October 2020 issue of Quarry Management as A Different Approach
Pélichet to divert 200,000 tonnes of C&D waste from landfill with new CDE plant
Pélichet Albert SA, a public works contractor and aggregates producer based in western France, operate a circular economy business model with operations in demolition, groundworks, landfill and construction and demolition (C&D) waste recycling. 
The almost century-old company, which was founded in 1921, has, over the past two decades, adapted its business to pay greater attention to recycled materials for use in the construction industry. This follows the introduction of local legislation in Le Pays de Gex which, in the early 1990s, halted the extraction of finite natural resources in the French region.
A former quarry, the company's Chauvilly site, became the base for its recycling operations in 1998 and has processed C&D waste material sourced from Pélichet's business activities ever since. 
A new 160 tonnes/h plant recently commissioned by wet processing equipment manufacturers CDE at the Chauvilly site will support Pélichet in diverting up to 200,000 tonnes per year of inert C&D waste from landfill, and with it allow the company to expand its operations through additional revenue stemming from the production of higher-value products.
Chief executive officer Jérôme Pélichet said: 'More than a supplier, we wanted to find a partner to come on this journey with us; a company that would oversee the process, from design through to commissioning on site, and work in conjunction with us to fully understand our operation and our business objectives.'
Challenging feedstock
An abundant stockpile of heavily contaminated historic landfill material presented a challenge.
'We encountered the problem of quality,' said Mr Pélichet, explaining the company's old plant and process before it commissioned a new CDE wet processing plant. 'So, we took a different approach with the acquisition of this new installation. It allows us to manufacture quality materials that better meet the demands of our clients.
'It was during a visit to the UK where we visited a C&D waste recycling operation utilizing CDE plant that convinced us CDE were the right partners for this project.
'We saw first-hand the challenging feed material CDE plant was capable of processing and extracting high-value aggregates from. We had access to similar-grade material, but until that point didn't have the technology to process it.' 
The Pélichet plant mainly processes two types of feed material: first, excavated materials from the company's construction works and demolition operations, including 0–300mm clay-bound, silica-limestone material and 0–40mm crushed C&D waste. The presence of plastics and other organic contaminants retained after processing was resulting in second-rate products with lower value.
Water availability proved to be another significant challenge at the company's Chauvilly site. 'For us, it was imperative to have a plant which used water resources efficiently and reduced the demand on our limited natural water supply on site,' said Mr Pélichet.
A tailored solution
Marc Sopransi, business development manager at CDE, explained how the commissioned plant was the result of a detailed site audit and clear understanding of aims and objectives of the Pélichet operation.
'The technical approach around this project was based on the resolution of four objectives; the main one being to maximize the incoming material, to be able to process more complicated materials than Jérôme was able to treat before. The second, improving the quality, so treating more dirty materials – ultimately to bring them to a better quality. The third, on the environmental side, to be self-sufficient in terms of consumption of water. And the fourth, to be able to implement according to the constraints of the site.
'Using CDE's co-creation approach, a solution that married CDE's technical expertise and Pélichet's commercial and environmental objectives was developed. CDE's client approach is unique,' said Mr Sopransi. 'Jérôme found it interesting to be able to develop this solution live with the designer.' 
Mr Pélichet added: 'CDE offered me a complete installation – turnkey – with a very strong analysis at the beginning to understand my needs.'
As innovators in cyclone technology, CDE have designed and delivered almost 2,000 projects globally since 1992 to increase the efficiency of materials washing operations. The solution is 'based on the latest patented innovations from CDE,' explained Mr Sopransi.
'Each customer has their own unique challenges, be they geographic, site limitations or related to feed material. Every wet processing solution we commission is tailored to the customer. Of the near 2,000 projects CDE have commissioned worldwide, each plant would feature something unique to respond to the particular challenges of that site or project, and Pélichet are no different.'
In response, CDE presented the blueprint of a bespoke wet processing plant, including the R2500 primary scalping screen designed to handle heavy, clay-bound gravel, rock and construction, demolition and excavation waste. The R2500 ensures the efficient delivery of difficult material to the wet processing plant.
It feeds the AggMax 251 modular scrubbing and classification system, engineered to maximize product yield from clay-bound feedstock.
CDE's flagship EvoWash technology – a compact, modular sand washing system – integrates a high-frequency dewatering screen, sump and hydrocyclones to provide superior control of silt cut points and eliminate the loss of quality fines, producing a range of high-quality sands.
Addressing the company's desire to be completely self-sufficient in terms of water supply, the plant design incorporates a full water-management system that recovers and recirculates up to 95% of process water.
The system includes an AquaCycle thickener which uses a flocculant to separate clean water from the solid particles. The solid particles form a sludge which is dried further in the filter press, recovering more water for recirculation and creating a dry filter cake which can be used for pipe bedding and landfill capping.
Water supply to the system is fulfilled by a submerged rainwater storage tank located beneath the plant, which can store up to 2,600m3.
Sustainability and profitability
'Highly efficient water management has resulted in considerable cost savings for our operation,' said Mr Pélichet. 'The feedstock we process is challenging material and our old plant was returning recycled aggregates of a lower quality and value.
'The new plant commissioned by CDE is maximizing profitability by extracting more value from our end-product as a result of a more efficient process that returns higher-quality recycled aggregates.
'We can step up the range of our materials, market them better and respond to the expectations of our customer.
The engineered-to-order wet processing system commissioned by CDE is supporting Pélichet in transforming 160 tonnes/h of raw feed into washed 0–4mm, 4–10mm, 10–20mm and 20–40mm aggregates for use in concrete mixes and drainage systems.
'Our companies bring the products and they leave with them,' said Mr Pélichet. An estimated 80% of the products produced are reused by Pélichet companies, whilst the company markets the remaining 20%.
'There are economic benefits to the plant and, importantly, there are environmental benefits too. What was formerly an unsellable product destined for landfill is being processed and recycled into valuable resources for the construction industry,' Mr Pélichet added.
It is estimated the new plant will support Pélichet in diverting up to 200,000 tonnes per year of C&D waste from landfill.
'My customers are increasingly concerned with making sustainable choices when it comes to their aggregates supply,' said Mr Pélichet.
'As a company we have a long history, one that is almost a century old. By adopting this sustainable business model with industry experts, we've a confident outlook for the future of the business, and specifically the lifespan of our Chauvilly site. It is up to us to work with our customers to show them we can do things right and that recycling is important for everyone.
'I am very confident of the partnership with CDE,' he concluded.
Marc Sopransi added: 'Our Customer for Life model means we will continue on this journey with the Pélichet team and provide after-sales support. Our expert engineers and CustomCare team will continue to offer unrivalled maintenance support and pre-emptive parts availability for high-wear consumables to minimize downtime and maximize plant throughput.
'It was a pleasure to work with Jérôme and the Pélichet team to commission its latest wet processing plant that will enable the company to unlock the full potential from its available feed material,' he concluded.