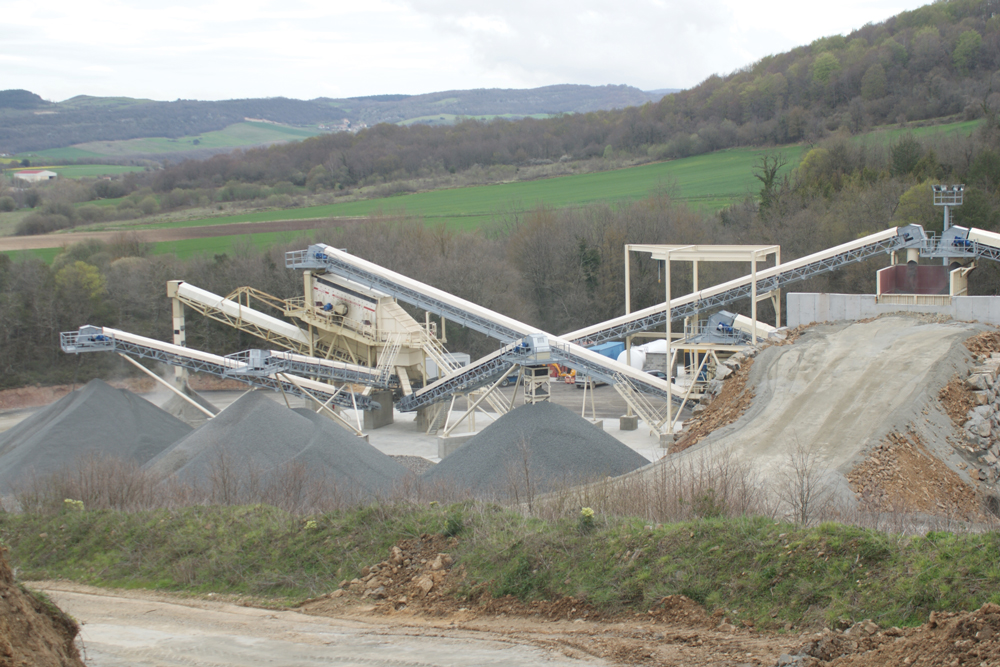 First published in the September 2016 issue of Quarry Management 
Luis Fueyo of Rocas y Minerales reports on a new Spanish quarry's flexible and versatile Metso processing plant, which caters for various secondary and tertiary crushing configurations and facilitates easy changeover from 400 tonnes/h to 800 tonnes/h operation, to suit changes in market demand
Spain has been going through a very severe economic crisis that has had a significant affect the country's aggregates sector, with a cumulative drop in the market of more than 80% between 2008 and 2014. And although the aggregates market began to experience some slight recovery in 2015, this year has seen it slow down once again. Nevertheless, many Spanish quarry operators are already preparing for the time when recovery finally begins, one of which is Ofitas de Santutis. After many years in the planning and administration stages, they have finally brought to fruition a new quarrying operation in Álava, where they have installed an innovative, versatile and flexible Metso crushing and classification plant for the production of high-quality sand, gravel and ballast with an excellent shape co-efficient.
History of Ofitas de Santutis
The Ofitas of Santutis aggregates operation belongs to the Ajuria family, second-generation quarry owners who are well versed in the world of stone. As owners of the quarries of Ofitas de San Felices, in the Rioja region, and Ofitas del Marquesado, in Granada, in April this year they opened the Ofitas de Santutis quarry, an ophite (greenish basic igneous rock) operation located in the municipality of Peñacerrada, in Álava, to provide ballast to ADIF for their rail infrastructure works in central and northern Spain, as well as sand and gravel for local works in the area.
'Getting this quarry started has been long and laborious,' commented Iñigo Ajuria, manager of Ofitas de Santutis. The project began more than 15 years ago by obtaining exploitation permits, after which administrative procedures commenced to obtain the necessary activity licenses and authorization for the plant itself. At first only mobile plants were authorized, then a secondary crusher and later a tertiary. It was much later, after some 13 years of waiting, that the assembly of a complete crushing and screening plant was finally permitted.
Ofitas de Santutis have more than 10 million tonnes of known ophite reserves with a Los Angeles value of between 9 and 11, making it a top-quality material for the production of ballast for use on Spain's high-speed train network. 'Our idea is to provide ballast and gravel to the various works in the area,' explained Mr Ajuria.
The Ajuria family and Metso
When the Ajuria family finally obtained all the permits for the installation of a complete processing operation at Ofitas de Santutis, there was no doubt about who was to supply the turnkey plant. 'We have a relationship with Metso going back more than 30 years,' said Andoni Ajuria, patriarch and president of the family's various aggregate holdings. 'On 25 April 1989 we acquired our first Symons cone crushers, and since then our supplier has always been Metso. Today, in addition to our professional relationship with the Finnish company, there is a bond of friendship that makes everything function much better.' 
The Ajuria family's previous experience with their plants in Granada and La Rioja, together with advice from turnkey plant specialists Metso, led to the design, manufacture and assembly of a completely new generation of plant. 'For us, it is the most perfect plant we've ever assembled,' said Angel Luis Garcia del Val, commercial director of Metso Spain. Quite apart from its revolutionary design and corresponding technological advancements, the plant has been designed for ease of maintenance and cleaning. 'The plant has been installed at height with no belt ends on the floor – which makes cleaning and maintenance of all components a lot easier. Because of this, the cost of the foundation works was about 7–8% more, but it was worth it,' said Inigo Ajuria.
He continued: 'When we were designing the plant, we wanted a set up that would allow us to work with a primary, secondary and tertiary crusher, or with two secondary crushers for maximum production of ballast, or two tertiary crushers for manufacturing gravel. What we needed was a plant where flexibility and versatility were the most important characteristics.'
And so it has turned out. 'With new equipment supplied by Metso Spain combined with other equipment which the company already owned, the plant has been set up as a fully automated process in which secondary and tertiary crushing are regulated according to needs, always giving end products with consistent granular sizes,' said Eduardo Diaz, Metso Spain's director of engineering and service. 'In addition, the plant is powered by two generators, each feeding one section of the plant, so the whole plant will not be stopped because of a failure.'
The Metso plant at Ofitas de Santutis
As outlined above, versatility, flexibility and high production levels were combined in an innovative, multi-purpose, new-generation plant that could be configured according to the needs of the aggregate producer in response to changes in demand. And so, on 19 April 2016, Ofitas de Santutis was officially opened by the plant personnel, staff from Metso Spain, managers from Metso in Finland and staff from the quarrying company.
The current plant configuration consists of a mobile primary crusher at the head of the operation followed two Metso HP4 cone crushers, the first working as secondary crusher and the second as a tertiary unit. 'This is the most logical configuration,' said Iñigo Ajuria. Nevertheless, another primary crushing unit can be deployed to feed the second cone crusher, allowing both cone crushers to work simultaneously as secondary or tertiary units, and in doing so, doubling the output of the plant – each line having a production capacity of 400 tonnes/h.
Primary crushing stage
A 50-tonne Doosan excavator is used to load the –900mm run of quarry material into a Metso Lokotrack LT125 mobile jaw crusher. Powered by a 310kW Caterpillar C-13 engine, this 86-tonne machine is equipped with an 11m3 hopper, a 5m x 1.3m feeder bar section, hydraulic direct drive, a jaw crusher with a 1,250mm x 950mm feed opening, and a 1,400mm wide main conveyor.
Any –40mm in the feed material is cut out by the feeder bars and evacuated, via a 600mm wide side conveyor, to a 'sterile' ground collection point, while the –900mm +40mm fraction is fed directly to the jaw crusher, which reduces it to –200mm for output to a ground stockpile. A Volvo L180E loads the output from this primary crusher on to a fleet of 30-tonne Komatsu articulated dumptrucks which haul the material from the primary station to the hopper or hoppers that feed the cone crushers, depending on the operational configuration of the plant at the time.
With the first cone crusher operating as a secondary unit and the second cone crusher operating as a tertiary unit, the haulers only have to transport material from the primary station to the hopper feeding the secondary cone crusher. However, the plant can be reconfigured so that both cone crushers operate as secondary or tertiary units. In this situation, two different discharge zones are used to feed the hoppers which supply the material to the two cone crushers. This allows the plant to double its production to 400 tonnes/h per line.
Secondary crushing stage
The material transported from the primary crushing unit by the articulated haulers is discharged into a 120m3 capacity hopper. Here, a vibrating feeder delivers the material on to a small conveyor belt equipped with a metal detector and a weigh scale, which provides a constant feed to the extra-coarse grinding chamber of the Metso HP4 cone crusher.
'The Metso HP4 cone is probably the world's best cone crusher for the production of ballast,' said Angel Luis Garcia del Val, commercial director of Metso Spain. Weighing almost 24 tonnes and driven by a 315kW motor, the HP4 can be configured with four different crushing chamber settings: an extra coarse cavity with a 252mm feed opening and minimum setting of 28mm; a medium cavity with a feed opening of 169mm and minimum setting of 16mm; a fine cavity with a feed opening of 116mm and minimum setting of 10mm, and an extra fine cavity with a feed opening of 74mm and a minimum setting of 8mm. At Ofitas de Santutis, the secondary cone operates with an extra coarse cavity and the tertiary with a fine cavity.
The cone crusher acting as the secondary receives the –200mm feed and reduces the material to an output size of –80mm, after which it is sent to the first screening station.
First screening stage
The –80mm fraction from the secondary cone crusher is sent by a 34m long x 800mm wide conveyor belt to the first screening stage, which consists of a triple-deck Metso Premier CVB 2060-3 inclined screen – one of Metso's most popular and frequently installed screens worldwide. Weighing 8.5 tonnes and measuring 6m in length and 2m in width, the robust three-deck screen is driven by a 22kW motor and capable of production rates of up to 800 tonnes/h.
The CVB 2060-3 screen receives the –80mm fraction and, using its three decks, separates the material into four different sizes: –5mm (sand fraction), –30mm +5mm, –63mm +30mm (ballast) and +63mm. These are sent to their respective stockpiles by separate 21m long x 800mm wide conveyors, except for the +63mm fraction which is delivered, via a 43m long x 800mm wide conveyor, to the secondary cone crusher feed hopper for re-crushing.
The –30mm +5mm fraction can be collected directly from the ground or, via a bypass system, sent directly to the tertiary cone crusher feed hopper by means of a 40m long x 1,000mm wide conveyor belt.
None of the conveyor belts at the Ofitas de Santutis plant rest on the ground, all are suspended to help facilitate plant cleaning. In addition, the two conveyor belts that feed the cone crushers have swivel heads that allow easy access to the crushers for maintenance purposes.
Tertiary crushing stage
As mentioned above, the –30mm +5mm fraction can be sent directly to a stockpile or fed by belt conveyor to a 120m2 capacity silo which feeds the second part of the plant.
This silo has a discharge hopper which allows independent feeding of this part of the plant. In other words, the current facility can be configured as a single plant with primary, secondary and tertiary cone crushers, or as a plant with two secondary stages or two tertiary stages, depending on the demand for different end-products. The choice of two secondary and two tertiary crushers allows for a doubling of total production by having two lines of 400 tonnes/h. For this purpose, the dumptrucks are required to supply the primary material to the two feed hoppers available at the plant.
As already mentioned, a Metso LT125 mobile crusher is used as the primary crushing station to feed the plant when operating the primary-secondary-tertiary configuration. However, Ofitas de Santutis also have a second mobile crusher on hand, when necessary, to transform the plant into the two secondary lines. Thus, the two versatile and multifunctional Metso 'plants' each have their own mobile primary crusher.
The material from the secondary crusher is transported, via a 13m long x 1,000mm wide conveyor belt equipped with a metal detector and weigh scale, to the second Metso HP4 cone crusher, which is similar to the one described earlier, but this time features a fine crushing chamber.
This cone crusher can work as a secondary or tertiary unit depending on the demand for different fractions. Its current configuration as a tertiary crusher reduces the –30mm +5mm fraction from the secondary station to a –25mm fraction which is sent on to a second classification stage.
Second screening stage
The –25mm fraction from the Metso HP4 tertiary cone crusher is sent, via an 34m long x 800mm wide conveyor belt to a Metso Premier CVB 2060-4 screen. This model is similar to the first screening unit but has an additional screening deck, allowing the –25 mm fraction to be separated into five different sizes: –5mm, –12mm +6mm, –20mm +12mm, –25mm +20mm and +25 mm. These are sent to their respective stockpiles by 21m long belt conveyors of varying widths (800mm and 500mm), depending on the material size. A 41m long conveyor feeds any +25mm oversize back to the cone crusher feed hopper for re-crushing.
As can be seen, this plant has a number of important differences compared with conventional plants. For example, articulated dumptrucks feed the primary crushed material to the fixed plant consisting of two cone crushers and two screening stations. Another significant difference is that the fixed plant has two feed hoppers, allowing the plant to be configured to operate with the cone crushers working in tandem as secondary or tertiary crushers, depending on the demand for end-product sizes, doubling the plant's capacity to 800 tonnes/h. It can be described, therefore, as a next-generation plant with a highly innovative, multifunctional and flexible configuration. 'It's the most perfect plant Metso have designed to date,' concluded Angel Luis Garcia del Val, commercial director of Metso Spain.
Acknowledgement
This article was first published in the June 2016 edition of Rocas y Minerales and is reproduced here by kind permission of Luis Fueyo.