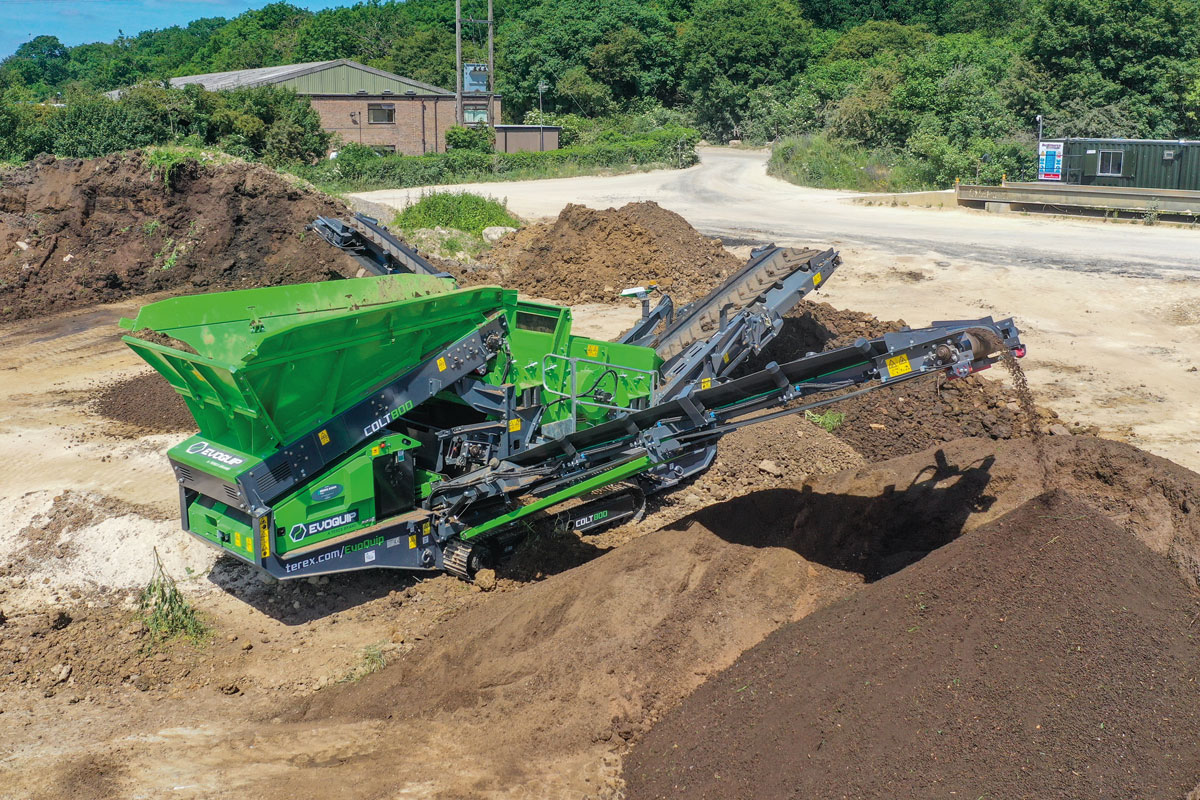 First published in the April 2022 issue of Quarry Management
Downsizing does not have to mean scaling back, as one Northamptonshire aggregate producer has found. Investment in a compact EvoQuip Colt 800 from UK distributor Molson Finlay has seen Bullimores maintain high levels of production and improve their operational efficiency
Bulk aggregates firm Bullimores Sand and Gravel can trace their origins back more than a century, beginning as hauliers and coal merchants in 1907 and trading continuously ever since. Over that time the family-owned business has used the experience and wealth of knowledge it has built up to expand and develop across several sectors, entering the quarrying industry in the 1960s, plant hire in the 80s, and skip hire in the 90s. Bullimores now employ 80 full-time members of staff across their businesses and operate a mixed fleet of crushers, screeners, dozers, and excavators, as well as several tipper lorries.
With a heavy workload across the firm, Bullimores were looking for a versatile screener to supplement their existing equipment. The machine would be working primarily at the top of one of the company's quarries, processing arisings and fill from the skip hire business into top-quality recycled topsoil. But it also needed the flexibility to be easily transported down to the quarry floor to process agricultural lime.
Molson Finlay sales manager Brian Bell spent time with director James Bullimore, listening to what he was looking for and what the equipment was required to do. By using the knowledge and expertise he has built up over the years, Mr Bell was able to specify the best option for Bullimores.
'I have the utmost respect for everything that Bullimores do. They have been in business and been successful over such a long time that they obviously know what they are looking for,' said Mr Bell. 'But in this particular application, I thought a slightly smaller machine with greater flexibility and manoeuvrability than the one they already have in operation, would be the better option for them.'
He advised that a Terex EvoQuip Colt 800 mobile screening machine would be perfect for the Bullimores operation. It is versatile and capable of working across a variety of materials, whilst its compact size ensures it is easily transported and offers quick set-up times.
Mr Bell continued: 'This is a smaller, less-expensive machine but it packs a punch. At Molson, we strive to ensure that we supply the best piece of kit for our customers' requirements. We want to work with our customers to use their experience alongside our own expertise, weigh up everything, and make sure they have their ideal machine. The EvoQuip Colt 800 is perfect for the Bullimores team. It will do everything they want of it, offers superb build quality and reliability, all backed by the excellent levels of service they can expect from the Molson Group.'
The tracked EvoQuip Colt 800 boasts a 1,050mm wide feeder hopper with variable-speed operation and a 2.9m3 standard capacity which extends to an optional 4.7m3. Featuring a 2.77m x 1.22m double-deck screen and a range of screen media, it has an operating weight of 16.7 tonnes, a transport length of 9.2m, and is capable of an average material throughput of 280 tonnes/h. The compact and aggressive forward-facing inclined screen can work through a variety of materials, including aggregates, sand and gravel, topsoil, and construction and demolition waste, in applications where space is at a premium.
Quarry manager James Bullimore said: 'The Colt 800's compact size means it is easy for us to transfer down to the bottom of the quarry whenever operational demands require. It hits all the production targets that we need of it, and I have been impressed with the quality of service from Molson. Having used Terex equipment in the past, I was reassured of its quality and strength. It's a very solid machine.'
Brian Bell added: 'Customers such as Bullimores need to have confidence in the availability of pieces of plant and our ability to supply. Getting machines to them when they need them is key. Thanks to the steps Molson took to secure post-pandemic supply, we have good availability on all the machines we offer. Customers can be assured that if they need a particular machine quickly, we can deliver.'
For more information, visit: www.molsongroup.co.uk/finlay/ or www.terex.com/evoquip/en