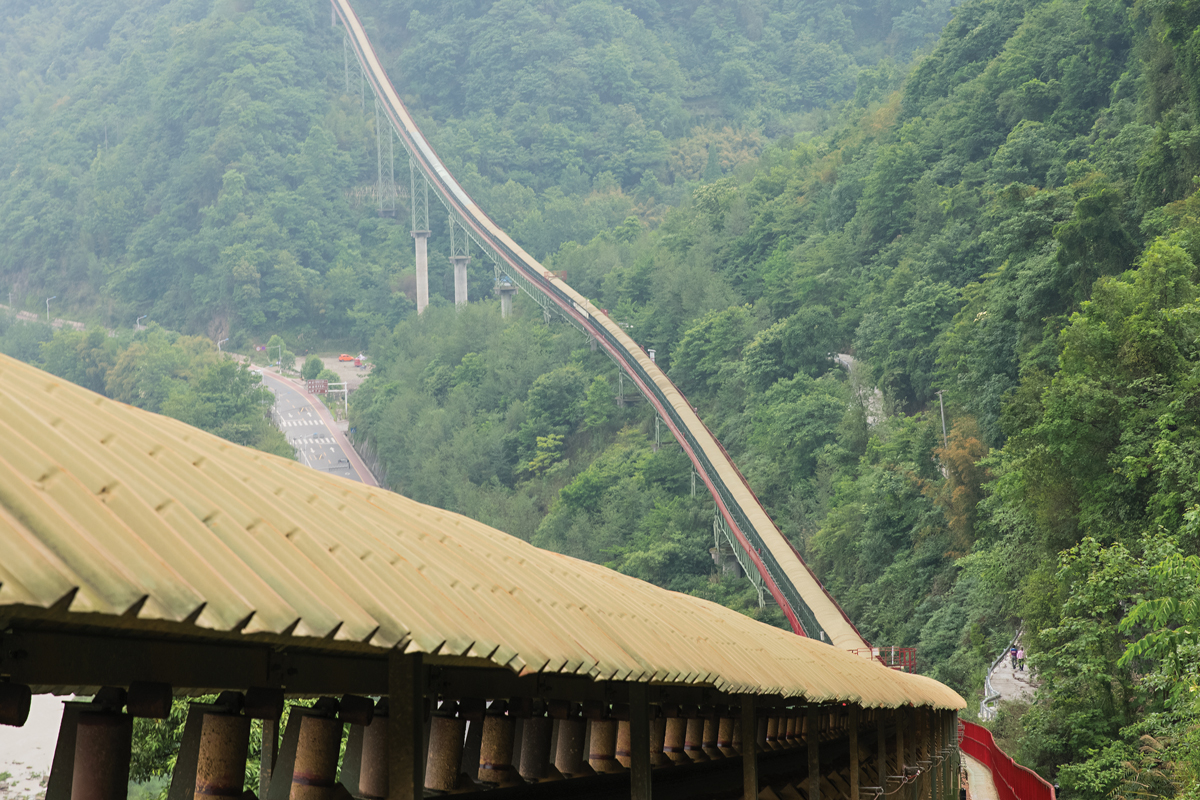 First published in the March 2020 issue of Quarry Management as Overcoming Obstacles
Bespoke curved belt conveyor systems from BEUMER Group bend up, over and around 
Within the global cement industry there is often a requirement for systems capable of transporting bulk materials efficiently over long distances from the quarry, through rough terrain and populated areas. To meet this need, BEUMER Group, located in Beckum, Germany, supply customized systems such as open troughed belt conveyors and closed pipe conveyors that are able to safely negotiate steep sloping routes, rivers or road crossings. Compared with truck transport, these systems are generally more energy efficient, quieter and emit only minimal amounts of dust.
'With our belt conveying systems, we design comprehensive solutions for the cement and mining industries worldwide,' said BEUMER's head of conveying and loading systems, Dr Andreas Echelmeyer, who cited Sichuan Yadong Cement Co. Ltd's cement plant as an example. 
The plant in question is located near Pengzhou, in the Chinese province of Sichuan, around 8,000km from BEUMER Group's headquarters. Since 2009, the cement company has been using a 12.7km BEUMER overland conveyor to transport limestone from its quarry to an intermediate bin. The troughed belt conveyor runs through hilly terrain and over rivers and unstable ground. In 2016, in a second project for cement company, BEUMER installed two more overland conveyors, this time with an overall length of 13.7km. These transport the limestone to the cement plant. 'Unlike the first order, our task on this occasion was to build the conveyor through a populated area,' explained Dr Echelmeyer. 'As such, no material could be lost during the transportation process; no dust was allowed to escape and the prescribed level for noise emissions was not to be exceeded. In order to reduce noise emissions, we installed special idlers and low-noise bearings, and selected the correct conveying speed for the application.'
Complex and curved
An essential feature of BEUMER's conveying technology is that it allows for horizontal and vertical curves over challenging ascending and descending sections. Angles of inclination of up to 15° are possible, depending on the topography and the characteristics of the material to be transported, together with lengths of more than 12km. Using special calculation programs, BEUMER's team of experts precisely calculate the static and dynamic tractive forces of the belt during the development phase of the system, and their engineers select the type of drive technology and conveyor belt needed on the basis of these calculations, to ensure the longevity of the entire system. With the ability to navigate curves, considerably fewer and in some cases no transfer towers are required, thereby resulting in substantial cost savings for the customer. Open troughed belt conveyors are particularly suitable for high throughputs, with conveying capacities of up to 10,000 tonnes/hour being normal. 
BEUMER Group have also installed a pipe conveyor system in the Belgian town of Flémalle. It transports large quantities of fly ash from a former coal-fired power plant to the river Meuse, about 2km away, for shipment. 'We have not only adapted the pipe conveyor to very steep mountain sections, but just like Sichuan Yadong Cement, the route runs over public motorways, railways and residential areas,' said Dr Echelmeyer. 'In order for construction of the plant to be approved, we had to ensure that the closed transport system would protect the environment from the dry and dusty material. The fly ash had to be prevented from exiting or falling to the ground in even the smallest quantities. Noise emissions were an important factor here too. In order to reduce noise to an extremely low level, our experts developed special sound-absorbing elements and used them to encase the bridges of the pipe conveyor. In addition, special idlers and low-noise bearings were installed.'
Total value of ownership
'To ensure that our customers remain competitive over the long term, we always dimension our plants, systems and associated production processes with regard to their long-term benefits,' continued Dr Echelmeyer. 'Usually, total cost of ownership (TCO) is the primary focus of business activities, but it is important that the user considers not only the overall costs when making investment decisions, thereby defining sustainability solely from an economical perspective, but also incorporates ecological and social aspects.
'At BEUMER Group, we are committed to evaluating our products comprehensively in terms of economy, ecology and social responsibility. Therefore, we follow a total value of ownership (TVO) approach. This means we consider the conveying system in its entirety, not only from its cost side. For example, we continuously look to reduce energy and resource consumption in the production phase and in the operating cycle, to reduce emissions to a minimum.'
Dr Echelmeyer says a comparison with trucks, which are still frequently used for transporting bulk materials over long distances, shows exactly what this means. 'Depending on the nature of the terrain, trucks can rapidly reach their limits: they require well-developed roads and fuel, for example, and the costs of construction and maintenance are significant. The ecological aspect needs to be considered tool: new roads and access routes have a serious impact on the landscape and the emissions caused by truck traffic can be high, with regard to toxic substances, noise and dust.'
BEUMER Group equip their belt conveyors with environmentally safe electric drives and low-energy belts, which for many users are the preferred options in these times of climate change and increasing greenhouse gas emissions. The installed motors are mostly adjustable, which permits the loads to be optimally distributed on the drive units under various operating conditions. If the belt conveying system conveys downhill, the system works in generative mode. The generated electric energy is fed back into the public network by a regenerative feedback unit. In this way, the owners can further reduce the operational costs of the entire system.
For Sichuan Yadong Cement, the question of belt conveyor or trucks was posed during the first project, for the transport of limestone from the quarry to the intermediate bin. 'Depending on the project, belt conveying systems require up to 90% less primary energy than comparable truck transport,' confirmed Dr Echelmeyer. 'Trucks running on diesel fuel require a specific primary energy of c.11.4kWh for each tonne of material transported. The belt conveying system requires only 1.44kWh. If, as in this case, 7.5 million tonnes of raw material are transported annually, the use of belt conveyors means a total saving of 74 million kWh per year. This corresponds to a yearly energy consumption of more than 20,000 family homes. From a monetary viewpoint, solely as a result of the savings on diesel fuel, the operational costs of the company are reduced by more than €5.5 million per year.
TVO also means transport route optimization, which can become very challenging when designing the belt conveying system, depending on the local terrain. For example, BEUMER were asked to design and supply an overland conveyor in Indonesia to transport clinker from a quarry to a cement plant. The line of the conveyor ran through the rainforest where the topography made it very challenging for the team at BEUMER, who developed and compared different route options. The very long land corridor, in particular, required highly complex planning, and the team had to assess and evaluate the project thoroughly before making a firm offer. 'There is usually very little time to do this – not enough to send out an entire expedition crew,' said Dr Echelmeyer, 'but an effective alternative is the use of aerial photographs that, with the right software, can be evaluated on the basis of topographical data.' 
Unmanned aerial vehicles
'The use of unmanned aerial vehicles (drones) is already part of our everyday work routine when planning, executing and documenting construction projects, and the significance of these vehicles is increasing,' said Dr Echelmeyer. 'The technology is becoming increasingly sophisticated and easier to operate. They can be used quickly, without much preparation, in difficult-to-access areas and on building project sites, without obstructing traffic or hindering operations. We used a drone for the pipe conveyor project in Flémalle, Belgium, so we could monitor the progress of the entire construction process.'
BEUMER Group have been utilizing unmanned aerial vehicle technology for about three years now and have opted for a copter (rotary wing) type drone for use on specific projects. Unlike fixed-wing drones, which have a greater range but, once in operation, are constantly moving, copters are particularly suitable for narrow take-off and landing areas or where they have to perform at low speed. They are mainly used to fly over small to medium-sized sites and can also be used to inspect quarry faces and the undersides of bridges etc. Once the drone has flown a pre-determined route, its aerial photos are corrected with regard to perspective and evaluated photogrammetrically. The software produces a point cloud that can be used to generate 3D digital terrain models from the two-dimensional views.
With BEUMER Group, the customer receives everything from a single source, from initial query through to technical design and installation on site. If desired, BEUMER will continue to support the operator with a comprehensive range of services after the conveying system is in operation, to ensure high levels of equipment availability are maintained. 'We offer various solutions,' said Dr Echelmeyer. 'They are matched individually to the respective needs of each customer, including service intervals and response times as agreed by contract.'
For further information visit: www.beumer.com