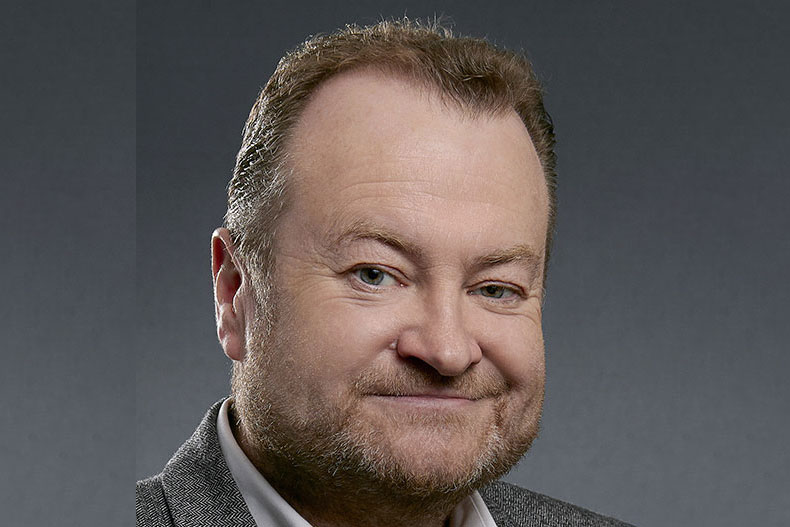 First published in the November 2021 issue of Quarry Management 
Quick Q&A session with Rokbak managing director Paul Douglas, who began his career with the company more than 35 years ago
Why are you rebranding now?
Our company has been in business for more than 80 years, first under the Euclid name and then later under the Terex name. In 2014 we became part of the Volvo Group and since then we have continuously evolved across several areas of our business. Millions has been spent on improving our products, people, and processes. At our heart, we are keeping the same principles we've always maintained: being a solid and dependable partner to our customers and colleagues. But we've also been evolving and have a clear roadmap of where we want to go and who we want to be. Because of that, it's the right time for us to start an exciting new chapter in our history under the Rokbak brand.
Has anything changed about the company?
Our legacy is a huge part of who we are and it's something that will always be embedded in our DNA. In addition, as Rokbak, there will be four shared principles that shape the way we work:
Customer-focused: We work as hard for our customers as our machines work for them in the field.
Well-grounded: We are a no-nonsense, hard-working team who take nothing for granted and always aim to make life easier for our customers.
Specialists: We only make one thing – articulated haulers. There are no other distractions and we have decades of experience in what we do.
Responsible: We are not afraid to tackle big issues head on and are committed to building a more sustainable future in everything we do.
What does this mean for the future of the company?
Our new beginning as Rokbak represents an exciting new chapter in our history. While remaining true to our legacy, we will also focus on progressing the business in several key areas, including:
Products: We will continue to focus our design on products that add value to customers without the addition of unnecessary features. That means high-quality machines at a low cost of ownership from a company that has the stability of the Volvo Group behind it.
People: We have been investing substantially in the development of our people and our global dealer network. We want to ensure our teams remain in the field, helping our customers in person, supporting them and learning from first-hand experience.
Sustainability: As part of the Volvo Group, we are on a collective mission to create efficient and sustainable transport solutions. Going forward, corporate social responsibility will mean developing energy- and fuel-efficient products and minimizing the environmental impact of our operations. 
Have changes been made to the product line?
With the switch to the Rokbak brand there are no fundamental changes to our current product designs. As Rokbak we will manufacture two units, the 28-tonne payload RA30 and the 38-tonne payload RA40. While both units will be manufactured with a new colour scheme and branding, they will be immediately familiar to customers in terms of design and performance.
Over the past seven years, however, we have made several improvements to our products. These include the addition of Stage V engines for improved fuel efficiency, a new transmission for the RA30 that delivers extended oil maintenance intervals, and the introduction of the Haul Track telematics system.
As we move into the future, we expect to see several other design improvements as we continue our mission to build the most robust and reliable machines on the market that deliver effective and productive performance on the jobsite.
Will you still be represented through the same dealer organization?
Our global dealer network is an extension of our company and will remain an important part of the Rokbak organization. In recent years we have added several new dealer partners to our global family, giving us an even closer and stronger connection to our customers. As we progress, we expect to grow and develop our dealer network further to ensure we deliver unbeatable customer service.
Will there be changes to personnel following the announcement?
There are no planned changes to the team as we begin our life as Rokbak. Many of the team have been with the company for a long time. The people at Rokbak are one of the fundamental pillars of our business and make us who we are. Our wish is to nurture our loyal team and continue to improve their skills through ongoing training and development that will keep their skill sets at the forefront of the industry.