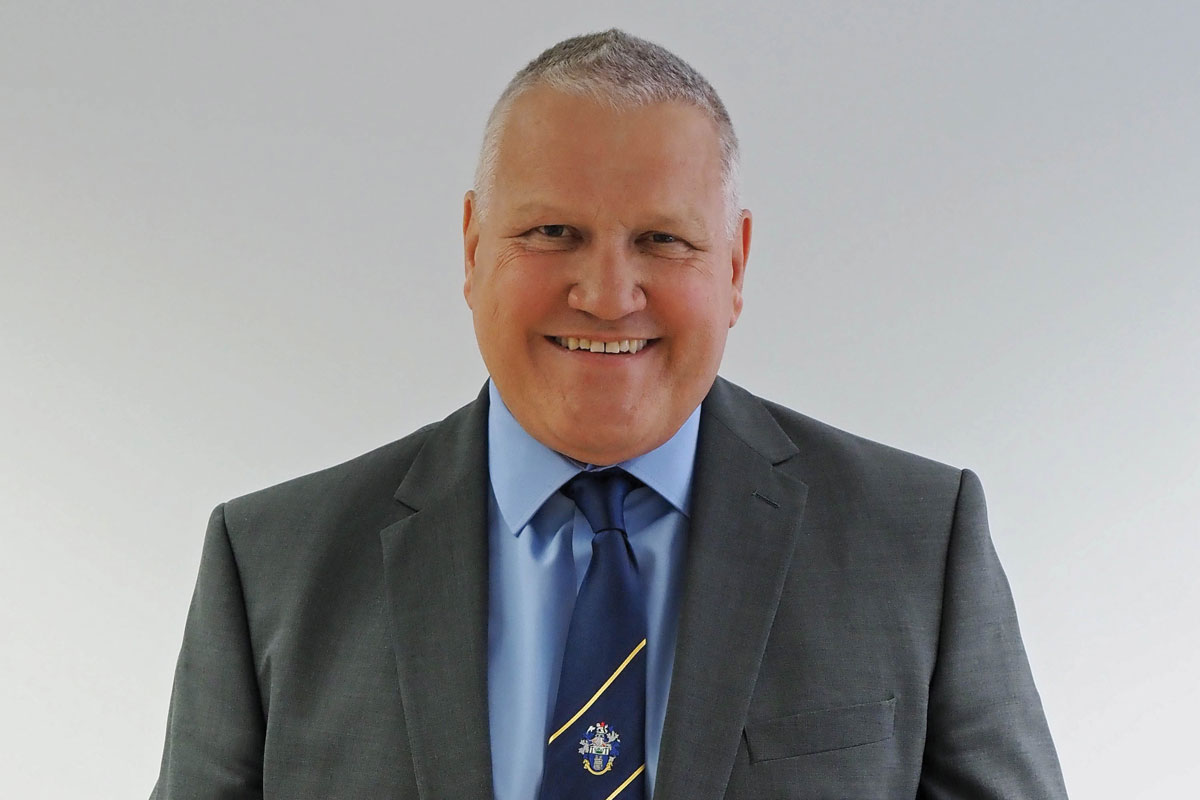 First published in the October 2022 issue of Quarry Management as Carrying the Torch    
Last month the Institute of Quarrying (IQ) announced Viv Russell as its 70th President, succeeding Martin Riley who has successfully completed his two-year tenure of office. In an exclusive interview with QM, Mr Russell outlined his top priorities in his new role, including raising the Institute's profile and influence within the sector, and ensuring the long-term sustainability of the professional body.
A more than familiar face around the mineral products industry, Viv Russell is the new President of the Institute of Quarrying and in a recent interview with Quarry Management – which took place in IQ's temporary workplace accommodation at the National Stone Centre (NSC), near Wirksworth, Derbyshire – he was clearly open and excited about the strategic priorities for the organization, including the merger with NSC that will see the landmark development of a new international 'Centre of Excellence' for the quarrying, mineral extractives, and stone-related industries.
With more than 45 years' experience in the quarrying and construction materials sector, Mr Russell needs no introduction and is widely recognized within the industry. In September, he took over the presidential role from outgoing president Martin Riley, who provided clear and strong leadership during a major period of change and development of the Institute. 
'The last two years has been a real challenge for many of us due to the coronavirus pandemic and to be able to take the chains of office and succeed Martin is an honour and privilege for me personally and professionally,' said Mr Russell. 
'It has been a pleasure to work with Martin during the past six years that we have been on the IQ Board together – he has been a huge support to me for many years and showed tremendous presidential leadership qualities throughout the pandemic, fulfilling the role with great vigour and passion, and ensuring the long-term goals of the Institute are progressed, which I intend to continue and build on.
'As Martin hands over the baton, I couldn't be more delighted to take on the role of IQ President and represent our industry at the highest level – driving forward the Institute and ensuring it continues to be at the forefront of education and training excellence, and professional competence within the mineral products industry, not only here in the UK, but also internationally.'
Driving change, improving perceptions, and raising standards and professionalism have been, and continue to be, the cornerstones of IQ's success and Mr Russell is very eager to hit the ground running and play a key role in shaping the strategy of the professional body and taking the Institute forward in its next phase. 
One of Mr Russell's immediate priorities as IQ President will be undertaking what he calls 'industry talking voices' – an initiative dedicated to telling the stories and experiences of IQ members, from how they got started in the mineral extractives and quarrying sector to sharing advice that has shaped their careers and achievements/moments they are proud of. 
'With hopefully the worst of the pandemic behind us and a sense of normality slowly returning, I want to visit all 13 regional IQ branches in the next two years and meet with our branch committees and members,' he explained. 
'The IQ branch network is a major benefit to members, bringing people together from across the quarrying industry to share knowledge, network and socialise. A key part of my agenda is to support the Institute's branches and volunteers whilst finding new ways to engage members with content and learning resources that are stimulating, meaningful, and relevant. 
'As part of the industry talking voices project, I want to meet with and capture the inspirational stories and memories of members both old and young – and build up an archive of these personal accounts. The aim is to share these perspectives and to be as transparent and open as possible because the aggregates industry as a whole has a compelling story to tell, which can help raise the profile of our sector and attract new people to the profession to ensure its future prosperity.'  
Distinguished career 
A true stalwart and champion of the industry, Mr Russell had enjoyed a long, highly esteemed career in quarrying before announcing his retirement from full-time employment earlier this year. In a career spanning four decades, the newly appointed IQ President has worked for a multitude of businesses in a range of dynamic roles and executive positions, most notably with Tarmac and more recently at Longcliffe Quarries, where he was group managing director for four years. 
Mr Russell – who became an Institute of Quarrying member in 1984 – is a huge advocate of professional development and said one of the key benefits of IQ membership is that the industry is always supporting and encouraging members to get the most out of their careers and to actively participate in continuing professional development (CPD).
'Lifelong learning is at the heart of the Institute of Quarrying and the learning foundation degrees, university diplomas, and higher apprenticeships available to our members provide a clear progression path to those who wish to enhance their career and lifelong learning opportunities,' he commented.
'I'm a great believer in nurturing a fully trained and competent workforce. With skills shortages being felt across the mineral extractives industry, the wide range of CPD opportunities and education programmes offered by IQ is key to developing a diverse and highly skilled workforce for the future of our sector.'
Mr Russell's passion and enthusiasm for training and ongoing professional development are unparalleled. During his time in the industry, he has worked tirelessly (for IQ, QNJAC, and several companies) to raise standards in health and safety, sustainability, operations management, and community relations, but it is the quarrying sector's rigorous, continuous commitment to nurturing talent and developing employees' long-term skills and careers paths that makes him the proudest. 
In accepting the IQ presidency, Mr Russell said he would seek to continue to build on the work of his predecessors in promoting the positive impact of the aggregates sector, the wide-ranging career opportunities available, and championing the continuing professional development of industry professionals. 
'I've been fortunate to have a long and successful career in quarrying and have experienced the full benefits of continuing professional development first hand,' said Mr Russell. 'CPD is not a concentrated period of training and learning, but an important lifelong process of ongoing professional and personal development. 
'I began my quarrying career by chance. During my youth, I was an avid cricket player and used to play for Steetley, a local aggregates/minerals firm based in Nottinghamshire. As I left secondary school at 16 pondering over my career options, I was encouraged by the then company secretary of Steetley to work for the business and a junior laboratory technician position was offered to me at the time.'
Accepting the job offer, it was a career decision that Mr Russell has never regretted. For the past 45 years, he has grabbed the essential career-building opportunities that have come his way and has gone above and beyond to complete almost every industry relevant qualification, including a distance learning MBA from Warwick Business School, a Postgraduate Certificate in Sustainable Business from Cambridge University, and a number of other higher education qualifications. 
'With many entry-level positions now available in the industry, stepping into quarrying has never been easier,' commented Mr Russell. 'I was lucky to be in the right place at the right time when I started my quarrying career – a professional life that has provided continued progression, education, and mentorship throughout my career. 
'I've also had great opportunities, from being hands-on in operations to overseeing health and safety guidance for the minerals processing sector and being at the helm of the UK's leading independent supplier of pure limestone powder, granules, and aggregates. 
'Everyday was completely different and it's a real privilege to be able to continue to work in and represent – with my IQ hat on – a forward-thinking, innovative, and truly sustainable industry that I love.'   
Diversity and inclusion
One of the biggest challenges facing the construction and quarrying sectors is addressing the skills shortfall and retention of employees over the next few years. A key part of Mr Russell's agenda will be helping to increase diversity in the industry and to spread the message far and wide to young people and prospective employees that the quarrying profession is full of exciting and rewarding opportunities.
'Despite the good progress made in recent years, there is still a massive job to do in dispelling the preconceptions about the aggregates industry being male-dominated, unclean, and physically demanding,' he said. 
'Through collaboration and strategic partnerships with schools, colleges, employers large and small, industry organizations and other professional bodies, the industry needs to build on its current efforts to encourage more people into the sector, with a particular focus on attracting female talent. 
'Women have the full range of skills to offer and there is no doubt that gender equality is improving in the workplace. We must continue to work hard on further developing our diversity strategy and inclusion programmes to ensure that women in industries like ours – where they are in the minority – have the same opportunities and educational pathways to progress their careers as their male colleagues.'
Whilst the skills shortage is a continuous challenge, Mr Russell also sees this as a real opportunity for the mineral extractives sector to talk to people of all ages, genders, and backgrounds about the cutting-edge, technical, and highly skilled roles available in the industry, not to mention the great blend of digital innovation and the practical that quarrying can offer as a career. 
'There are great prospects at all levels in the wider quarrying industry and if we are to attract and recruit the next generation of talent into our sector, we need to showcase the breadth of apprenticeship opportunities, graduate schemes, and professional qualifications we have, and help young people begin their careers with us,' commented Mr Russell. 
'Furthermore, the ever-increasing use of new technologies, sustainable working practices, and digitalization in quarrying and mineral extraction can potentially excite the next-generation workforce. Innovations such as the Internet of Things (IoT), drones, advanced telematics, and robotics have transformed quarrying into a safer, sustainable, and more productive industry. 
'Workforces are empowered by newer, smarter technologies. I believe in this exciting new era of emerging digital technologies and artificial intelligence; it provides a fantastic opportunity for IQ and its industry partners to raise the profile of the sector and use the latest technological innovations as a lever to inspire and attract new/young talent into our industry.'
Global Centre of Excellence
One of Mr Russell's key tasks as IQ President will be ensuring the professional body continues to develop and progress its plans for the creation of a brand-new international quarrying Centre of Excellence at the National Stone Centre, in Derbyshire, following the Institute's merger with the visitor attraction in 2021. 
The relocation of the IQ headquarters to the NSC will enable the member organization to better support and connect its members through a wide range of key activities, such as seminars, conferences, branch meetings, study tours, and even a National Archives facility for the quarrying sector. 
For Mr Russell, the new Centre of Excellence also provides a perfect base to visibly demonstrate the compelling story of the quarrying and stone sector, how it has evolved through its history to the high standards it operates today, and the valuable contribution it makes to help train and educate the next generation of mineral extractive professionals coming into the industry.  
'The National Stone Centre is in an outstanding location – and I'm proud and excited to be part of an ambitious building project that will be critical in helping to deliver a sustainable future for our industry and members, and one that matches IQ's excellence, ambition, and reputation,' enthused Mr Russell.   
'By relocating ourselves in the Derbyshire Dales – the heartland of our industry – we can showcase what the sector is doing, celebrate our great profession, and highlight the importance and immense value of quarrying to a wider audience. We aim to make the new Centre of Excellence tourist/visitor economy focused from May to September, and then skills and education focused from October to April.'
Task ahead
As Mr Russell looks forward to the new challenges and opportunities that lie ahead for the Institute, he will also continue to support the Quarries National Joint Advisory Committee (QNJAC) in producing practical guidance for the industry under the umbrella of the Strategic Forum for Health and Safety in the Mineral Products Sector.
'The health, safety and well-being of the quarrying workforce has always been, and continues to be, the industry's top priority,' said Mr Russell. 'Despite major health and safety improvements in recent years, the mineral products sector remains a potentially dangerous industry to work in, which is why collaborative working, visible felt leadership, and worker engagement across the entire construction supply chain are key to preventing workplace accidents and improving occupational health. 
'The wider aggregates industry continues to demonstrate good health and safety practice, not to mention embracing its environmental responsibilities. And the priority for all of us is to ensure we work together effectively and utilize all the tools and resources we have in making the workplace safer, raising SHE standards, and developing a more engaged and fully trained and competent workforce.'
The improved health and safety management of the quarrying industry is a fine example of what can be achieved through working in partnership, and Mr Russell firmly believes this can be channelled into tackling the decarbonization and circular economy-related challenges within the industry.  
'What sets us apart from other manufacturing sectors is that we have a strong understanding and culture of working collaboratively,' he continued. 'In terms of health and safety, we all have the ultimate goal of delivering 'zero harm' in the working environment. And the Minerals Sector Strategic Forum for Health and Safety itself is a perfect example of partnership working, whereby many different stakeholders come together to find solutions to the industry's health and safety challenges.
'As the UK aims to reach net-zero emissions by 2050, I see this as another great opportunity for IQ, along with others, such as the Mineral Products Association (MPA), British Aggregates Association (BAA) and Mineral Products Qualifications Council (MPQC), to collaborate and form partnerships with businesses, industry regulators, public sector bodies, academic institutions, and communities to meet the critical sustainability challenges of today and tomorrow within our sector. 
'Together, by sharing and spreading our best practices, knowledge, ideas, and innovative initiatives, we can improve standards of performance across the wider supply chain and, ultimately, deliver a proactive, sustainable industry with a prosperous future.'